Rain buckets down on East Coast: 'We're still trying to bounce back from our last storm'
Rivers are starting to rise and significant slips are starting to occur across Tairāwhiti as heavy rain continues to fall.
The region is under a red rain warning - the most extreme - until midnight tonight.
Gisborne District Council experts warned the rain was steadily getting worse.
The council's principal scientist Murry Cave said the wind was picking up and causing big wave surges along with the rain.
"It's got worse in the last two hours, we've seen quite a lot of heavy rain across the district. Rivers are starting to rise, particularly up in the Hikuwai up near Tolaga Bay, that's getting pretty high. Plus even in the city here, all the creeks are starting to get pretty high and up against the banks."
Cave said going near the beach - such as camping and surfing - was not a good idea as it would be very risky.
State Highway 35 between Okitu and Pōtaka was closed from 8pm tonight.
The decision to close the highway will be reviewed in the morning.
In Hawke's Bay, contractors will continue to monitor the state highway network around Wairoa.
High winds are also forecast for State Highway 5 between Napier and Taupō.
These roads may need to be closed if it becomes unsafe to keep them open.
Some people on the East Coast are without power tonight after widespread outages.
Electricity distributor Eastland Network says it is working hard to have faults fixed as quickly and safely as possible.
Council data shows the East Cape Lighthouse has been the wettest place in the region, reaching nearly 190 millimetres of rain in the last 24 hours.
Ruatorea has seen nearly 180mm and Te Puia about 170 millimetres.
In Hawke's Bay, Aniwaniwa Park, near Lake Waikaremoana, has seen 92.5 millimetres today.
In Wairoa, the rain set in as the day dragged on and locals were getting ready to hunker down. Many were still recovering from the storm just three weeks ago.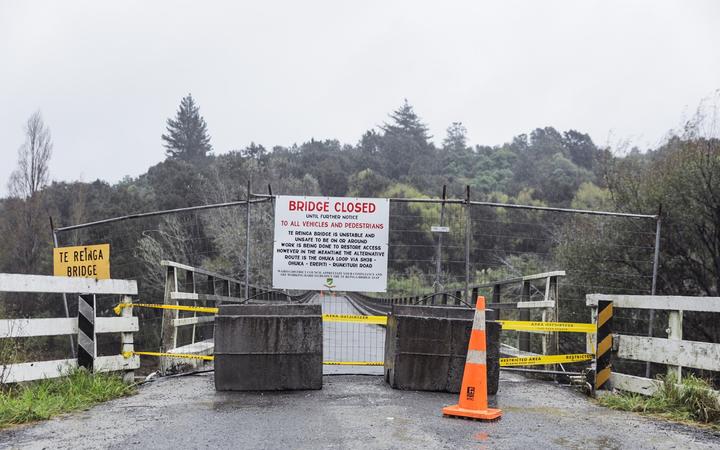 Te Reina bridge is closed ahead of the storm. Photo: RNZ / Samuel Rillstone
"Makes us nervous as well with everything that's happening with the last lot of rain we got. But we're prepared, we've turned our trampoline over and tied everything down that we don't want flying away," one local said.
Anahera Kahukura says their place in town was hit hard by the last storm and they were still dealing with the aftermath.
"[It] turned our bathroom walls into sponges, our backyard into a lake... it actually caused rats to come into our house, which they then chewed our electricals in our kitchen and things like that so we're still actually trying to bounce back from our last storm."
Liz Baxter lives rurally and hoped slips won't close a key road like last time, blocking her from getting into town.
"Luckily we were away for two weeks when it happened last time but came back and then we actually get stuck out there because the road's closed so just hoping that the roads are going to handle another deluge of this," she said.
This time, Baxter had stocked up.
"Just the extra food if we do get stuck, we've got a generator now so if the power goes we've got the generator there."
Farmers have moved stock after farms were soaked last time around.
Federated Farmers said things weren't too bad earlier today but Wairoa Mayor Craig Little says the rain will be tough for farmers.
"Little bit depressing on those farms, mainly farmers have been hit really hard with slips and roads out and things like that, access tracks and that and then seeing it starting to come down again when they think it's just drying out."
Part of today's preparation for ex-cyclone Fili included bringing reinforcements in to hold up a rural bridge.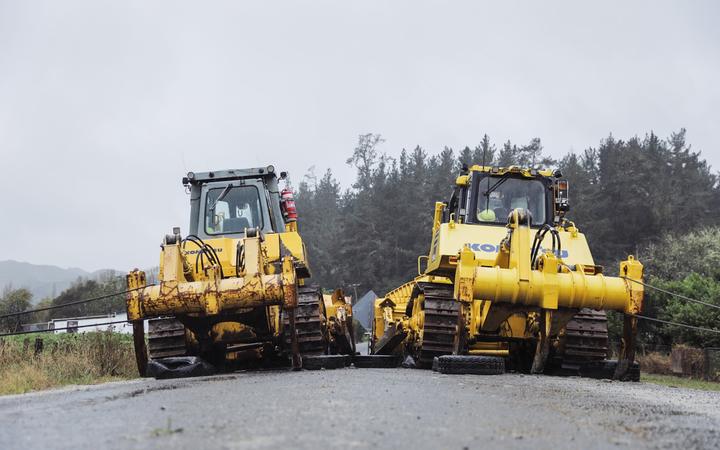 These two bulldozers are reinforcing this bridge near Te Reinga falls, its piles moved in the storm three weeks ago. Photo: RNZ / Samuel Rillstone
The rain got heavier in the afternoon, causing surface flood and slips - one brought two trees down.
One large slip blocked the road to Waihau Beach, about 40 minutes northeast of Gisborne.
Trees were down over the roads and high winds made conditions unsafe.
All unsealed roads across the Gisborne District were closed to all heavy vehicles.
Slips bring down trees near Wairoa on 13 April 2022. Photo: RNZ / Rosie Gordon
Little had a simple message for a community now used to the rain.
"Keep in touch with your whānau, your loved ones, your neighbours and make sure you're all looking after each other. Have plenty in your cupboard so if a few days we're all locked up, we might lose power so look after everybody, we've been through this before, we'll go through it again."
With a red rain warning in place until 4am, the people of Wairoa are hoping the wet weather moves on soon.
source: https://www.rnz.co.nz/news/national/465235/rivers-rise-slips-fall-waves-surge-heavy-rain-buckets-down-in-tairawhiti-wairoa