Roos to become youngest ever Black Ferns captain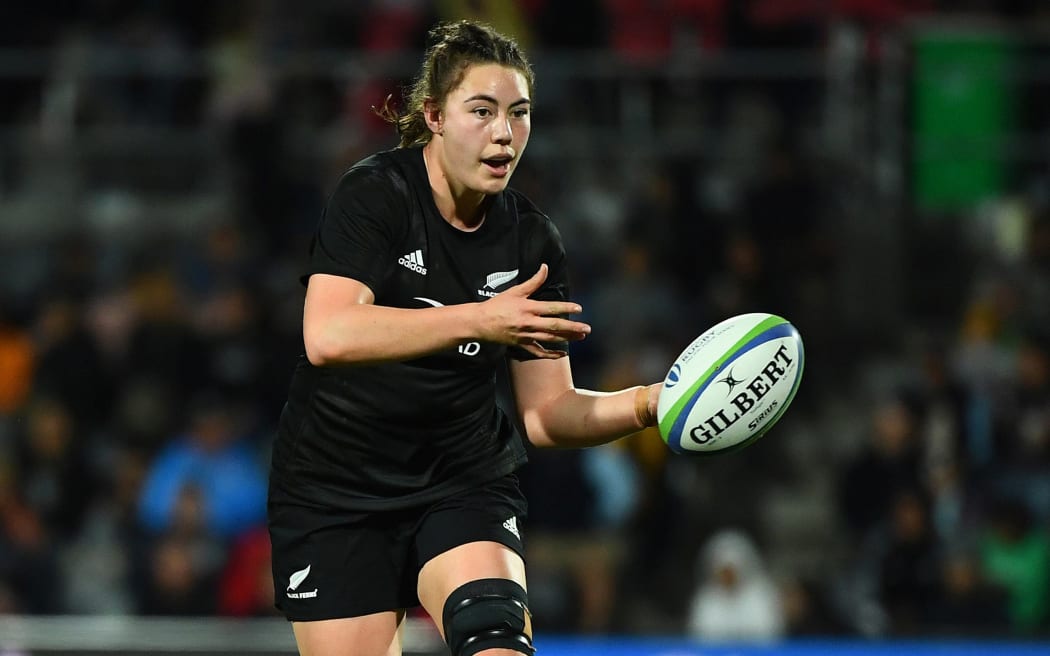 Maiakawanakaulani Roos will become the youngest player to captain the Black Ferns Photo: Photosport
Black Ferns lock Maiakawanakaulani Roos will become the youngest player to lead the side when New Zealand play USA in Ottawa on Saturday.
Roos, 21, will captain the side in their final game of the Pacific Four series, and features eleven changes to the starting lineup which beat Canada last weekend.
Black Ferns Co-Captains Ruahei Demant and Kennedy Simon have been named on the bench with coach Allan Bunting looking to continue to the development of the Black Ferns squad.
"Throughout my time in the Black Ferns, Maia has been exceptional, a true professional both on and off the field and her presence is widely felt.
Bunting said Roos is "a key member of our leadership group now, her daily habits and actions transition into consistent performance."
In other changes, Waikato loosehead prop Esther Faiaoga-Tilo and Counties Manukau hooker Grace Gago will make thier debut for the Black Ferns.
Joanah Ngan-Woo returns to join Roos as the starting locking duo.
Following an impressive debut Canterbury's Lucy Jenkins and Bay of Plenty loose forward Kendra Reynolds will start at six and seven respectively, while the formidable Liana Mikaele-Tu'u once again starts at number eight.
In the backs, Taranaki's Iritana Hohaia and Canterbury's Rosie Kelly earn their first start at nine and ten respectively.
Hurricanes halfback Iritana Hohaia gets her first start in the number nine jersey for the Black Ferns. Photo: Photosport
"As a team it is important, we continue to build our depth and our game foundations. I'm really proud of the growth in our group and after a tough travel week how our ladies fronted and responded to challenges, there is still a lot we can build on, good things take time."
"We are looking forward to seeing our new Black Ferns take lead in this Test, we have faith in all our squad, all we expect is effort which I know we will see and always being intentional about enjoying these special moments."
The team is:
1. Esther Faiaoga-Tilo*
2. Grace Gago*
3. Amy Rule (14)
4. Joanah Ngan-Woo (18)
5. Maiakawanakaulani Roos (16) (Captain)
6. Lucy Jenkins (1)
7. Kendra Reynolds (11)
8. Liana Mikaele-Tu'u (13)
9. Iritana Hohaia (2)
10. Rosie Kelly (2)
11. Grace Steinmetz (1)
12. Grace Brooker (3)
13. Amy du Plessis (9)
14. Kelsey Teneti (2)
15. Tenika Willison (1)
16. Georgia Ponsonby (15)
17. Phillipa Love (26)
18. Tanya Kalounivale (8)
19. Chelsea Bremner (14)
20. Kennedy Simon (15)
21. Arihiana Marino-Tauhinu (14)
22. Ruahei Demant (28)
23. Renee Holmes (12)
source: https://www.rnz.co.nz/news/sport/493645/roos-to-become-youngest-ever-black-ferns-captain