Man recovering after 2 months lost at sea with dog on damaged boat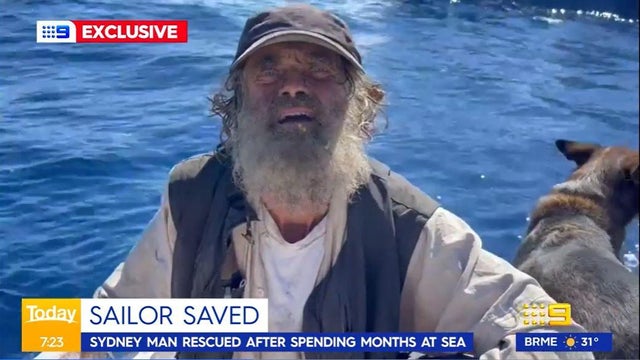 An Australian sailor who says he survived more than two months lost at sea with his dog is "stable and very well," his doctor told an Australian news channel on Sunday. Tim Shaddock, 51, and his dog Bella were sailing from Mexico to French Polynesia when rough seas damaged their boat and its electronics system, leaving them adrift and cut off from the world.
The pair drifted for more than two months in the Pacific Ocean and survived by drinking rain water and eating raw fish that Shaddock was able to catch, according to his own account, provided in a couple videos obtained by Australia's 9 News network. By chance, a helicopter that was accompanying a tuna trawler eventually spotted Shaddock's drifting vessel and rescued the pair.
"I have been through a very difficult ordeal at sea," Shaddock said in one of the videos posted by 9 News, appearing remarkably similar to the character played by Tom Hanks in the movie Castaway. "I'm just needing rest and good food, because I have been alone at sea a long time. Otherwise I'm in very good health."
Mike Tipton, a professor of human and applied physiology at the University of Portsmouth, told 9 News that the survival of the pair was down to "a combination of luck and skill."
He said that the key was Shaddock's ability to secure a source of drinking water, "and also knowing, for example, as Tim did, that during the heat of the day you need to protect yourself because the last thing you want when you're in danger of becoming dehydrated is to be sweating." 
Tipton said the fact that Shaddock had his dog Bella there for companionship "may well have made the difference."
"You're living very much from day-to-day, and you have to have a very positive mental attitude in order to get through this kind of ordeal and not give up," Timpton said. "People need to appreciate how small the boat is and how vast the Pacific is. The chances of someone being found are pretty slim."
Haley Ott is an international reporter for CBS News based in London.
source: https://www.cbsnews.com/news/tim-shaddock-dog-man-lost-at-sea-mexico-rescued-pacific-survived-2-months/