Shein lawsuit accuses fast-fashion site of RICO violations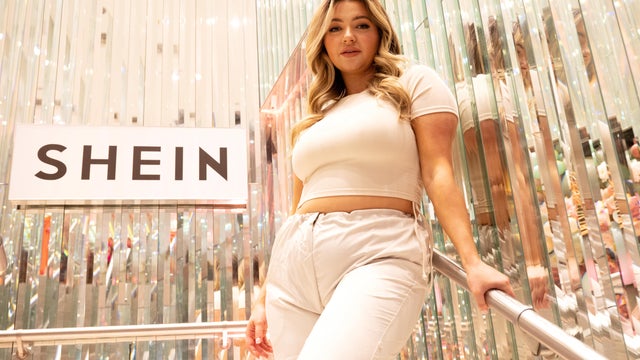 Shein is a popular online destination for social influencers and shoppers to stock up on trendy yet affordable clothing, but a new lawsuit alleges that the site maintains its edge by engaging in "egregious" copyright infringement that constitutes racketeering. 
The complaint was filed on Tuesday in California federal court on behalf of three designers who claimed they were as "surprised" and "outraged" to see their products faithfully copied and sold by the Chinese fast-fashion retailer.
The reproduced products weren't "close call" copies, where designs are interpreted with some liberties, but were "truly exact copies of copyrightable graphic design" that were sold by Shein, the lawsuit alleges. The company allegedly engages in a pattern of copyright infringement as part of its effort to produce 6,000 new items each day for its millions of customers. That amounts to a violation of the Racketeer Influenced and Corrupt Organizations Act, or RICO, the claim alleges.
"Shein has grown rich by committing individual infringements over and over again, as part of a long and continuous pattern of racketeering, which shows no sign of abating," the suit alleges. 
Shein is the largest fashion retailer in the world with annual sales of almost $30 billion, more than H&M and Zara combined, the lawsuit notes.
A company representative told CBS MoneyWatch it doesn't comment on pending litigation. 
One of the designers who is suing Shein, Krista Perry of Worcester, Massachusetts, discovered copies of a graphic poster with the words "Make It Fun" for sale on Shein and a sister site, Romwe.com. Perry complained to Shein via contact forms on its websites about the copy, describing it as "incredibly disheartening, insulting and downright evil to profit off of artists without their knowledge or permission."
Shein wrote back with an offer of $500. "Shein made its offer as if it were a mom-and-pop operation rather than one of the richest enterprises in the world," the suit alleges.
The lawsuit claims that Shein's pattern, when accused of copyright infringement, is to claim it had low sales and blame a third-party organization for the theft. 
"Shein will also offer an apology and a vague explanation that makes it seem that this was an anomaly — somehow Shein got its wires crossed and produced a very small number of exact copies of the designer's goods," the lawsuit alleges. "[N]ine times out of 10 the designer's counsel will accept what's offered, or bargain for just a little bit more."
The two other designers, Jay Baron of Burbank, California, and Larissa Blintz of Los Angeles, also alleged their designs were exactly copied by Shein. Baron created artwork called "Trying My Best," which was allegedly copied and sold by Shein, while Martinez' "Orange Daisies" clothing was also allegedly copied.
Perry suffered "substantial damage to her business in the form of diversion of trade, loss of profits, and a diminishment in the value of her designs and art, her rights, and her reputation," the lawsuit alleges.
Part of the challenge in pursuing Shein in court is its decentralized, even byzantine, structure, the lawsuit noted. 
Shein "is a loose and ever-changing (though still continuous even as some individual elements might change to be replaced by others) association-in-fact of entities and individuals," the lawsuit stated. Designers without an attorney "face an utter brick wall," the lawsuit added, noting that even people with lawyers by their side can struggle to find "an appropriate defendant."
As a result, the claimants are alleging a violation of the RICO Act, which is "designed to address the misconduct of culpable individual cogs in a larger enterprise," the lawsuit noted.
"Unrepresented parties face an utter brick wall," the lawsuit claims. "But even plaintiffs with attorneys, with strong cases, struggle to find an appropriate defendant. In the end, they simply sue whatever party they can find, and hope to straighten the matter out in discovery."
Shein was founded in 2012 by Chinese entrepreneur Chris Xu, also known as Xu Yangtian, who is valued at more than $10 billion by Forbes. But not much is known about him, according to The Guardian, which noted the different reports about his background, with some stories describing him as a Chinese-American who studied at George Washington University, while others say he was born in Shandong in 1984 and studied at Qingdao University of Science and Technology.
"There is no Coco Chanel or Yves Saint Laurent behind the Shein empire. Rather, there is a mysterious tech genius, Xu Yangtian aka Chris Xu, about whom almost nothing is known," the lawsuit alleges.
The RICO Act of 1970 was designed as a way to combat the exploitation of legal businesses by organized crime, according to the Justice Department. While often viewed as a law to combat organized crime, the RICO Act also has been used to prosecute white-collar crimes like the Enron accounting scandal and Bernie Madoff's financial pyramid scheme. 
Racketeering typically refers to an illegal activity carried out by extortion or fraud, but the RICO Act also has a civil section that can be used for consumer protection or to protect against commercial fraud, according to the Justice Department. 
"It is well established that egregious copyright infringement (of the type alleged here, and of the type referenced in other similar cases against Shein) constitutes racketeering," the lawsuit claims.
source: https://www.cbsnews.com/news/shein-lawsuit-rico-violations/