Russia says Ukraine killed 2 in attack on key bridge to occupied Crimea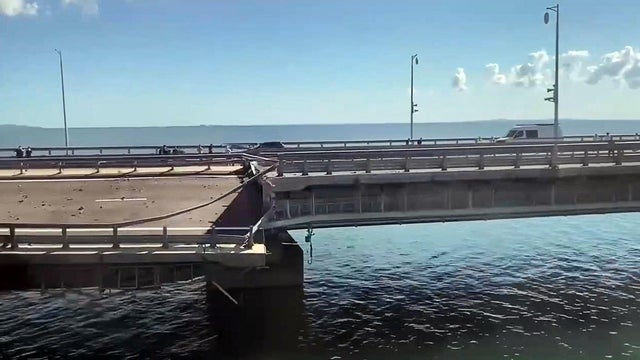 Moscow blamed Ukraine on Monday for a new attack that damaged the bridge that connects the Russian mainland with Ukraine's Russian-occupied Crimean Peninsula. Crimea is home to some key Russian bases used by Vladimir Putin's forces in its ongoing invasion of Ukraine. 
Two people were killed and their 14-year-old daughter was injured in an overnight explosion on the bridge, the Russian government said. The bridge remained standing, though traffic was halted for some time.
Russia illegally annexed Crimea from Ukraine in 2014, and its mountains and beaches are vacation destinations for Russian tourists. The 12-mile bridge over the Kerch Strait — the longest bridge in Europe — is the only direct link between Russia's Krasnodar region and Crimea that avoids land routes mired in fighting. It serves as a visible reminder to Ukrainians of Russia's claim over Crimea, and is a vital supply route for Russia's military into occupied Ukraine.
Ukrainian authorities did not confirm or deny responsibility for the attack on the bridge on Monday. 
Ukrainian Foreign Secretary Dmitry Kuleba told "CBS Mornings" that "one broken Russian bridge means fewer broken Ukrainian lives, because this bridge is being used to supplement the Russian army in the occupied Crimea and the occupied territories of the south of Ukraine with additional resources."
Russia said the attack was carried out by unmanned Ukrainian drones, and Russian Foreign Ministry spokeswoman Maria Zakharova suggested that the U.S. and the United Kingdom also bore some blame.
"Decisions are made by Ukrainian officials and the military with the direct participation of American and British intelligence agencies and politicians," Zakharova said. "The U.S. and Britain are in charge of a terrorist state structure."
The last major attack on the bridge was in October.
Russian authorities were organizing ferries to help transport some of the 50,000 tourists in Crimea back to the Russian mainland, The Associated Press reported, while others were urged to drive some 250 miles through parts of Ukraine occupied by Russian forces to get back home.  
"Safety is ensured by the Russian army. It will be strengthened," said Vladimir Saldo, the Russian-installed leader of a Russian-occupied part of Ukraine's southern Kherson region. 
He said the curfew would be relaxed, and while there would still be checkpoints, formal procedures to pass through them would be "reduced."
Haley Ott is an international reporter for CBS News based in London.
source: https://www.cbsnews.com/news/russia-ukraine-war-crimea-kerch-bridge-attack/