'Adults are not doing their job' - Youth call for climate action at protests
Youth activists calling on the government to do a better job of addressing the climate crisis held marches across the country on Friday.
School Strike 4 Climate and Fridays for Future wanted to see New Zealand halve its emissions and completely transition to regenerative agriculture by 2030.
They also wanted the government to prioritise Te Tiriti-centred climate action and lower the voting age to 16.
* See photos from today's protests in our gallery of images.
In Christchurch, a crowd led by school students marched through the central city chanting and holding signs demanding urgent climate action.
Aurora Garner-Randolph, 17, one of the organisers of School Strike 4 Climate Ōtautahi, said the group wanted more radical climate action from the city council and the government.
"The adults that we trust to take care of us to protect our planet are not doing their job at all, so we feel that we need to do anything that we can to hold them to account."
She said a key project the group was against was the proposed new international airport at Tarras in Central Otago.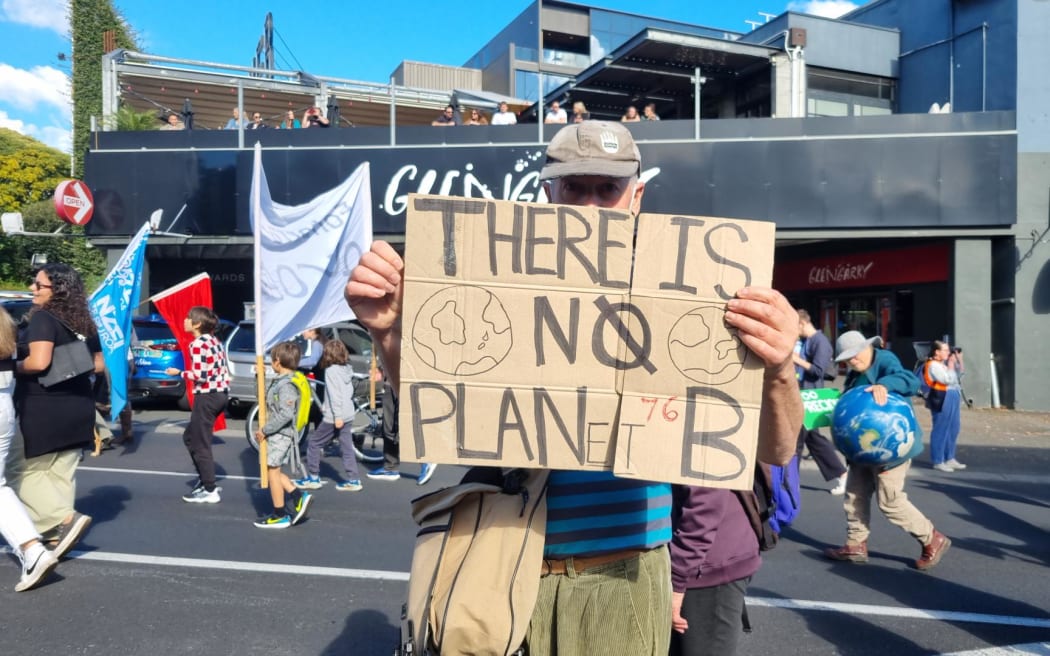 People marched in Auckland today. Photo: RNZ / Rayssa Almeida
In Wellington, about 1000 people marched from Civic Square to Parliament.
Thirteen-year-old Yaya was one of many teenagers at the climate strike in Wellington, and said her school supported her skipping class.
"A lot people from our school are into this climate action so we really have support from the school, and we do things to support our environment at our school."
In Auckland, hundreds of people including Green Party co-leader Marama Davidson and MP Chlöe Swarbrick gathered at Victoria Park following the protest outside Auckland Council.
Adults were well represented at the protests across the country, and one woman in Auckland said she hoped the large turnout would prompt action from the government.
"I think that when people see how passionate the young people are, and us oldies, they will think, maybe there's something to this."
Climate strike organisers said they were committed to continuing the movement until demands were met.
source: https://www.rnz.co.nz/news/national/490746/adults-are-not-doing-their-job-youth-call-for-climate-action-at-protests