Vintage radio auction goes live, bids start at $10
Hundreds of vintage radios that were part of a private collection in Auckland are being sold under the hammer.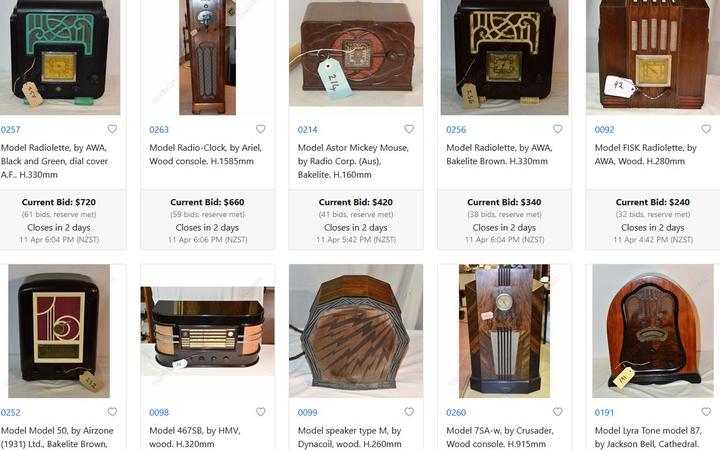 Photo: Screenshot / Cordy's Estate Vintage Radio Collection
Cordy's Auctioneers is selling 280 radios dating from the early 20th century, with online bidding open till 4pm Monday.
Auctioneer James Hogan said the collection was nostalgic, and included bakelite radios and wooden cathedral or tombstone radios popular in the 1930s.
"All through the 20th century and right through to the 50s, 60s. Most people would come in and think 'I can remember grandad had that or we had one of those little bakelites when I was growing up'. It's an amazing collection."
He said the online auction was attracting interest from around New Zealand.
"There's been a lot of our customers that have come in and said they'd love one and it's nice, there's a little more interest in the nostalgia."
On Sunday morning, a Model Radiolette by AWA has already attracted a bid of $720, while the bidding for a Model Radio-Clock by Ariel was at $660.
Hogan said the value of vintage radios had decreased in recent years, as knowledge about how to fix these old wirelesses had stayed with older generations.
Bidding starts at $10 for each radio, with some already in the hundreds.
Hogan said the late owner of the collection was a member of the Vintage Radio Society, and proceeds from the auction would go to the club.
source: https://www.rnz.co.nz/news/national/465000/vintage-radio-auction-goes-live-bids-start-at-10