Woody debris on Gisborne beaches again after recent flooding
The Gisborne mayor says prosecutions are possible if debris found on beaches following the recent flooding can be traced to a breach of a resource consent.
Wood strewn across Waikanae Beach after flooding in December 2021. Photo: RNZ / Tom Kitchin
Waste from forestry, known as slash, and other woody debris have appeared on beaches along the coast north of Gisborne, but not at the same levels following a storm two years ago.
Mayor Rehette Stoltz said the council is investigating and will not hesitate to prosecute if necessary.
Ten prosecutions followed the 2020 Tolaga Bay floods.
Stoltz said consents come with conditions and they must be adhered to.
She said the clean-up following the recent storm is on track, but the region will need more financial help to cope.
Stoltz said the council is assessing what is required and prioritising work.
The council has received about $800,000 in immediate funding, but it is still unknown how much more will be needed, she said.
Eleven roads in Tairāwhiti are still closed and 21 are only accessible by four-wheel drive.
The flood-damaged bridge at Tokomaru Bay in Gisborne has been repaired and reopened on 2 April, reconnecting the area with the wider community.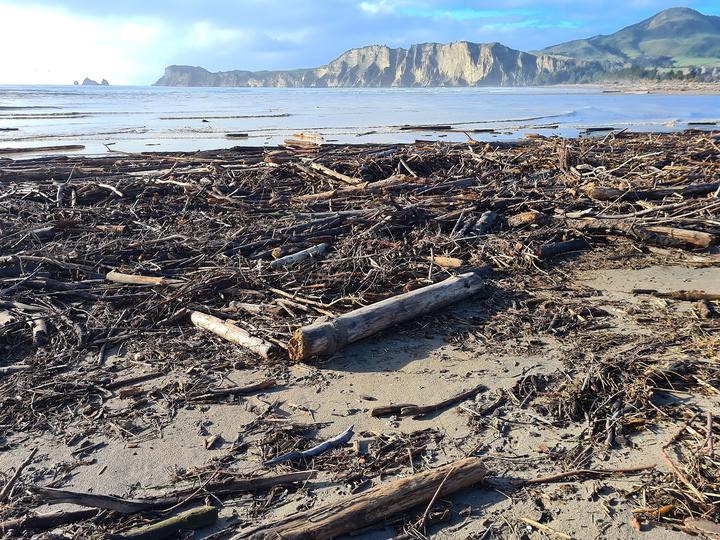 Slash strewn over the Uawa River mouth in Tolaga Bay in 2020. Photo: Supplied
Slash covering the beaches is not a new problem in Tairāwhiti.
In December last year, flooding caused Waikanae Beach in Gisborne to be strewn with wood that had washed down from rivers into the sea and ended up on the sand.
Two weeks prior to that Gisborne District Council had spent $50,000-$60,000 to clean up the beaches.
Some East Coast locals are disheartened by the prospect of more forestry in the area as the industry grows.
Many people in Gisborne and Wairoa say the industry is damaging their pristine environment and ruining their communities.
Tolaga Bay Area School principal Nori Parata last year said that the beach had been ruined by the logs and debris piled up there.
"You can see how soul destroying it is and it's been like this for, is it about seven years? Something like that," she said.
While Ūawa Tiaki Tai (Tolaga Bay Surf Lifesaving Club) captain Kerehama Blackman said forestry companies are working more closely with the community, his team has had to close the beach several times in 2021.
Wild storms, the worst in June 2018 and July 2020, brought the logs down the Uawa River from forestry blocks, littering the sand with forestry slash.
Months prior to the June 2018 event, the Gisborne District Council was warned in a report that forestry debris was likely to cause huge damage in another big storm.
After years of discussions, it was hoped a native planting project announced by the area's largest forestry operation last year would help protect homes, waterways and coastlines.
Aratu Forests, one of New Zealand's 10 largest freehold forest plantations, last year announced a 90-year 'right to plant' land management agreement with sustainable land-use company, eLandNZ - with the backing of the Gisborne District Council.
The programme will see permanent native plantings established in parts of the 35,000 hectare estate which are unsuitable for timber plantation.
In the first 25-years a streamside native forest with primary species including mānuka will be planted, as well as belts of larger native trees in higher areas and flax in flood zones.
source: https://www.rnz.co.nz/news/national/464995/gisborne-council-may-prosecute-with-debris-on-beaches-again-after-recent-flooding