Taylor Swift releases re-recorded "Speak Now" album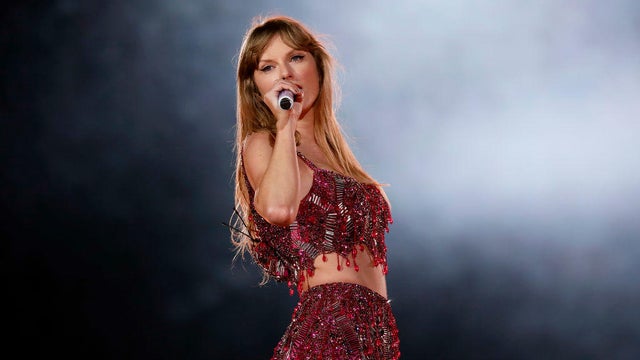 Taylor Swift has released the re-recorded version of her 2010 album "Speak Now," giving fans an extra treat with six new songs – and a small tweak to an original lyric. 
The pop star has been re-recording her old music after her early catalog was sold to talent agent Scooter Braun. She is creating her own "Taylor's version" of past music so that she can own the recordings.
In an Instagram post announcing "Speak Now: Taylor's Version," Swift said she wrote the original album "alone about the whims, fantasies, heartaches, dramas and tragedies I lived out as a young woman between 18 and 20."
"Speak Now," Swift's third album, features singles like "Mine" and "Back to December." One song, "Dear John," is purportedly about her relationship with John Mayer, who is 12 years older. Another song, "Mean," is about living a better life than the people who did her wrong. 
On Instagram, Swift said the songs are "marked by their brutal honesty, unfiltered diaristic confessions and wild wistfulness." She said the album tells the story of "growing up, flailing, flying and crashing … and living to speak about it."
A post shared by Taylor Swift (@taylorswift)
"I remember making tracklist after tracklist, obsessing over the right way to tell the story. I had to be ruthless with my choices, and I left behind some songs I am still unfailingly proud of now," she wrote, saying six of those songs left in "the vault" have been added to the new recording. 
Swift has added so-called "vault" songs, or previously unreleased tracks, to several of her re-recorded albums. "Speak Now" includes new songs featuring Fall Out Boy and Hayley Williams. And on Thursday, Swift announced she had added 14 new shows to her widely popular "Eras" tour that will include Williams and her band Paramore.
Swift has more than 92 million monthly listeners on Spotify, but doesn't own many of her albums. In 2019, Braun acquired Big Machine Label Group for $300 million, and therefore acquired Swift's masters that she recorded with the company. 
At the time, Swift said she only learned of the deal "as it was announced to the world" and began a public feud with Braun, who she accused of "manipulative bullying." Since she did not have the opportunity to buy her own music, she set out on a request to record all of her old music again, starting with her albums "Fearless" and "Red." 
While the goal is to create exact re-recordings of her old music so that fans listen to the versions she owns rather than the originals, Swift has made a small tweak to a "Speak Now" song.
In the song "Better Than Revenge" – which Swift has admitted is about ex-boyfriend Joe Jonas – a lyric rumored to be about Jonas' then-girlfriend Camilla Belle has been changed.
What once was: "She's better known for the things that she does on the mattress," has been changed to: "He was a moth to the flame, she was holding the matches." Some criticized the original line as an attempt to shame Belle. 
Caitlin O'Kane is a digital content producer covering trending stories for CBS News and its good news brand, The Uplift.
source: https://www.cbsnews.com/news/taylor-swift-speak-now-taylors-version-vault-tracks-better-than-revenge-mattress-lyric/