Renovate your home or buy a new one? Here's what experts suggest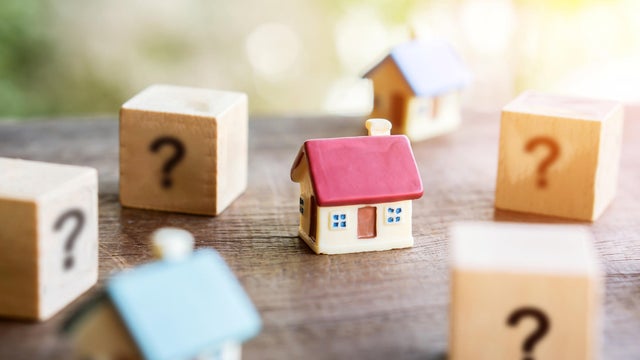 Homeowners looking to change up their living space face the dilemma of renovating vs. buying a home. At times, renovating can make more sense, such as if you love your location and just want extra space. Other times, however, buying a new home is the more efficient route.
Yet in the current real estate market, where prices and interest rates are relatively high, the decision can get even more complex. Here's what real estate experts recommend.
See today's mortgage rates here to start comparing your options.
Some homeowners find that renovating or remodeling their existing home gives them what they're looking for, such as more space or a more modern design.
You can finance renovations through options like home equity loans or home equity lines of credit (HELOCs). When factoring in the cost of these loans compared to moving and applying for a mortgage, you might find it's better to stay put.
More specifically, renovating might be better than buying a new home in the following situations:
If you live in an area where real estate prices have gone up substantially, and you want to stay in the same neighborhood, it might be more cost-effective to upgrade your current home. Or, if you're eyeing a move to a new area, you might similarly find that the costs are too high.
"One major reason to renovate is new homes are just too big and expensive in the area you want to live," says Bruce Ailion, licensed attorney and real estate salesperson at RE/MAX Town & Country.
For example, when buying land or a tear-down property to build a new home in a popular downtown area, you might have to build a 5,000-square-foot house "to justify the price," Ailion adds.
Plus, renovating can help you avoid getting into bidding wars and dealing with the complexities of a hot market.
"Renovating may be wise in an increasingly competitive market such as South Florida, where it is often challenging to find desirable properties without high competition among buyers," says Carolina Gerdts, executive vice president at RelatedISG Realty.
See today's home equity rates here and see how much you could borrow.
Another reason to renovate instead of buying a new home is if you can increase your home's value and liveability in a way that creates more long-term gain and/or comfort.
"By upgrading your living space, you can increase the value of your home, making it a smart investment for the future. This can be especially important if you plan on selling your home in the future, as it can help you get a higher sale price," says Adie Kriegstein, licensed real estate salesperson at Compass Real Estate.
You also might find yourself in a situation where there's an emotional connection to your home or neighborhood, says Gerdts. So, rather than moving and losing that connection, renovating might enable you to stay and enjoy your home more.
"For example, I have encountered sellers who find it hard to sell their property because their children grew up there, even when the home no longer suits their needs. For this example, renovations such as updating the kitchen may help entice them to stay in the house," adds Gerdts.
Is a home equity loan or HELOC right for you? View rates now to learn more.
Many times, deciding between renovating or moving comes down to costs. It's possible the cost of financing renovations through a home equity loan, for example, is less than taking out a whole new mortgage — especially if you locked in a low-interest-rate mortgage over the past few years.
Even if home equity loan rates are higher, the smaller loan size might make renovating more economical overall.
"With the cost of mortgages today nearly double for many homeowners, it makes sense to renovate your current home so that you can hold onto the low-rate mortgage. Using savings or a smaller home equity loan will make the overall carrying costs much more reasonable," says Melissa Cohn, regional VP of William Raveis Mortgage.
Plus, going through the renovation process yourself might be more affordable, as you can make changes according to your budget. Sellers might charge a premium for the convenience of having renovations completed already.
Similarly, you might find that making a few upgrades costs less than going through the whole real estate transaction process.
"Renovation can often be more cost-effective than purchasing a new home due to selling and buying costs such as real estate agent fees, closing costs and moving expenses, all of which can add up significantly," says Gerdts.
In some cases, buying a new home and taking out a mortgage to do so makes more sense than renovating, such as in the following situations:
Sometimes, renovation costs add up to the point where you're better off buying, particularly when factoring in home equity rates versus mortgage rates.
As of July 10, 2023, a 15-year home equity loan has an average interest rate of 8.39%, compared with an average interest rate of 6.60% for a 15-year fixed-rate mortgage, according to Bankrate.
Plus, the actual cost of construction in your area might tilt the scales in favor of buying.
"You can run into circumstances where it is actually about the same price to buy new as renovate and, perhaps, even more to renovate than purchase new. This could be a situation where the home is too far gone or where the new homes are competitively priced," says Ailion.
Renovating can get particularly expensive if your home needs a lot of work.
"If your current home has significant structural issues or requires major repairs, it may be more cost-effective to purchase a new property. Renovating a home with major structural issues can be expensive and time-consuming, and there is no guarantee that the repairs will completely fix the problem," says Kriegstein.
View current mortgage rates online now.
Even if the costs of buying are higher than renovating, your time may be more valuable to you. If you can buy a new home faster and with less headache than going through a whole renovation, that might be worth it.
"Buying may be more practical to avoid expenses and time-consuming renovations that might only partially resolve some problems," says Gerdts. "Construction to add significant space can also be expensive and sometimes not even feasible due to local zoning restrictions or limitations."
The more complex the renovations, the more it could make sense to focus on buying.
For example, "if the layout of the home is fundamentally flawed and cannot be easily changed through renovations, then buying a new home may be the better option," says Kriegstein.
Find out if a mortgage is right for you — see today's rates now to learn more.
Buying a new home can also be the sensible choice if you want to change your location.
"I have had clients who loved their neighborhood when they bought their homes but eventually realized it no longer met their needs due to job changes or wanting something different. Remodeling won't change its location; finding a new home in an appropriate area may be the way to go in these circumstances," says Gerdts.
Changing locations by moving might also be the better choice financially, as you might not get a great return on renovations in some areas.
"It's all about location," says Ailion. "There are places where crime is too high, prices are too low, schools are failing or governments are run poorly that you should not build or renovate."
Overall, the choice between renovating your home or buying a new one depends on a mix of financial and personal considerations. Sometimes, however, it makes sense to sit on the sidelines or just make small changes for now.
"If making small-to-moderate renovations without having to borrow a significant amount of money on a much more expensive HELOC will allow you to stay in your home long enough to ride out this high-rate environment, then you should do it, as long as the value will increase," says Cohn. "When you go to sell your current home, then you can recoup the monies spent on the renovations."
However, things don't always work out that way.
"If the renovations do not increase the value, then you may want to think about toughing it out in your home as is until mortgage rates fall back in the next year or two," Cohn adds.
It's also possible that some homeowners find both renovating and buying to be viable options. 
"For instance, the homeowner can choose to renovate to increase resale value before placing it on the market and using proceeds from the sale as funds to purchase another home," says Gerdts. "However, if financial constraints exist or long-term plans remain unknown, staying put may be the best option."
source: https://www.cbsnews.com/news/renovate-your-home-or-buy-new-one-what-experts-suggest/