Soccer legend Megan Rapinoe will retire after 2023 season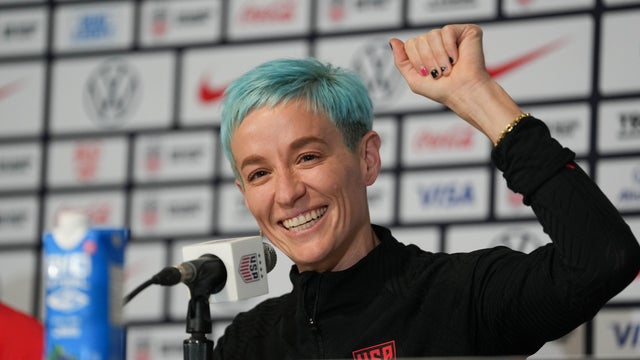 Megan Rapinoe, a U.S. Women's National Team legend, will retire from professional soccer, she and the organization announced Saturday.
The 38-year-old, who is known for her clutch performances on the field, will retire after the 2023 National Women's Soccer League season in October with her team, the OL Reign, following her final appearance in the Women's World Cup this summer.
"I feel incredibly grateful to have played as long as I have, to be as successful as we've been, and to have been a part of a generation of players who undoubtedly left the game better than they found it," Rapinoe said in the USWNT statement.
Rapinoe, who began her career in 2006, is an Olympic gold medalist and has won two World Cups. She will be playing for USNWT's third consecutive World Cup win before retiring —an opportunity she has called "incredibly special."
On the field, Rapinoe is recognized for her creative strategy and dedication to her team, the announcement described. She has represented the U.S. internationally 199 times, and will become the 14th U.S. player in history to make 200 appearances for the team internationally before retiring. In her 199 international appearances, also known as "caps," the U.S. team has had an 86% winning percentage.
She famously scored two "Olimpicos," or goals directly off corner kicks, in two Olympic games, 2012 and 2021 —an extremely difficult feat that the USWNT says is "probably never to be repeated."
"Megan Rapinoe is one of the most important players in women's soccer history and a personality like no other," said U.S. Women's National Team head coach Vlatko Andonovski. "She has produced so many memorable moments for her team and the fans on the field that will be remembered for a very long time, but her impact on people as a human being may be even more important."
The Redding, California, native is tied with Abby Wambach for third-most assists in USWNT history. She is also one of just seven players in USWNT history with 50+ goals and 50+ assists, although she is the only player in the 50 goal/50 assist club with more assists than goals, according to the organization.
In 2019, Rapinoe won best FIFA Women's Player of the Year, France Football Ballon d'Or and the Sports Illustrated Sportsperson of the Year.
In addition to her accomplishments on the field, Rapinoe has been recognized for her activism for LGBTQ+ rights, racial inequality, voter rights, and gender and pay equity. She came out as gay in 2012 and has been a vocal advocate for those in the community ever since.
She was also the first White athlete, as well as first female athlete, to kneel during the national anthem in solidarity with NFL player Colin Kaepernick, the statement said.
In the summer of 2022, President Joe Biden awarded Rapinoe the Presidential Medal of Freedom, which is the nation's highest civilian honor. She is the first soccer player to receive the award, and one of just six female athletes or coaches to get the honor, according to USWNT.
"When you talk about players performing on the biggest stages, she's right up there with the best to ever do it for the U.S. Women's National Team," said USWNT general manager Kate Markgraf in the statement. "And that's just her contributions on the field. Her contributions off the field are the epitome of someone who saw that she had a large platform and used it for good."
Simrin Singh is a social media producer and trending content writer for CBS News.
source: https://www.cbsnews.com/news/megan-rapinoe-retiring-uswnt-soccer/