Covid-19: Bars still checking vaccine passes face flack
Some bars still requiring Covid-19 vaccine passes are finding themselves at the forefront of online activity by anti-mandate supporters.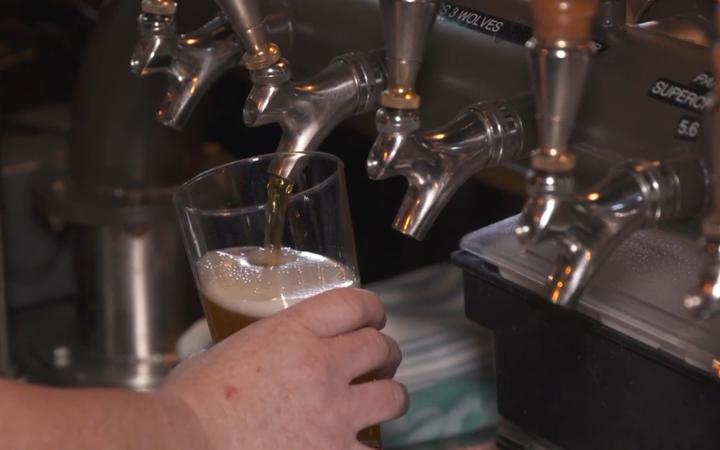 Photo: RNZ / Nathan McKinnon
The requirement for hospitality and close-proximity businesses to use vaccine passes was scrapped almost a week ago.
But days later, some venues started getting negative online reviews and comments on their social media.
In Auckland, Whammy Bar co-owner said it had decided to keep using vaccine passes because that was what the bar's staff and customers wanted while the number of Covid cases were still high.
Macrae said under the Covid-19 restrictions the bar was still not open at full capacity.
"In the past week we haven't even had to open, so a lot of the feedback that is coming in online is quite redundant at this point."
She said one reason for continuing with vaccine passes was that it became less likely that its staff would catch the virus and the bar will have to close.
Macrae said about a week ago negative reviews about the bar started appearing online.
"Within the space of an hour we had sort of 30 negative reviews and one star reviews and comments on our social media.
"So I've been doing a little bit of digging to see that there are a couple of anti-mandate groups that are putting up the names of businesses who had actively spoken about keeping these vax passports on and then people were going after these venues and hospitality industries that were keeping the vax passports on."
Macrae said it was important to remember that this was only a loud minority and a lot of the people posting negative comments about her bar were not even in Auckland.
"You get 30 comments and it feels like a lot, but you've got to sit back and remember that 30 comments over 15,000 people on your Facebook page isn't a lot."
She said determining when the bar would finally get rid of vaccine passes would depend on the number of Covid-19 cases in the community and how safe the bar's clientele was feeling.
Wellington beer bar Hashigo Zake owner Dominic Kelly said they had feedback from some customers who had already been staying home due to Covid that the removal of the vaccine passes meant they would be staying at home even longer.
Kelly said the bar would require patrons to show vaccine passes on most nights until some of these regular customers felt safer.
But he said the bar was not requiring vaccine passes to be shown on Friday and Saturday nights because there was a different clientele on these nights.
"It tends to be people who don't know much about us, they've had a few drinks somewhere else and ... it's harder to enforce rules that are different from what they expect."
Kelly said his bar had also experienced negative reviews due to its stance on vaccine passports.
"And then really pleasingly I guess we've had a lot of people kind of rally and actual customers make countering reviews.
"So we get this bizarre summary in the emails saying you've had 20 reviews - 15 of them are five star and five are one star."
Kelly said anyone who did not know the bar was likely to work out from that that something odd had happened which did not actually reflect on the bar's merit.
source: https://www.rnz.co.nz/news/national/465059/covid-19-bars-still-checking-vaccine-passes-face-flack