World Champions USA on a charm offensive in NZ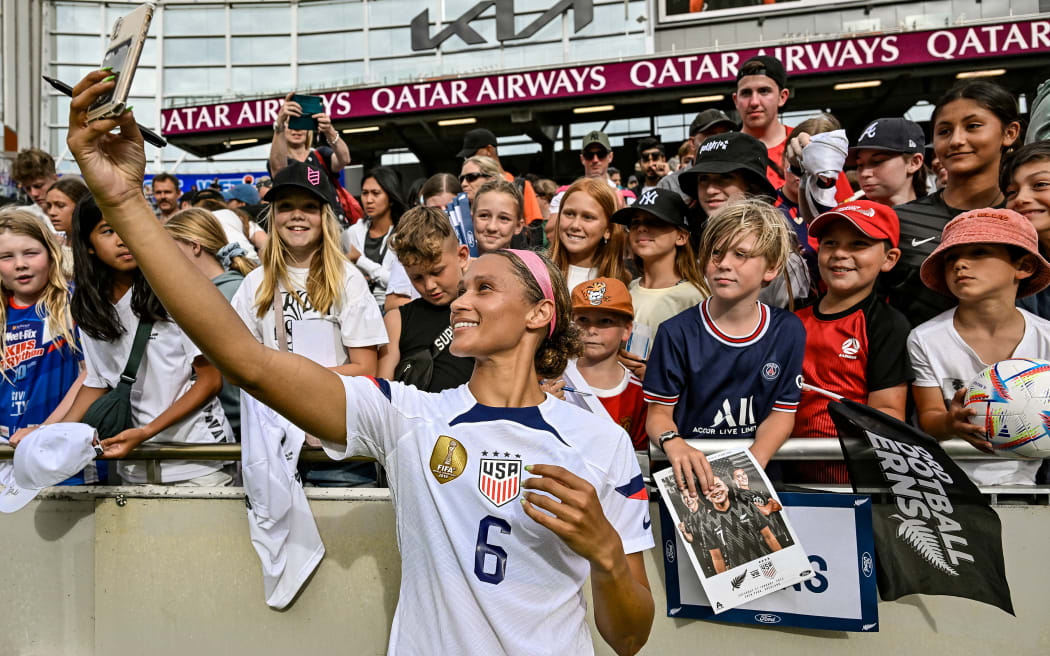 Lynn Williams of USA takes a selfie with fans in New Zealand in January 2023. Photo: Photosport
On touching down at Auckland airport this week, the coach of the USA women's football team, Vlatko Andonovski, described it as being "home again".
Andonovski and the team were in New Zealand in January for friendly games against the Football Ferns and took the opportunity to connect with the locals then.
Now, the defending champions are back in Auckland, where they will be based for the group stages of the FIFA Women's Football World Cup.
"We want to become New Zealand's second favourite team," Andonovski said.
USA want to do what no women's football team has done before - win three consecutive world cups.
Andonovski believed it was achieveable.
First they have to get past Vietnam, Netherlands, and Portugal in group play.
"We are going to have a lot of challenges in front of us, we know that. And we're prepared to win, we just have to overcome [the challenges] one by one as they come."
The USA had a warm-up game against Wales in California the day before jumping on the plane to New Zealand to begin their World Cup campaign.
They won 2-0 and Andonovski believed it was good preparation.
"We didn't play our best, but created two goals. I thought they were well organised defensively and made it made it tough for us. But the fact that we found a way to to win, to win the game, to score goals and some beautiful goals, it was good for us."
Veteran USA football star and two-time world cup winner Megan Rapinoe will retire after the upcoming world cup and could have limited involvement at the tournament, whic is being co-hosted by New Zealand and Australia.
However, Andonovski said he knew she still had plenty to offer the squad.
"She's a true pro. She knows what it takes to win big tournaments. She's been on the big stage and she has done it [at] a big stage and having her here with the young ones like Sophia [Smith] and Trinity [Rodman] and Alyssa [Thompson] is very important, because she can certainly guide them and show them the way."
It is the first time the FIFA Women's Football World Cup is being held in the southern hemisphere winter.
The month-long tournament kicks off on 20 July. Andonovski said he was a fan of it being held in the region.
"One thing that FIFA does very well is growing the game in different parts of the world, and it seems like New Zealand has so much potential to grow and grow the game. So it's important to be here in Australia as well."
-RNZ
source: https://www.rnz.co.nz/news/sport/493535/world-champions-usa-on-a-charm-offensive-in-nz