Australia decides it won't put King Charles III on its banknotes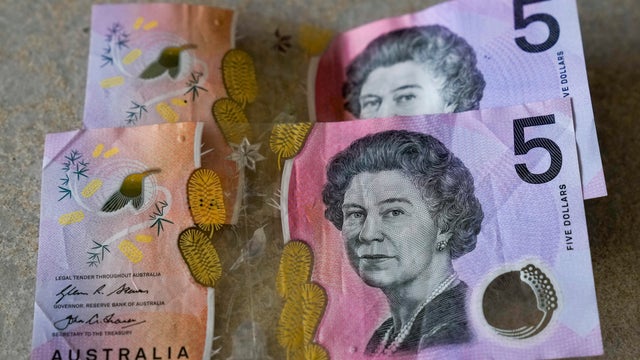 Australia has decided it's had enough of the British monarchy - at least on its dollar bills. The country will replace the last of its banknotes featuring the late Queen Elizabeth II with something much closer to home.
Britain's King Charles III, the late queen's first son and successor, may have inherited the throne, but his face will not appear on Australia's five-dollar bills. 
"I think that's absolutely brilliant," said Sydney resident Leanne Nijemeisland. "This is Australia."
Instead of the king, Australia's government decided that new five-dollar bills will carry an image honoring the country's indigenous culture.  
"The five-dollar note will say more about our history and our heritage and our country, and I see that as a good thing," said Australian Treasurer Jim Chalmers.
The British monarch is formally Australia's head of state, but Queen Elizabeth's death in September resurfaced questions about the how much of a role Britain's royals should still play in former British colonies — if any. 
"We're in Australia. We need to be a republic. We've got nothing to do with the monarchy," Sydney resident Stewart Fairbairn said.
"The queen's finished, and I don't think Charles is up to it," agreed Robyn Welsh.
Queen Elizabeth II's face is still on more than a dozen currencies in circulation around the world.
The U.K. will start rolling out new banknotes bearing King Charles' image next year, but especially in light of Australia's move, it's unclear how many other countries will stick with the tradition.
Not everyone in Australia is glad to see the monarch replaced. 
One Sydney resident, who didn't give her name, said "the queen is amazing and so we should keep her, in like, loving memory of her. Maybe the king can go on another note, but keep the queen."
Charles' face will make it onto Australia's coins, but the monarchy's 100-year monopoly on the country's cash is finally spent.
Ian Lee is a CBS News correspondent based in London, where he reports for CBS News, CBS Newspath and CBS News Streaming Network. Lee, who joined CBS News in March 2019, is a multi-award-winning journalist, whose work covering major international stories has earned him some of journalism's top honors, including an Emmy, Peabody and the Investigative Reporters and Editors' Tom Renner award.
source: https://www.cbsnews.com/news/king-charles-iii-wont-be-on-australia-money-five-dollar-note-uk-monarchy/