One of NZ's last World War II veterans celebrates 100th birthday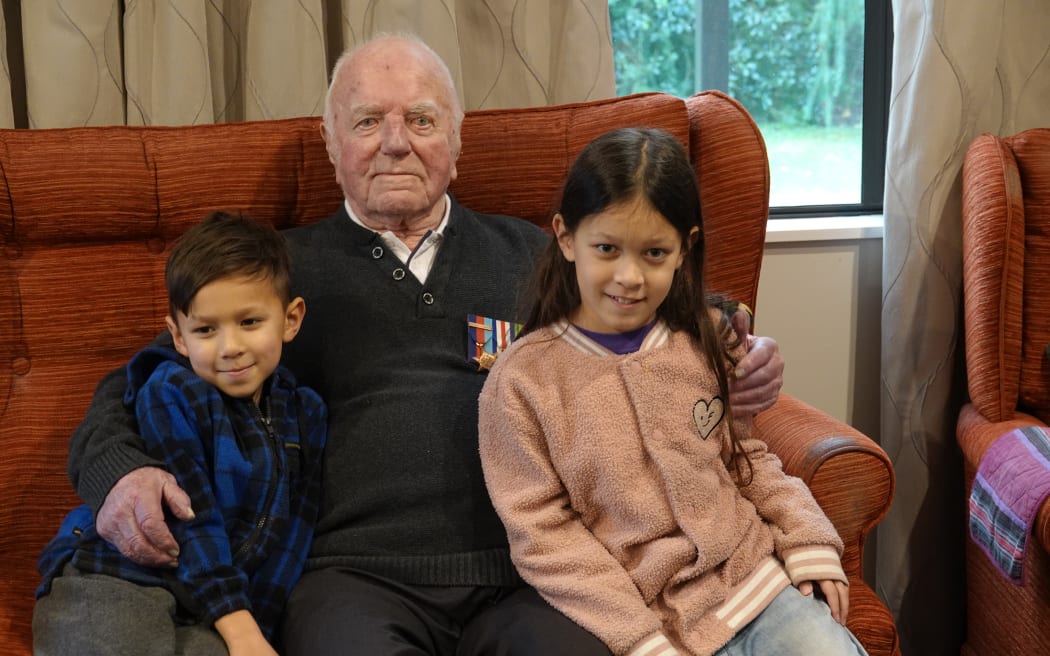 Eddie Chapman sits with great-grandchildren Jayden Him, 6, and Riharna Him, 8, from Paraparaumu. Photo: RNZ / Jimmy Ellingham
An air force plane has flown low over Palmerston North to say a special happy birthday to one of the last remaining World War II veterans.
Eddie Chapman turned 100 today, quite an achievement for a man who spent his 21st birthday in a German prisoner of war camp. Today, he braved the rain and cold to watch the T6-C Texan twice circle above his house, before pilot Paul Stockley radioed a crackly happy birthday message. Chapman then resumed his place as centre of attention indoors, for his surprise party.
Born in England, Chapman signed up to the Royal Air Force, where he flew 10 completed missions as a bomb aimer - sitting in the nose and dropping explosives over Europe. His Lancaster bomber was shot down near the Germany-Belguim border on his 11th mission in June 1944.
"We never made it to the target. We were shot down on our way. They German fighters - they honed in on you," Chapman said.
"Where I was lying in the front - I had to pull the escape hatch. I had to dive out so the others could come behind me, but the pilot went down with the plane.
"Another one was wound round the tail. And he of course went down with the burning plane. And another one's parachute didn't open, so four of us got out and three were killed."
Chapman landed safely, having recited the Lord's Prayer on the way down. After two days he was captured and sent to a POW camp, Stalag Luft 7, where he remained for about a year until, as the war neared its end, the prisoners were marched across Germany. Some of the prisoners, who had been captured years earlier, struggled with this.
"There was a lot of frost bite and things like that. We were hungry. The Germans gave us bread occasionally, otherwise we had to live off the land, on turnips and things like that.
"There were quite a few chappies who couldn't make it."
Near Berlin, the POWs hoped they would not be bombed by their own planes.
"The war finished and we were flown back eventually to England. It was good to see the White Cliffs of Dover coming up."
Chapman moved to New Zealand in the years after WWII, where he married Jill, and became a farmer. He said farming was in his blood but, after his dad died when he was nine, he knew he would not be able to afford land in England.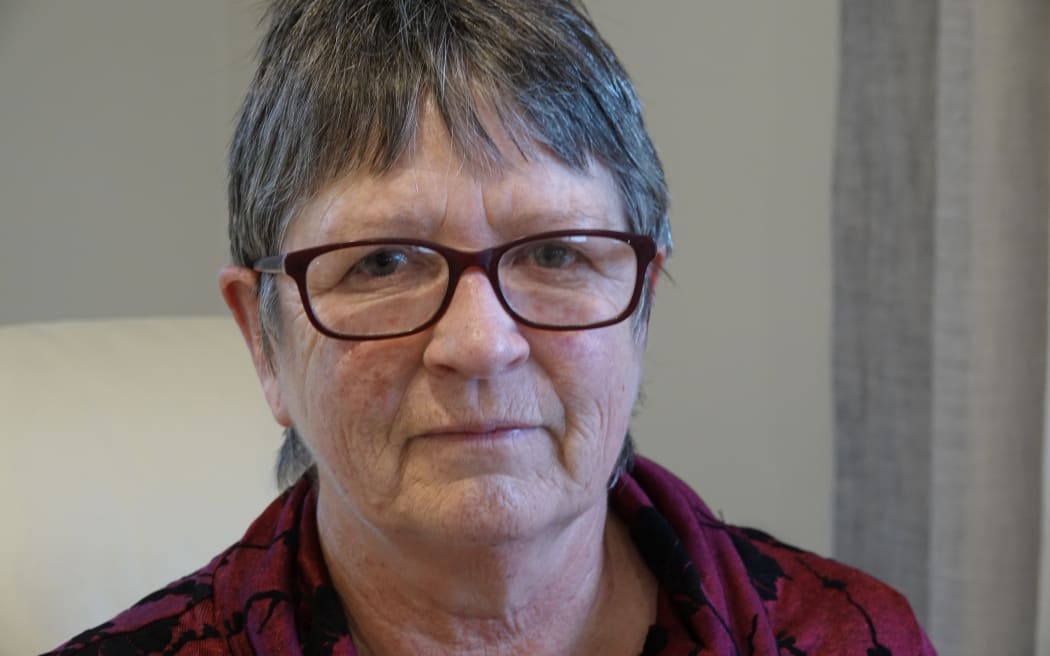 Daughter Jayne Roiri is proud of her father, who spent his 21st birthday as a prisoner of war. Photo: RNZ / Jimmy Ellingham
Daughter Jayne Roiri could not be more proud of her father, who she said was a dedicated farmer and community man, serving on various boards. He would often stay late at meetings and then have to get up early for milking, so her job was to make sure that when he sat down with a cup of tea over lunch his drink did not smash on the ground.
"When he was 80 I had a surprise birthday party for him. I promised him we'd have another one when he was 100. I think he thought I was taking the mickey out of him, but it's come to pass," Roiri said.
"He spent his 21st birthday in a German prison camp. If you think about our youth of today they've got no idea what life is really like if you consider what young men of that era went through."
A surprise guest at the party was Frank Haslam, who flew in from England. His father, Frank Haslam senior, flew with Chapman and also survived the 1944 crash.
"Our family has known Eddie for a long time. He has visited us in the UK and been to the crash site in Belgium. We've enjoyed his company, and that of his late wife Jill and the family," Haslam said.
"When Jayne said that this celebration was coming up I thought, 'It's now or never,' so off we go to New Zealand. It's wonderful to see him in such fine form. If I ever get to 100 I'll try and be like him."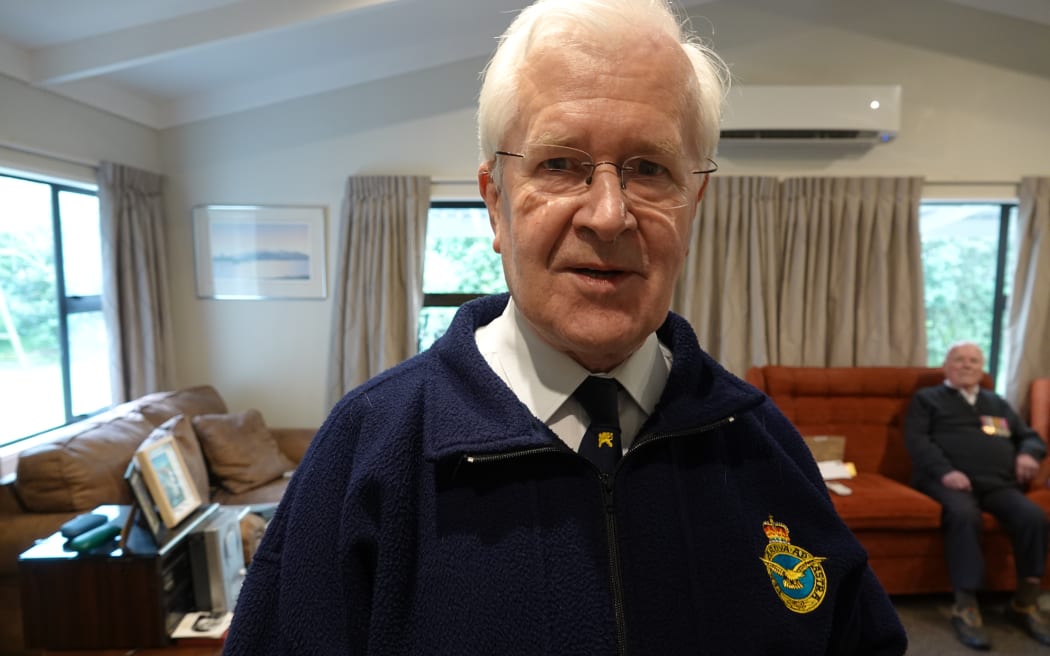 Frank Haslam junior made the trip from England for Eddie Chapman's birthday. Photo: RNZ / Jimmy Ellingham
Haslam senior and Chapman lost contact for a while, but renewed their friendship after Haslam senior asked his son what he should do.
"I said, 'Just get on the train and go up to New Zealand House [in London], and that's what Dad did. They brought him electoral registers and he found some CE Chapmans and send off some telegrams.
"He got one back from Eddie, saying words to the effect of, 'Bang on target'...
"On the anniversary of them being shot down, 21 June 1944, Dad would phone Eddie and when Dad died I continued that. I had to be careful this year when speaking to Eddie not to say, 'I'll see you shortly.'"
In a nice touch, today's Texan pilot, Squadron Leader Paul Stockley, has previously served in the same RAF squadron, 207, as Chapman. Stockley said the flypast was a tribute to Chapman's part in the war effort.
"Those are experiences that I think would be very hard for us to relate to, hence why it's important to remember exactly what they went through to help ensure we are able to live in our country, the best country in the world, the way we do today."
Chapman's visitors also included RAF Flight Sergeant Andrew Smith and Flight Lieutenant Kieran, who asked for his surname not to be used in line with RAF policy. The pair were temporarily working at Ōhakea air force base, near Palmerston North, and Kieran said it was an honour to be at Chapman's celebration.
Chapman puts his longevity down to Viking blood, and said he was overwhelmed with the focus on him today. With five children, 15 grandchildren and 20 great-grandchildren, he was likely to get plenty more attention as he reached 100 not out, as he put it.
source: https://www.rnz.co.nz/news/national/493690/one-of-nz-s-last-world-war-ii-veterans-celebrates-100th-birthday