How much prison time Trump faces if convicted on Espionage Act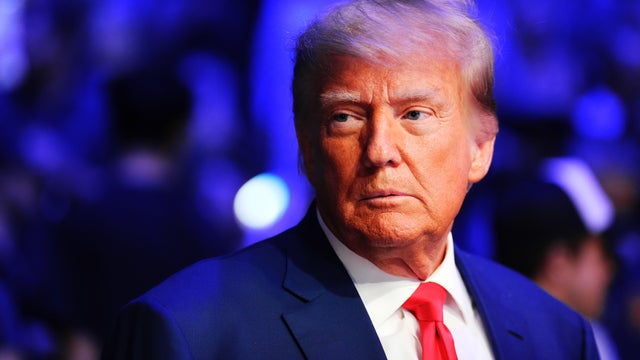 Washington — Before a former FBI intelligence analyst was sentenced to prison last month, she asked a judge for leniency after pleading guilty to the same Espionage Act charge that former President Donald Trump is accused of violating. 
"Her situation has been publicized locally and nationally — garnering mention alongside prominent political figures whose conduct appears uncannily analogous to Ms. Kingsbury's," her lawyer wrote in a sentencing memo that asked for probation. 
The analyst, Kendra Kingsbury, was sentenced to 46 months in prison for willful retention of national security secrets, accused of illegally keeping 386 classified documents at her personal residence in Kansas. She pleaded guilty to two counts of violating the Espionage Act that involved 20 of the documents.
Kingsbury's case and others involving Espionage Act violations offer a guidepost for the potential consequences Trump faces if he's convicted, but also highlight the uniqueness of his case. 
A federal grand jury indicted the former president in June on 37 counts related to his alleged mishandling of classified documents and obstruction of the government's efforts to retrieve them from his Mar-a-Lago club. Of those charges, 31 are for alleged violations of the Espionage Act. 
"Charging a former president of the United States under the Espionage Act of 1917 … is one of the most outrageous and vicious legal theories ever put forward in an American court of law," Trump told his supporters on June 24. "The Espionage Act has been used to go after traitors and spies." 
Though the nation's most notorious spies were prosecuted under the Espionage Act, Trump is not charged with being a spy. He is charged with violating 18 U.S.C. 793(e), a provision of the law that makes "unauthorized possession" of documents "relating to the national defense" a crime. He has pleaded not guilty. 
"It is rare that these cases ever go to trial," Mark Zaid, a national security lawyer, told CBS News. 
Since 2017, at least seven cases involving the same provision of the Espionage Act ended in guilty pleas, including Kingsbury's. Another went to trial, resulting in a guilty verdict. None were sentenced to the maximum 10 years in prison — sentences ranged from 18 months to nine years — and more than half received lesser sentences than the government had asked for. 
"Usually the sentences are around three to six years," Zaid said. 
Prosecutors accused Kingsbury of taking home documents from the FBI that were classified at the secret level and included information on "sensitive human source operations in national security investigations, intelligence gaps regarding hostile foreign intelligence services and terrorist organizations, and the technical capabilities of the FBI against counterintelligence and counterterrorism targets." She kept the documents in an "unsecure space, readily available to whoever may have had access to her residence," according to court documents. 
"[Trump] had much higher level information than she did and that too would be taken into account in any punishment," Zaid said. 
The Trump indictment alleges the former president kept documents that were classified from top secret to secret in boxes stored at Mar-a-Lago, including in a bathroom and shower, a ballroom and his bedroom. The documents allegedly contained information on U.S. nuclear programs, potential vulnerabilities of the U.S. and its allies to a military attack and plans for potential retaliation in response to an attack. 
Robert Birchum, a former Air Force officer, was sentenced to three years in prison in June after pleading guilty to one count of violating the Espionage Act. Prosecutors said he removed more than 300 classified documents and files, including top-secret information, from secure locations and stored them at his Florida home, in a storage pod parked in his driveway and at his overseas officer's quarters. He possessed files containing information on the National Security Agency's capabilities that, if released, could "cause exceptionally grave damage to the national security of the United States," prosecutors alleged. 
Birchum also cited Trump's handling of classified documents, as well as the actions of other prominent officials, in arguing that he should not have to serve any prison time. 
"One must not look very hard to find the numerous news articles, internet opinions, and television coverage of the spate of recent cases involving allegations of mishandling classified information," Birchum's legal team wrote in a sentencing memo that asked for probation.
Harold Martin, a former NSA contractor, received the nine-year sentence in 2019 after pleading guilty to one count of violating the willful retention provision in what was said to be the largest theft of its kind from the U.S. government. The government described the sentence as "one of the longest ever imposed in this type of case." Documents that were classified at the top-secret level and could reveal sensitive sources, methods and capabilities were among the 50 terabytes of data he was accused of stealing and keeping at his Maryland home and in his car. 
A guilty plea increases the likelihood of a lighter sentence and reduced charges, while going to trial could end in an acquittal but if convicted, a defendant is likely to receive a lengthier sentence. 
"Because of the nature of how the Classified Information Procedures Act works, there's very little by way of legal argument that exists by the time the trial would come around," Zaid said. "So it becomes a factual debate. Did the person do it or not? And given in these cases, as with Trump, it is uncontested the individual was in possession of the national defense information. So they plead." 
The statute, known as CIPA, was designed to address the use of classified information in criminal trials. The pre-trial process limits defendants from threatening to disclose classified information at trial in an attempt to force the government to drop the charges. But a judge could also determine during the process that classified information is relevant and helpful to a defendant, meaning the government would have to make a choice between disclosure or dismissing the charges.
For Trump, who is running for president, the case has political ramifications. 
"[There's] the spectacle of it, and fundraising opportunities and all of the ways in which he's sort of a unique animal when it comes to the criminal justice system," Emily Berman, an associate professor at the University of Houston's Law Center, told CBS News. 
Zaid said Trump's best legal strategy is to delay the case as long as possible and hope he wins the presidential election. 
"This federal case will go away because he will have the authority to make it go away," he said. 
On Monday, Trump's legal team asked the judge overseeing the case to delay his trial, potentially until after the 2024 election. 
Zaid said Trump's case will have an impact on similar cases in the future, noting that he cited former Secretary of State Hillary Clinton's use of a private email server and Gen. David Petraeus' mishandling of classified information to minimize punishment for a client who then received probation. 
"When you are dealing with high-level public officials and a high-profile prosecution, it will impact all the little people down below," he said. 
Yet, not every outcome that applies to Trump would apply to other civilians who may be convicted of the same crime. For instance, Berman said she doesn't expect that other defendants would succeed in  avoiding prison, even if Trump is convicted and does not face any time behind bars. 
"There's all sorts of other factors to take into account," she said, giving the hypothetical that the former president could be sentenced to house arrest. "The next defendant comes along and says, 'Well, I want to be subject to house arrest instead of going to prison.' But you don't have Secret Service protections. You're not running for office or holding public office or any of the crazy scenarios we might find ourselves in." 
Caitlin Yilek is a politics reporter for CBS News Digital. Reach her at
[email protected]
. Follow her on Twitter: https://twitter.com/hausofcait
source: https://www.cbsnews.com/news/trump-prison-classified-documents-espionage-act/