Tairāwhiti locals fed up with impact of constant storms
Locals say Tairāwhiti has had a constant hammering of bad weather - with at least five storms in the past year shutting off roads and cutting off communities.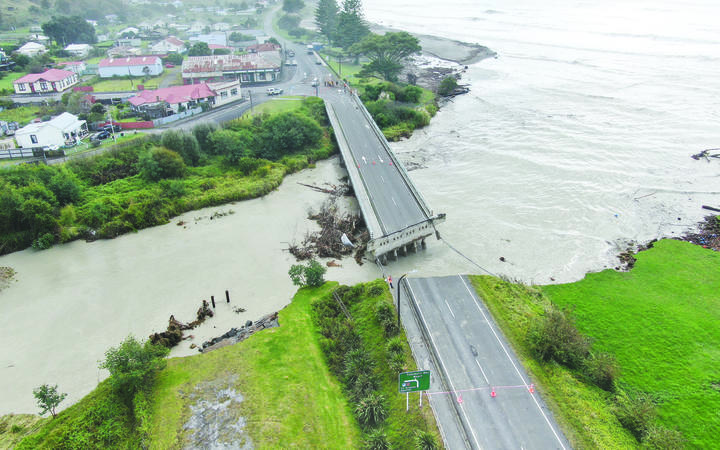 Tairāwhiti was hit hard by flooding three weeks ago, splitting the bridge at Tokomaru Bay in two Photo: ATS Engineering & Network Solutions/Supplied
The region has been hit by serious storms once a month for the past three months.
A study suggests rain like this in Aotearoa is 15 percent more intense and 20 percent more likely to happen than it was 100 years ago.
It was June, then it was November, February, March and April.
Although known as the first place to see the sun, the onslaught of bad weather has not stopped in Tairāwhiti.
Last week, in the most recent storm, a temporary bridge in the isolated Waipiro Bay washed out.
Resident Len Walker said he could not get out, due to the deep water close to his house.
"So I was stuck there for two days, just purely because the water was all sort of murky, you couldn't see the bottom."
He said the land around him that he knew as a child was slowly disappearing.
"The foreshore was actually probably another 25-30 metres out to sea. There was a grassed area out there, that's all gone now. It's not the just the flooding and all that, it's also to do with our tides and there's all sorts of stuff going on there that's taking away the land."
Cyclone Bola in the 1980s was huge, but Walker said big downpours were hitting more and more often.
"That was like a once-in-a-lifetime event, but these sorts of weather events are happening just about every year, multiple times throughout the year as well."
Tairāwhiti Contractors is based in Ruatorea, and has been assisting with the likes of traffic management and inspections during the flooding response.
Its director Kat Kaiwai said the closure of State Highway 35 - the road from Gisborne to the East Cape - was not always shut during a storm.
But the road was shut during both storms over the last two months. The road from Tokomaru Bay to Te Puia Springs is still shut every night.
"So I think with the road closures, and the length of time, that has been a telling point of how serious this has been this time around," she said.
She praised the resilience of East Coast residents, but said it still meant issues could go unreported.
"It could be detrimental in the fact that people aren't aware of what they're going through, because they're so used to managing it themselves," she said.
"Whether they cut their own trees, whether they cut tracks through their farms to make roads and all of that. They've managed to get by but other people don't know that there's a need."
Gisborne District Councillor in the Matakaoa-Waiapu ward, Bill Burdett believed Waka Kotahi had not cared enough about the highway.
He said he told them as much at a recent meeting.
"I don't mince words, I just hooked in and told them, it was unacceptable to have our state highway left in abeyance like it has been, when they spend mega millions on all sorts of roads in the cities and outside of Wellington."
Neither Environment Minister David Parker or Climate Change Minister James Shaw would be interviewed for this story.
But in a statement, a government spokesperson called the recent and regular flooding in Tairāwhiti a "serious concern".
"The government has a broad programme of work underway that will assist in increasing flood resilience and mitigation," the statement read.
"This includes resource management system reform, measures under the essential freshwater reforms (such as those that reduce sedimentation), Jobs for Nature initiatives including riparian planting, climate change adaptation and work with the insurance sector."
Tairāwhiti has the highest amount of sediment movement into waterways of any region besides the West Coast.
The government also approved $13.5 million for improving State Highway 35 and Waka Kotahi was about to provide further advice to the Minister of Transport in the coming weeks.
In a recent speech to the house, Shaw said studies suggested rain like the kinds seen in Tairāwhiti was 15 percent more intense and 20 percent more likely to happen than it was 100 years ago.
This came from a government-funded research project called Extreme Weather Event Real-time Attribution Machine, focused on Canterbury flooding from last year.
In a statement, he said the government is about to consult on a "draft national adaptation plan" to help communities better prepare for climate change.
He said New Zealand's first emissions reduction plan, to be released next month, would outline how the country would lower emissions and limit warming across every part of government and sector of the economy.
source: https://www.rnz.co.nz/news/national/465646/tairawhiti-locals-fed-up-with-impact-of-constant-storms