Child attacked by mountain lion in California, taken to trauma center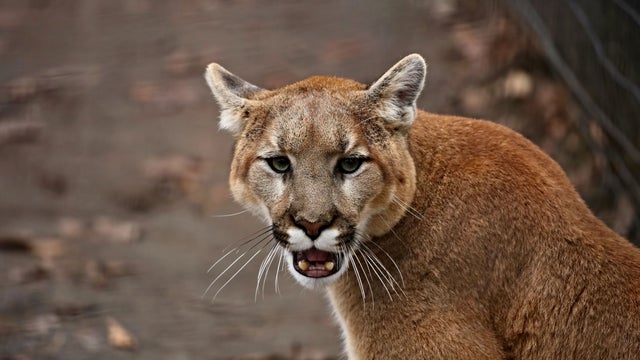 A child was taken to a trauma center Tuesday after being attacked by a mountain lion in rural Northern California, authorities said. The attack was reported shortly before 7 p.m. on Tunitas Creek Road in an unincorporated area of San Mateo County, the Sheriff's Department said.
@SMCSheriff was dispatched to a report of a mountain lion attack and we can confirm a child was transported to a local trauma center after the attack. Incident occurred on the 1000 blk of Tunitas Creek Rd. in unincorporated SMC. @CaliforniaDFW actively investigating the incident
The area is south of Half Moon Bay.
The victim was conscious while being taken to the hospital but there was no immediate word on the child's condition. Other details weren't immediately released.
The California Department of Fish and Wildlife was investigating the attack.
Mountain lion attacks on humans are rare. Around 20 confirmed attacks have occurred in California in more than a century of record-keeping, according to the Department of Fish and Wildlife.
Last September, a 7-year-old boy was bitten by a mountain lion while walking with his father around dusk in a park near Santa Clarita in Southern California. The father scared the animal away and the child was treated for relatively minor wounds.
Over the last year, mountain lion sightings have been on the rise across the Bay Area, CBS San Francisco reported.
A mountain lion cub wandered into an empty classroom at Pescadero High School along the Peninsula in June. After several hours, Department of Fish and Wildlife personnel were able to safely remove the cub from the classroom.
Mountain lions have also been caught lurking in the shadows on security cameras in Millbrae, the station reported. Some residents in the Oakland hills and Piedmont say they've seen mutilated deer carcasses in their neighborhoods. One cougar was caught in a tree in San Francisco's Bernal Heights neighborhood and transported to the Oakland Zoo while another broke into a San Bruno home.
Meanwhile, a Southern California mountain lion studied by the National Park Service was killed after a likely vehicle strike earlier this month on Pacific Coast Highway in Malibu, officials said.
The radio-collared cougar known as P-81 was found dead along the route near Point Mugu on Jan. 22, the park service said on Twitter.
A necropsy will confirm the 4-year-old male died as a result of being hit by a car.
The park service says at least 34 mountain lions have been killed by vehicles since 2002 within its study area, which includes the Santa Monica Mountains, Simi Hills and Verdugo mountains.
Biologists are studying how the big cats live in habitat fragmented by urban sprawl, barriers that limit genetic diversity and with hazards ranging from poisons to roads and freeways.
P-81's death comes more than a month after the famous cougar P-22, who lived for years in a sprawling Los Angeles park, was euthanized after examinations revealed worsening health and injuries likely caused by a car.
source: https://www.cbsnews.com/news/mountain-lion-attacks-child-san-mateo-county-california-trauma-center/