Greens oppose move to orange, looser mask rules at schools
Opposition parties are pleased New Zealand will move to the orange traffic light tonight, but Labour's partner party is not so supportive.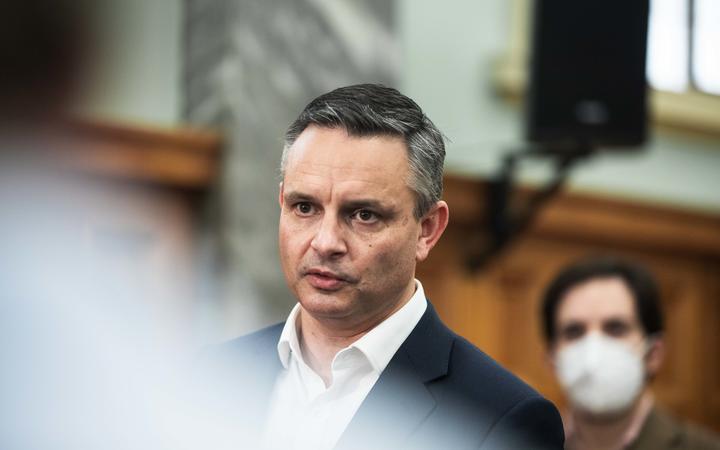 Green Party co-leader James Shaw Photo: RNZ / Samuel Rillstone
Even those supporting the move are critical of the government's overall traffic light system however.
Covid-19 Response Minister Chris Hipkins this afternoon announced the government's plan to have all of New Zealand move to the orange setting at midnight tonight, saying the overall picture was positive.
It means there will be no more indoor or outdoor capacity limits, and no seated and separated rules for people at hospitality businesses. The mask rules are also slightly looser.
The Green Party decried the move to orange, and particularly urged the government to listen to calls to extend mask rules so children at school were still required to wear them at orange.
Party co-leader James Shaw was not happy with today's decision.
"[Covid-19] is ripping through schools and that's partially because of the low vaccination rate of getting that second shot amongst school children, so that is concerning. And we've just passed 500 deaths in this country which two years ago would've been completely unacceptable - so it does feel like a strange time to be stepping down the traffic light levels.
"We should be staying at the higher level of caution until we get those vaccination rates up to the point where we can truly say we've got an equitable vaccination programme."
He said the proof was in the pudding over the need to devolve decision-making for Māori and Pacific vaccinations to iwi, hapū and Pacific providers.
"Clearly they started to shift towards that strategy ... that's when the vaccination rates started to go up amongst those communities."
New Zealand had proven time and again in the past two years that the strongest health response was the best economic response, he said, and while the government had tried to balance a range of views he hoped politics had not come into it.
"I have been disappointed particularly with the opposition parties who have consistently called for weakening restrictions, particularly at the height of the pandemic, and that to me just does not make any sense at all.
"I do think that's contributing to the political pressure and I hope that the government isn't making decisions on the basis of, frankly, bad ideas."
The party's Covid-19 Response spokesperson Teanau Tuiono said New Zealand should remain at red for at least another two weeks.
"Our concern is that removing protections now will put Māori and Pacific whānau, immunocompromised people, disabled people, our under-5s, and whānau on the lowest incomes at risk."
National's Covid-19 Response spokesperson Chris Bishop said National welcomed the move to orange, but the government should get rid of the traffic light framework altogether.
"It's become deeply confusing and as the minister himself demonstrated he doesn't even understand the rules himself - and that's because it seems like every week we actually change the definition of what red means, change the definition of what orange means, and change the definition of what green means."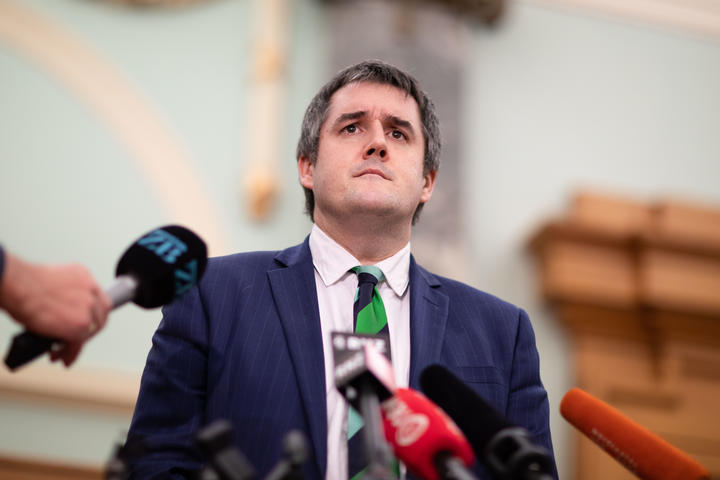 National Party Covid-19 Response spokesperson Chris Bishop Photo: RNZ / Angus Dreaver
He said the system was designed for the Delta variant and was predicated on required vaccine passes in many settings, so the system should be abandoned.
ACT leader David Seymour took the same position.
"It was a massive relief for people in the hospitality and events industry that they can meet in groups of more than 200 and go from table to table ... the question for the government is why we kept these restrictions for so long with no analysis of the costs and benefits of keeping us under a de facto lockdown for this last period of time."
"One thing that's become clear is that the traffic lights system's purpose was to simplify the rules - they made so many changes to the traffic light system that the traffic lights no longer have any meaning."
He disagreed with the Greens, maintaining ACT's position that individual schools should be able to decide for themselves.
"I've always said the person who understands a school best is the school principal."
Prime Minister Jacinda Ardern said the move would be very welcome for hospitality.
"It's fantastic that we have a move to orange, that means for hospitality in particular they'll have that change in settings which I know will make a difference for the school holidays."
source: https://www.rnz.co.nz/news/political/465231/greens-oppose-move-to-orange-looser-mask-rules-at-schools