Jan. 6 rioter who attacked officers sentenced to more than 7 years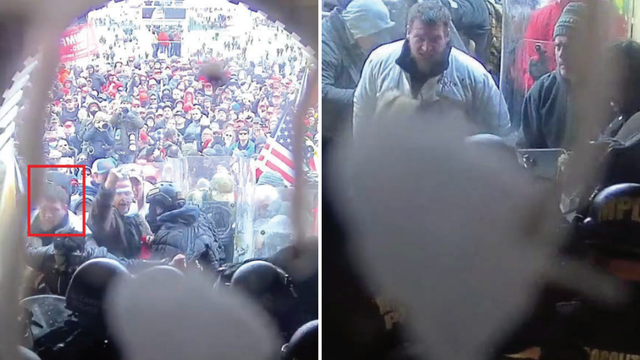 A man described by prosecutors as "one of the most violent and aggressive" participants in the Jan. 6, 2021, assault on the U.S. Capitol was sentenced Thursday to more than seven years in prison. 
Kyle Fitzsimons, 39, brawled with officers during the insurrection, committing five separate assaults in under 10 minutes, officials said. One of the assaults caused a career-ending and life-altering injury to U.S. Capitol Police Sergeant Aquilino Gonell.
Fitzsimons was convicted in September of last year of 11 charges, including seven felonies. 
During the riot, Fitzsimons hurled an unstrung bow at a group of officers, hitting one officer's helmet, officials said. He also tried to pull a fallen officer into the mob. When Gonell tried to protect the fallen officer, Fitzsimons grappled with him, permanently injuring Gonell's shoulder. 
Fitzsimons also charged at groups of officers, wildly swinging his fists. After he left the Capitol ground, he told others to "get in there" and fight with police. 
Gonell needed surgery after the attack. Despite having served in the Iraq War, Gonell previously told CBS that it was during the riot that he thought he would die.
"He ended my law enforcement career," Gonell wrote in a victim impact statement. "I can no longer do the job I loved and trained my whole life for due to my injuries. Nor take the lieutenant promotion I prepared and passed as I recovered. He changed my life for the worse and I might never fully recover."
Gonell asked that Fitzsimons be given the maximum sentence. The officer attended Fitzsimons' sentencing, CBS affiliate WABI reported. 
Images of Fitzsimons quickly gained attention after the riot. He wore a white butcher's coat. Fitzsimons was "bloodied by another rioter's unsuccessful attack" on officers. 
Fitzsimons is one of more than 1,000 people who have been arrested for crimes related to the Capitol insurrection. 
Prosecutors had asked that Fitzsimons be sentenced to 188 months of incarceration, followed by three years of supervised release. They asked that he be fined $26,892. Fitzsimons was sentenced to 87 months in prison and 36 months of supervised release. The judge ordered restitution of $2,000. 
"I apologize to this court, my family, and anyone else I disappointed with my conduct," Fitzsimons said during his sentencing. 
Aliza Chasan is a digital producer at 60 Minutes and CBS News.
source: https://www.cbsnews.com/news/capitol-insurrection-kyle-fitzsimons-sentenced-jan-6/