Two flood-damaged supermarkets stay shut, produce group warns of shortage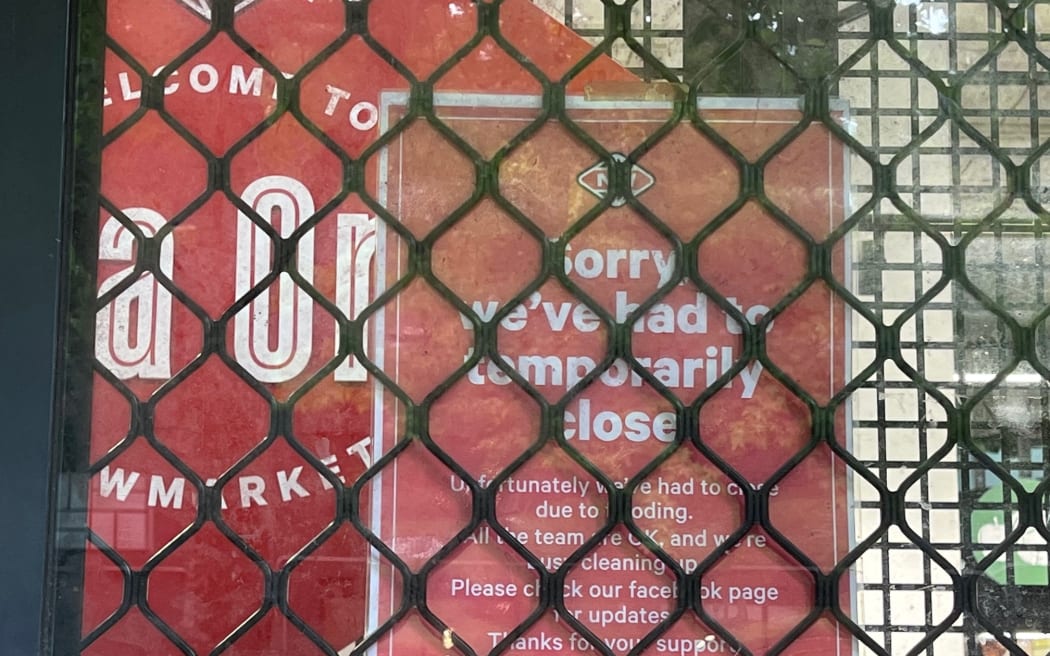 New World in Auckland's Newmarket had to shut after heavy rain flooded its premises on 27 January, 2023. Photo: Supplied / Foodstuffs
Two Foodstuffs stores are still closed in Auckland after extensive damage from the deluge on Friday.
At the height of the flooding, up to 14 Foodstuffs stores were shut due to severe to moderate damage.
That went down to just three stores and then two - the Wairau Pak'nSave, Mt Albert New World Fresh Collective, and Newmarket New World, which reopened on Tuesday morning.
New World in Auckland's Newmarket had to shut after heavy rain flooded its premises on 27 January, 2023. Photo: Supplied / Foodstuffs
The $7.5 million store opened four months ago and was inundated with floodwater on Friday night.
In a statement on Tuesday, Foodstuffs said the Wairau Pak'nSave, which is one of their largest stores, had extensive damage and getting it ready for re-opening was a huge exercise.
"We can't yet provide a re-open date, but our goal is days, not weeks."
There had been an increase in customers going to local Four Square stores in Auckland but no evidence of panic buying, Foodstuffs said.
"Our supply chain remains in good shape, and we have plenty of stock in reserve thanks to the dedication and mahi of our distribution centre teams, many of whom live in flood affected areas.
"We've largely caught up on the delays with transportation and whilst we can't reach Four Square Coromandel due to the closure of State Highway 25, we're exploring other options to replenish the store."
The company said it was too soon to say what impact the rain would have on locally grown produce partners.
"Our buying teams remain in close contact with our suppliers and growers so we can anticipate any potential issues with supply and work with them on their recovery plans."
Pan-produce industry group United Fresh New Zealand said it expected there would be shortages of fresh vegetables in the coming weeks.
Spokesperson Anne-Marie Arts said the extensive flood waters would affect the quality and shelf life of many crops.
"Flooding exposes fresh produce to microbial risk. If floodwaters come in contact with the edible part of the crop, it is considered to be contaminated and will not be harvested," Arts said.
"After the flooding subsides, growers will not harvest the affected crops and will have special protocols for disposing the affected plant matter," she said.
"Replanting the land will not occur for some time until it is dry and considered suitable. These delays might result in supply gaps of some varieties."
Crops that might be suitable to pick will now be quarantined until they are declared safe to eat by microbial testing.
Arts warned people with home gardens to take care too.
"Whether it's a commercial farm or a home vegetable garden, floodwaters present a real risk to the health of your whānau."
source: https://www.rnz.co.nz/news/business/483396/auckland-flooding-wairau-pak-nsave-and-mt-albert-new-world-fresh-collective-remain-closed