Super-hot explosive battery fires happening too often, council says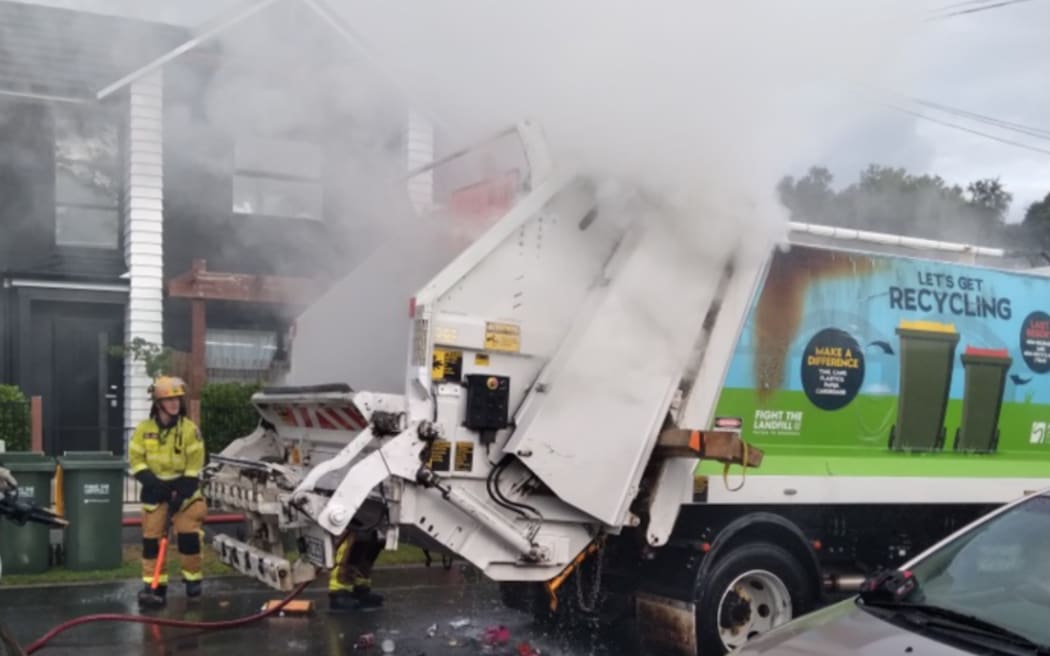 Lithium batteries put out for recycling or rubbish collection have caused three fires in Hamilton in the last six months, including this one, and firefighters say they are a challenge to put out. Photo: Supplied/ Hamilton City Council
A series of fires have been caused by a common household battery which can trigger explosions, and firefighters believe some people are deliberately hiding them in recycling and scrap.
Lithium batteries were the cause of three fires in kerbside rubbish disposed of in the last 6 months, Hamilton City Council said.
In late June a fire was discovered in a rubbish collection truck as it was emptied at a recovery centre. In May, a lithium battery caught fire after it was taken to the same recovery centre, and in February, a lithium battery from a vape caught fire inside a recycling collection truck, Hamilton City Council said.
Fire and Emergency (FENZ) investigator Peter Gallagher told Morning Report that when lithium batteries are damaged - which could happen during recycling processes or when they were being transported - they could catch alight with a super-hot flame and could cause an explosion.
The fires are particularly difficult to put out, so FENZ wants everyone to be aware of the dangers and to dispose of the batteries at a safe designated council drop-off point.
"This is a burning metal and metals typically burn at around 2000 Celsius, so they're very very hot," Gallagher said.
"And they start generating other things which are equally flammable - other gases given off. So you end up with a fire that grows and gets bigger quickly, burns very hot and takes a long time for water to take that heat away. So typically as firefighters we're there for a lot longer extinguishing these types of fires."
The batteries were also responsible for junk yard fires, he said.
"Most scrap yards will segregate and separate out lithium batteries if they see [them] and know - unfortunately we also see people now trying to dispose of these things by hiding them in amongst other scrap metal.
"That of course is very dangerous because as it goes through the recycling process for the parent metal the lithium is exposed and we can have major fires and explosions.
"And we've seen fires in scrap yards, and most residents that have endured one of those fires in a scrap yard nearby understand just how difficult it is for Fire and Emergency to deal with those types of fires."
The fumes from a lithium battery on fire are "highly, highly toxic", Gallagher said. People should be especially careful if they saw a white smoke coming from one.
"If anyone comes across a lithium battery and it starts smoking, you need to get out of its way."
Lithium batteries are used in many different types of electronics.
"These are very high energy batteries, and that's why we like them so much and use them so often these days. But the drawback is they don't like being physically abused, they don't like being crushed or punctured.
"And when they go in a recycling truck that's exactly what's happening. When that big crusher arm comes down to compact things it's squashing the battery and we know that that causes the lithium chemistry to fail and therefore the battery catches fire."
Most councils had programmes to recover lithium batteries, he said, and details about where to drop them off could be found on council websites. For the few councils that did not yet have accessible drop off points, work was underway
Work was being done to set up drop off points for areas that did not yet have one, he said.
"Lithium is a rare earth metal, and therefore there's only a limited amount of it on the planet, so the more we can recycle the better. So you're helping the planet out and you're helping fire and emergency and the local council out by not having these fires in recycling trucks."
Hamilton City Council sustainable resource recovery director Tania Hermann said lithium battery fires were 'all too common'.
"To have three of these incidents this year alone is really concerning ... no one wants to be responsible for another person getting injured," Hermann said.
"Lithium batteries, or appliances containing them, should never be placed into any of your kerbside bins. We encourage all Hamiltonians to consider the safety of those who drive the collection trucks and sort through the rubbish and recycling,
Drop off was free in Hamilton for all batteries and appliances containing batteries, at the Lincoln Street Resource Recovery Centre.
source: https://www.rnz.co.nz/news/national/493338/super-hot-explosive-battery-fires-happening-too-often-council-says