Bed Bath & Beyond has defaulted on loans, inching closer to bankruptcy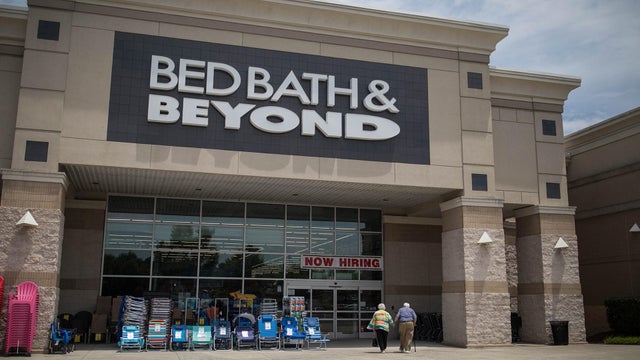 Bed Bath & Beyond defaulted on its loans and doesn't have enough money to repay what it owes, the retailer said Thursday.
The home goods chain disclosed the default in a securities filing which said it was considering alternatives — including restructuring its debt in bankruptcy court.
The filing isn't the first time Bed Bath & Beyond hinted at bankruptcy. The company warned earlier this month that there was "substantial doubt" it could stay in business. The retailer recently reported a 33% drop in sales and a widening loss for its fiscal third quarter that ended November 26, compared with the year-ago period. 
CEO Sue Gove blamed the poor performance on inventory constraints and reduced credit limits that resulted in shortages of merchandise on store shelves. Wall Street analysts and consumer behavior experts told CBS MoneyWatch that Bed Bath & Beyond committed self-sabotage years ago by failing to pivot to e-commerce fast enough, buying back too much of its own stock and trying to sell private label products that consumers didn't like. 
The default notice "underlines the company is living on both borrowed time and money," said Neil Saunders, managing director of GlobalData, in a Thursday research note. "Short of a miracle in the form of a sale of part of the business or a loan from an investor, the most likely outcome is bankruptcy."
A spokesperson for Bed Bath & Beyond told CBS MoneyWatch that the company has "a team with proven experience helping companies successfully navigate difficult situations and become stronger."
Still, turning around Bed Bath & Beyond is expected to be difficult amid increasing competition from discounters. Its struggles come as the economy is weakening and shoppers are tightening their purse strings.
Bed Bath & Beyond experienced a wave of investor popularity last year as Ryan Cohen, the billionaire founder of online pet food company Chewy, bought more than 7 million shares in the company. He sold those shares last August in a move that netted him $178 million and caused a wide selloff among meme stock investors. The company made headlines again in September when its former chief financial officer died unexpectedly after jumping from a skyscraper in New York. 
The New Jersey-based retailer has been trying to turn things around and slash costs after previous management's strategies worsened a sales slump. The company announced in August it would close about 150 of its stores and slash its workforce by 20%. It also lined up more than $500 million in new financing.
Bed Bath & Beyond's stock price fell 22% on Thursday to $2.52 a share.
source: https://www.cbsnews.com/news/bed-bath-beyond-default-bankruptcy/