Dozens hurt in Manhattan collision involving double-decker tour bus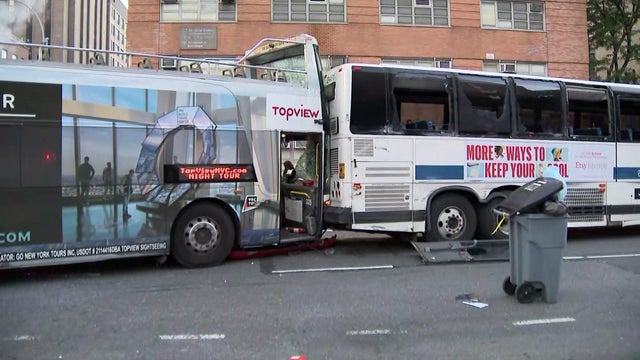 Dozens of people were injured in a crash involving a double-decker tour bus and a city bus in Manhattan Thursday evening, officials said.
There was a tangled mess of metal and glass when a Metropolitan Transportation Authority bus and a TopView Sightseeing double-decker bus collided just after 7:15 p.m. Eastern time in the Kips Bay neighborhood. 
New York City Fire Department officials said 27 people were hospitalized, including the tour bus driver, and about 50 others were examined at the scene. Injuries included fractures, cuts and bruises, the fire department said. None of the injuries were believed to be life-threatening.   
"We're all quite fortunate it was not much worse," FDNY Deputy Chief Paul Hopper said.
Crews had to use "ladders and ropes" to extricate some of the passengers from the buses, FDNY Deputy Chief Kevin Murphy added. 
"The impact felt like it was almost an earthquake," Ishrak Jahan, who was on the city bus, told CBS New York. "The whole bus was rattling and shaking. I heard the lady next to me scream, so I looked up and I saw this bus barreling towards us...I just saw glass everywhere for a second. It was honestly like I was in a movie. And it took a couple of seconds to snap back into reality when everyone started screaming. I saw blood."  
FNDY officials said they were unsure on the circumstances which led up to the collision. However, New York City Transit President Richard Davey blamed the crash on the tour bus.
"This tour bus behind us seemed to have blown a red light and T-boned our bus," Davey told reporters. "Hit it actually twice, it was going so fast, we think."
Pillan, who was on the tour bus with his family, told CBS New York that "a lot of people" were "thrown out of their seats. Injured, a lot of injuries. A lot of old people injured." 
Some passengers, like Paulina Rychel, were hit by a wave of glass.
"I heard the boom and then I felt it," Rychel said.
Firefighters had a challenge taking people off the second deck of the tour bus and going through windows to take people out.
Dick Brennan joined CBS2 in 2012 as an anchor and reporter. In addition, he anchors on our digital channel CBS News New York, which is also seen on the News at Nine on our sister station WLNY-TV.
source: https://www.cbsnews.com/news/dozens-hurt-manhattan-new-york-city-double-decker-bus-tour-collision/