U.S. saw 26 mass shootings in first 5 days of July alone, Gun Violence Archive says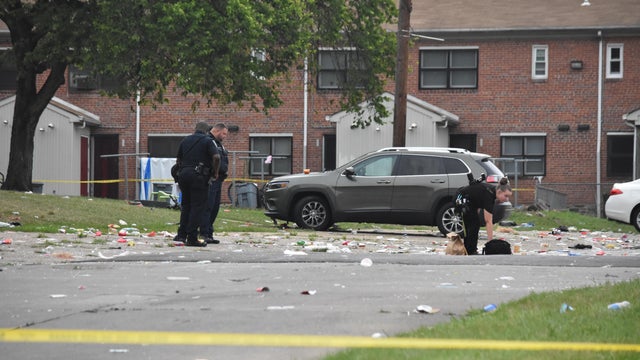 There were 26 mass shootings in the first five days of July, according to data collected by the Gun Violence Archive. 
The archive collects data on gun violence in the United States, and classifies a mass shooting as an incident where four or more people, not including the shooter, are injured or killed. 
The shootings seen so far this month included a drive-by shooting in Washington, D.C. on July 5 that injured nine, and an incident in Shreveport, Louisiana that left four dead and seven injured on the Fourth of July, according to the archive. Much of the violence took place over the holiday weekend, including a July 2 shooting at a house party in Baltimore, Maryland that injured 28 and killed 2. 
In total, at least 24 people have been killed and more than 140 people have been injured in mass shootings in the United States so far this month, according to the archive. At least 14 deaths and 50 injuries resulted from shootings over the Fourth of July weekend, CBS News previously reported. 
In 2023, there have been over 9,700 gun violence-related deaths and 19,180 injuries in the U.S., according to the archive. There were 360 mass shootings, 27 mass murders and 845 unintentional shootings. At least 143 children have been killed by guns, and another 353 have been injured. The archive says 780 teenagers were killed, and another 2,122 were injured.
Despite the amount of shootings this month, Sen. Chris Murphy, a Democrat from Connecticut, said gun violence decreased in major American cities in the first five months of 2023. Murphy was one of the key negotiators behind the Bipartisan Safer Communities Act, major gun legislation that was signed into law by President Biden one year ago. 
"There's no doubt that this bill is saving lives," Murphy told CBS News. 
The law introduced enhanced background checks for buyers under 21, closed a loophole to prevent convicted domestic abusers from purchasing firearms for several years and provided billions of dollars in funding for issues like school security and mental health. Sens. Thom Tillis (R-N.C.), John Cornyn (R-Texas), and Kyrsten Sinema (I-Ariz.) also played key roles in negotiations that led to the bill's passage. The consensus followed mass shootings in 2022, including the Robb Elementary School shooting in Uvalde, Texas. 
"Democracy is not so broken that we can't find a way to come together, even on a topic that for 30 years has been a real political hot spot," Murphy said. 
Kerry Breen is a news editor and reporter for CBS News. Her reporting focuses on current events, breaking news and substance use.
source: https://www.cbsnews.com/news/mass-shootings-us-first-5-days-july-alone-gun-violence-archive/