Police praise farmer for quick action after deer shot on nearby property
A farmer is being praised for his quick response to seeing poachers on a neighbouring property.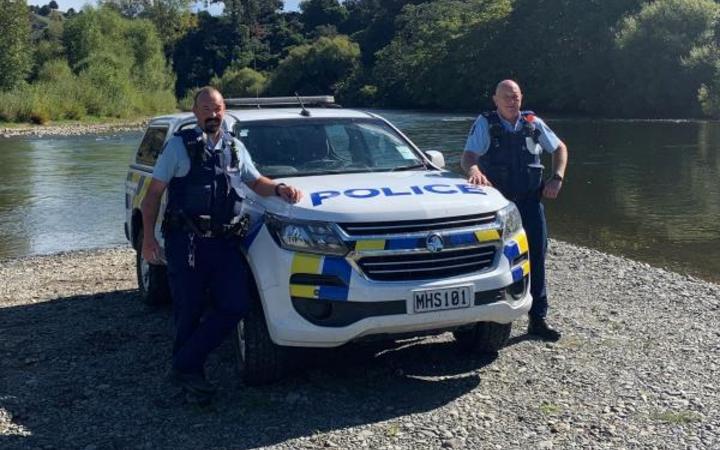 Constable Mark Bolten (left) and Senior Constable John Tito. Photo: Supplied / NZ Police
The farmer based near Raurimu on the Central Plateau noticed a ute parked on the side of the road, and saw two men get out with a firearm, jump the fence into neighbouring property and shoot one of the wild deer grazing there.
The farmer called police and National Park Constable Mark Bolten, who was nearby, was at the scene within minutes.
"When I arrived, the ute was still there and the farmer told me that the two men had run into the bush upon seeing me arrive in the patrol car," Bolten said.
"I spoke with the driver of the ute, got his details, and asked him a few questions, he responded with a few creative explanations as to what he was doing, and during this time I got a few more units to come and assist from Taumarunu."
The officers asked the farmer to call them as soon as he saw the two men who had run into the bush.
As soon as the officers left the men emerged and the farmer called Constable Mark Bolten.
They surrounded the men in an enclosed area of bush.
"We voice appealed to the men to come out and about 10 seconds later they walked out," Bolten said.
Two men in their mid-20s and a driver in his 30s have been charged with unlawful hunting and a firearm was seized.
Bolten said with the roar in full swing more vehicles are coming into the area.
"It's very brazen to poach in broad daylight but it also shows that it's opportunistic.
"The property owner was very happy about us catching the poachers and we were very grateful for the farmer who alerted us to the suspicious behaviour."
source: https://www.rnz.co.nz/news/country/464881/police-praise-farmer-for-quick-action-after-deer-shot-on-nearby-property