Pom Klementieff details how she prepared to play "Mission: Impossible" villain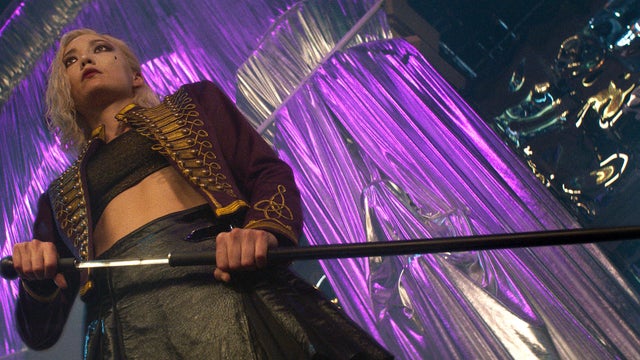 For Pom Klementieff, taking center stage in the newest "Mission: Impossible" movie was a dream come true.
The actress who has starred in multiple action films, including Marvel's "Guardians of the Galaxy" series, said she always wanted to do action movies, "specifically 'Mission: Impossible.'" 
"I think it's the best of this genre, you know? It's more than just an action movie," Klementieff said. "I think it's art, you know, and the level of excellence in everything in these movies is just, it's just mind-blowing." 
Even before being cast as Mantis in the second "Guardians of the Galaxy" movie, Klementieff was training in martial arts. She spent years learning how to fight, and sometimes while writing the sessions in her schedule, she would label them as "Mission: Impossible" training instead of martial arts training or stunt training. 
"I was manifesting the whole time," Klementieff said. "(I) was like one day, 'Maybe I get to do a fight with Tom (Cruise).'"
Finally, her work paid off and Klementieff was cast as Paris, the villain in "Mission: Impossible - Dead Reckoning Part One," the seventh chapter in the high-octane action series. Her character pursues Tom Cruise's Ethan Hunt with a maniacal glee, a performance that Klementieff said was partially inspired by a bird.
"This particular bird, you have to Google it, it's called a shoebill or shoe-billed stork. I thought it kind of looked like my character," Klementieff said. "It's a crazy prehistoric bird that looks crazy, and I like the way it moves and the look that it has, and in the movie ... I don't speak a lot. So a lot of emotions are conveyed with just body movement, face movement with just a kind of rage boiling under the skin and wanting to explode, but like, with no words, you know?" 
Klementieff said that another part of her acting process was urging Tom Cruise to kick her harder during some of their climactic fight sequences. 
"I know my distances and I know that if I squeeze my abs, I can take a hit. And that's (what) you do when you fight, you know? Tom is so trained and so skilled and so good at action that he could actually do it if he wanted to with a little bit of contact in action movies actually helps and makes it look more real," Klementieff said. "And it helps in the acting, too, because if he hits me a little bit, oh, my eyes are going to change and I'm going to become a tiger." 
Despite her requests, Cruise wouldn't kick any harder. 
"He's such a gentleman that he was like, 'No, no, no, Pom, I'm not going to hurt you. I'm not going to hit you. I was just like, 'Just a little bit, please,'" Klementieff said. "He said 'No.'" 
Despite Cruise playing a hero and Klementieff playing a villain on-screen, the two were friendly on set, with him even giving her skydiving lessons after the film was finished shooting.
"He set it up for me, which was so kind and generous, and I learned how to skydive. I stayed there for like 10 days, I took lessons, and he did some jumps with me. We did some jumps," Klementieff said. "They were so much fun, and now I'm hooked. As soon as I have some time off, (I'm) going back to jump." 
Klementieff also earned the on-set nickname "Pom Cruise," and when introduced at the film's premiere, cast and crew chanted "Mission Im-POM-sibble" as she came on stage. 
"They were like, doing that when we were shooting the movie, like sometimes they would just sing 'Pom, Pom, Pom, Pom,'" to the tune of the franchise's theme song, Klementieff said. 
It's music that she says she'll never be tired of. Klementieff said she even sang the theme music to herself when she was worried about a specific stunt. 
"What I would do sometimes before an action scene, specifically before when I had to run on top of a moving train, it was going pretty fast ... and to remind myself what I was doing and how happy I was to be shooting this and to give me more courage to do it," she said. 
That excitement and pride hasn't gone away after filming. 
"It's a huge honor," Klementieff said. "I'm proud and I'm very happy to be working with incredible filmmakers like Christopher McQuarrie and Tom Cruise, who are so, so amazing to work with and who inspired me every day. I feel lucky." 
"Mission: Impossible – Dead Reckoning Part One" hit U.S. theaters on Wednesday, July 12. Deadline calls it "Hollywood action filmmaking at its peak" and The Hollywood Reporter praises director Christopher McQuarrie's ability to keep "his audience glued to every moment." Re-watch all the movies in the famous franchise starring Tom Cruise now on Paramount+ ahead of the new stunt-filled installment.
Kerry Breen is a news editor and reporter for CBS News. Her reporting focuses on current events, breaking news and substance use.
source: https://www.cbsnews.com/news/pom-klementieff-mission-impossible-villain-paris/