Search continues for fisherman missing since Easter Sunday
Police are resuming the search for missing fisherman Jason Kauta in Tōrere in eastern Bay of Plenty this morning.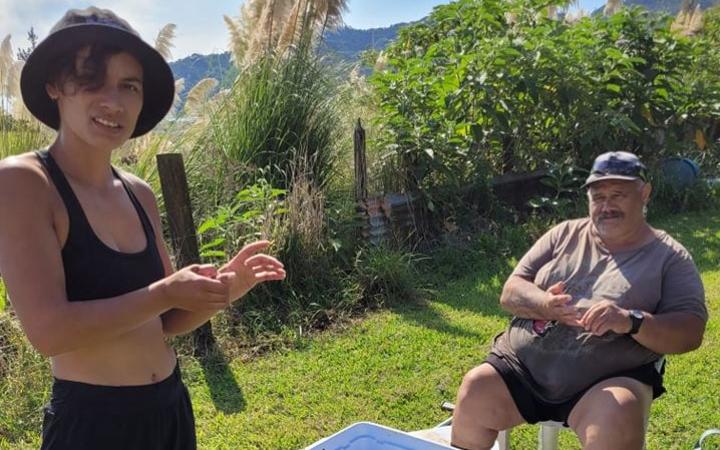 Mia van den Broek and her uncle, Jason Kauta who has been missing since going fishing on Easter Sunday. Photo: Supplied/ Mia van den Broek
Land Search and Rescue and Surf Life Saving will continue searching along the coastline.
Yesterday a Coastguard aircraft conducting an aerial search of the area spotted an item of interest on Whale Island.
A 100 litre white chilly bin had washed up on the shoreline since Tuesday's search of the area.
The item is believed to belong to Kauta.
Police are asking anyone who is on the shoreline of from Tōrere through to Maketu to report any sighting of a red tote tank, wooden oars and a yellow life jacket.
Anyone who locates these items is asked to contact police on 105, quoting file number 220418/0391.
Earlier this week Kauta's niece, Mia van den Broek (Ngāitai) told RNZ whānau will keep looking for Kauta even if the official search is called off.
She has spent days checking the coast with her sister, and said she would keep driving and walking up and down, with binoculars, looking for her uncle and his belongings, when she was not working.
She said he was a careful seaman who was "always respectful" of Tangaroa (the god of the sea) and was very experienced - having first learned to collect kaimoana with his father as a child.
The search began when Kauta did not return from a fishing trip on Easter Sunday.
source: https://www.rnz.co.nz/news/national/465697/search-continues-for-fisherman-missing-since-easter-sunday