Court case begins for mother accused of killing three daughters
Lauren Anne Dickason allegedly killed her 2-year-old twin daughters Maya and Karla, and their 6-year-old sister Liané. Photo: Supplied
The trial of a woman accused of murdering her three daughters at their Timaru home begins in the Christchurch High Court today.
Lauren Anne Dickason allegedly killed her 2-year-old twin daughters Maya and Karla, and their older sister Liané, who was 6, on the night of 16 September, 2021.
Her husband Graham, an orthopaedic surgeon, found them dead when he arrived home about 10pm after dining with colleagues at a restaurant.
The family had moved into a property in Timaru's Queen Street only a week earlier, having arrived in New Zealand from South Africa a month before.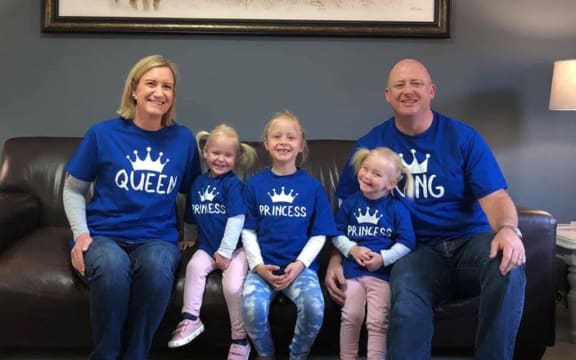 Lauren and Graham Dickason with their three daughters. Photo: Supplied
Dickason appeared in the Timaru District Court two days after the alleged murders.
Judge Dominic Dravitzki remanded her to Christchurch's Hillmorton Hospital for a mental health assessment.
The deaths sparked an outpouring of grief in the South Canterbury town with hundreds gathering for candlelight vigils.
With her signed consent, Dickason's lawyer entered pleas of not guilty to all three murder charges.
Having been held in custody at a psychiatric unit at Hillmorton Hospital, she appeared in the High Court at Christchurch for the first time last month, after the case was transferred from Timaru.
Dickason's lawyer, Kerryn Beaton KC, confirmed her client was to rely on an insanity and infanticide defence.
Under New Zealand law, infanticide functions as both a stand-alone offence, and as a partial defence to murder or manslaughter.
Graham Dickason was expected to be called to give evidence in the trial, in front of Justice Cameron Mander.
The Crown was applying for him to give evidence from South Africa via audiovisual link, but this was opposed by the defence.
Suppression orders also remained in place on the details of the alleged crime.
Timaru-based prosecutor Andrew McRae was to lead the Crown case.
The trial was set down for two weeks.
source: https://www.rnz.co.nz/news/national/493828/court-case-begins-for-mother-accused-of-killing-her-three-daughters