Donald Trump Jr. subpoenaed for Michael Cohen legal fees trial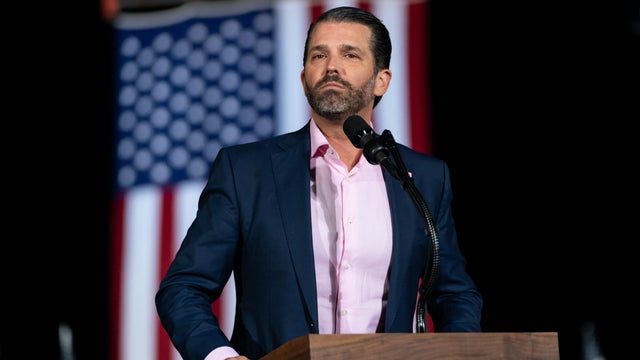 The Trump Organization was sent a subpoena Monday demanding its executive vice president, Donald Trump Jr., testify at an upcoming trial.
New York jurors will be asked to decide if the company owes former President Donald Trump's ex-attorney and "fixer" Michael Cohen up to $1.3 million in legal fees. Cohen and his attorney, Hunter Winstead, told CBS News Tuesday that the subpoena to Trump Jr. was sent.
Cohen originally sued in March 2019. He wants the Trump Organization to pay fees stemming from Cohen's defense of Trump and himself during investigations in 2017 and 2018, and during roughly 20 meetings with the Manhattan district attorney and a grand jury before Trump was indicted in March. 
Winstead said in court Friday that a company attorney said during a deposition that the Trump Corporation covered Trump Jr.'s legal fees in relation to some of the same investigations for which Cohen is seeking payment.
"We would like to introduce testimony about what Mr. Trump Jr. paid his lawyers in the exact same matters," said the attorney, Hunter Winstead.
Winstead initially said on Friday that they also intended to call the former president as a witness, saying he could testify about whether there were oral agreements related to Cohen's legal fees in 2017 and 2018. 
"No, no need for him," Judge Joel Cohen said Friday, after Trump Organization lawyers agreed not to contest the fact that oral agreements were made.
After the judge, who is not related to Michael Cohen, said Trump Jr. could be called, the company's attorney said it may make a filing opposing the subpoena. 
"As far as we're concerned both of those witnesses are irrelevant to the case," said the attorney, James Kiley, calling their inclusion on the list "borderline harassment."
Representatives of the Trump Organization did not reply to emails Tuesday from CBS News.
Cohen entered a guilty plea in 2018 to federal campaign finance violations and tax evasion, and the company has argued his criminal conduct was in violation of any agreements it had with him.
Cohen is now an ardent Trump critic, involved in a tangle of legal cases involving Trump, who is running again for president. Cohen is the key witness in the Manhattan criminal case in which Trump has entered a not guilty plea to 34 state felony counts related to falsification of business records. The case revolves around payments that reimbursed Cohen for an alleged "hush money" transaction with an adult film star days before the 2016 presidential election, which Trump won.
Trump sued Cohen in April for more than $500 million, alleging Cohen breached his "fiduciary duty" and attorney-client privileges in order to be "unjustly enriched." Cohen denied the allegations and said Trump was trying to "intimidate" him.
The legal quarrel is ongoing amid an increasingly dire legal situation for Trump. On Tuesday, 23 Fulton County, Georgia residents will be selected to consider possible charges related to alleged efforts by Trump and his allies to overturn the state's results in the 2020 presidential election, which Trump lost.
On Monday evening, attorneys for Trump filed a motion to postpone past the 2024 election a trial for another criminal case, in which last month Trump entered a not guilty plea to 37 federal felony counts related to "willful retention" of classified documents after he left the White House. 
Trump has repeatedly denied allegations in connection with all the cases, accusing prosecutors of political animus and a "witch hunt."
Jury selection in Cohen's lawsuit is scheduled to begin on July 17.
Graham Kates is an investigative reporter covering criminal justice, privacy issues and information security for CBS News Digital. Contact Graham at
[email protected]
or
[email protected]
source: https://www.cbsnews.com/news/donald-trump-jr-subpoenaed-for-michael-cohen-legal-fees-trial/