Week in Politics: Hipkins makes a captain's call as Labour slides in the polls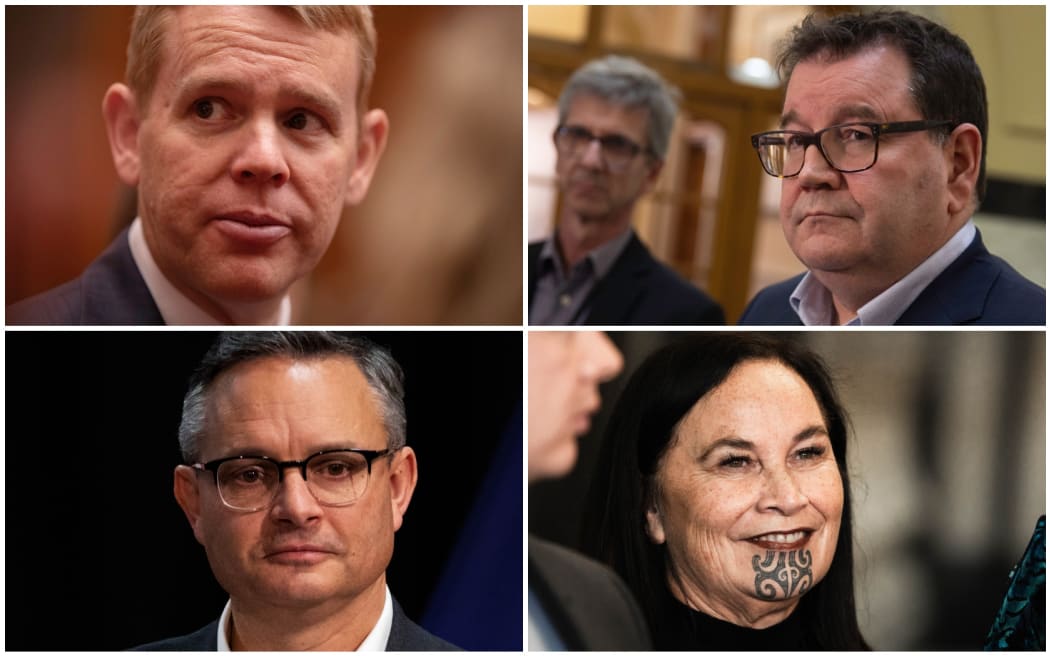 Politicians in the news this week: from top left, Chris Hipkins, Grant Robertson, James Shaw and Debbie Ngarewa-Packer. Photo: Angus Dreaver / Samuel Rillstone
Prime Minister Chris Hipkins' decision to rule out a capital gains tax or a wealth tax if Labour wins the election seemed to take everyone by surprise this week.
He was in the Lithuanian capital of Vilnius, attending the NATO summit, when he made what he confirmed was a captain's call.
"I'm confirming today that under a government I lead there will be no wealth or capital gains tax after the election. End of story," he said in a statement.
It was "simply not the time" for big changes to the tax system.
"New Zealanders I talk to want certainty and continuity right now, and that's what I'm delivering with this policy," he said.
Hipkins has, at a stroke, robbed National of a main campaign weapon - the claim that a Labour government would hit the wealthy with every sort of tax imaginable.
Faced with that, National's shadow finance minister Nicola Willis did the only thing she could and said Labour could not be trusted to keep its promises.
Party leader Christopher Luxon was on the same page. He said the announcement was political expediency and could be reversed by a coalition government with the Greens and Te Pāti Māori in it.
Jenna Lynch, Newshub's political editor, had an immediate and scathing response.
"Labour is running for the hills - afraid of electoral upset, afraid of losing power, afraid of running an election campaign on taxing the wealthy," she said.
"What is the point of Labour? What do they stand for? Power is pointless if you do nothing with it. End of story."
Finance Minister Grant Robertson made the best of a difficult situation.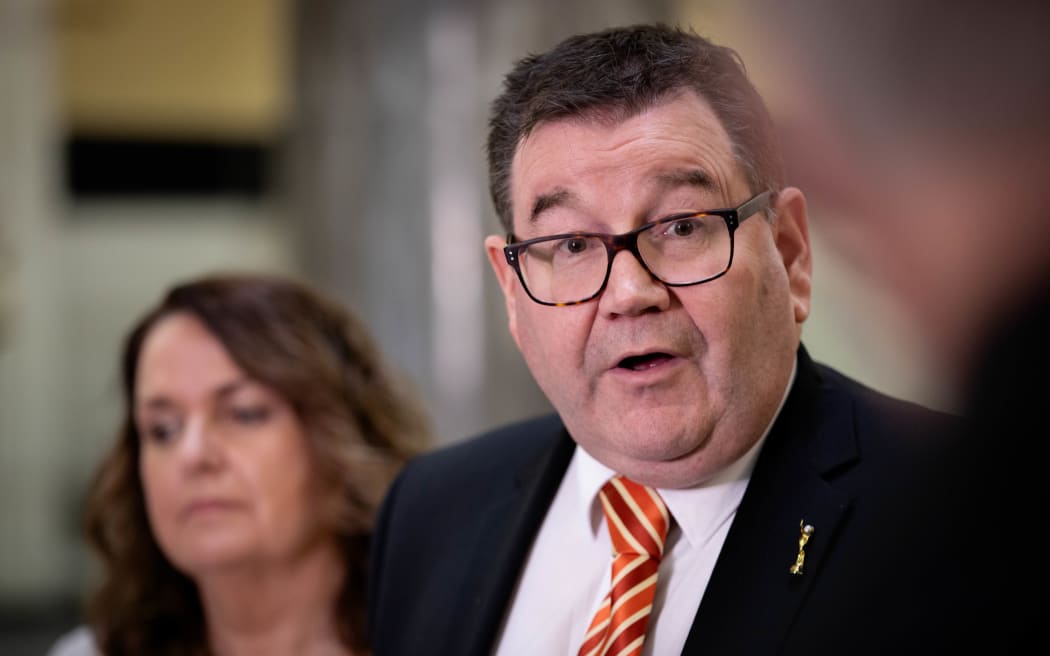 Grant Robertson said he would be getting on with the job he's got. Photo: RNZ / Angus Dreaver
He said he had previously been in support of a capital gains tax but was not "gutted" by the prime minister ruling it out.
The idea "clearly had some merit" but he was a team player.
"A decision has been taken not to go ahead with two types of taxation," he said.
"That might be something I would have liked to have happened but it's not happening."
Hipkins' announcement came alongside the annual release of budget documents which confirmed the tax switch had been worked on, RNZ reported.
A Treasury briefing to Robertson in March showed plans to phase in a tax-free threshold rising to $10,000 a year, paid for with a 1.5 percent tax rate on net wealth above $5 million.
Hipkins confirmed he stopped it going forward because he did not believe Labour had a mandate for the policy.
Labour is expected to announce its tax policy in a couple of weeks. It could still have a tax-free threshold but would have to find a new way to make up the lost revenue.
Hipkins' call directly conflicted with the Green's tax policy, which is an "income guarantee" of a tax-free bracket for earnings up to $10,000 funded by a new tax bracket of 45 percent on income over $180,000 and a 2.5 percent wealth tax on assets.
Greens' co-leader James Shaw said Labour had "got it wrong" and as a result there was "a very real possibility" the Greens would not work with Labour post-election.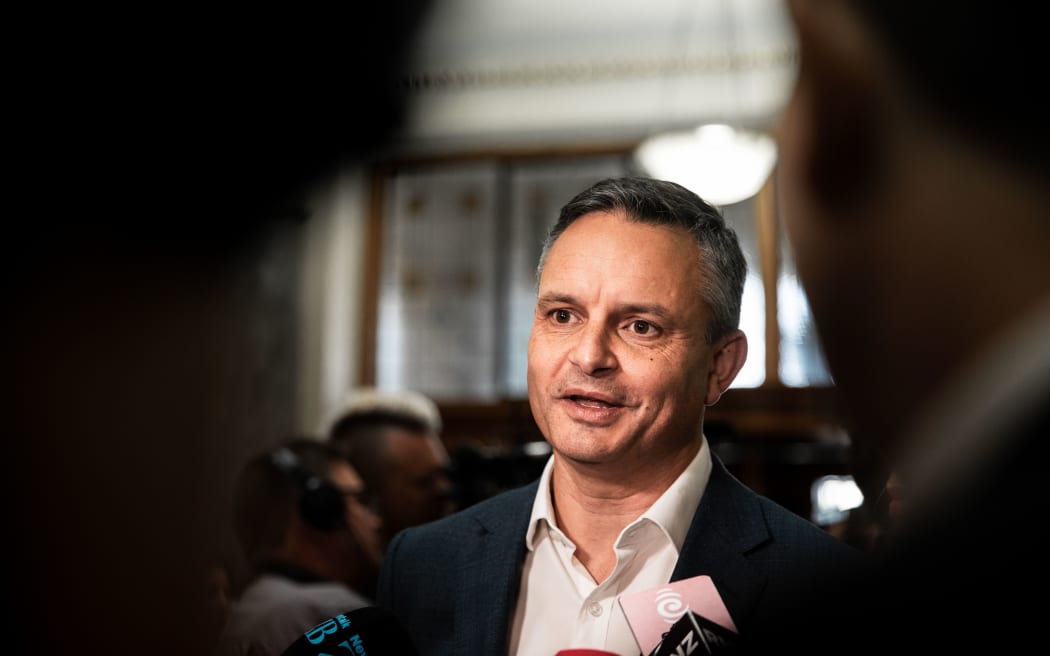 Green Party co-leader James Shaw said Hipkins' move to rule out a capital gains tax was disappointing. Photo: RNZ / Samuel Rillstone
"It does depend on how many MPs we've got, and it does depend on the rest of the agreement - but we have always maintained the option of just sitting on the cross-benches… I think there is a very real possibility of that," he said.
The Herald's Thomas Coughlan said Hipkins now inhabited the worst of all worlds.
"It's not clear whether killing the tax solves many problems for Hipkins. Labour's base is likely to be demoralised, and National will make sure every voter knows the Greens are saying Hipkins is in no position to rule any such tax in or out, given he will almost certainly need their help to form a government," he said.
"Hipkins should remember the Green Party delegates must consent to any governing deal between Labour and the Greens - and if he thinks they care a jot about whether he remains leader of the Labour Party, he should consult the advice of his ministerial colleague James Shaw, whom those delegates unceremoniously ousted from the Green co-leadership last year."
Te Pāti Māori co-leader Debbie Ngarewa-Packer said Hipkins was "arrogantly" saying he did not want to do business with either of the left-leaning minor parties.
"If he takes it off the table, what in hell is he proposing to rebalance and address pain and poverty in Aotearoa?" she asked.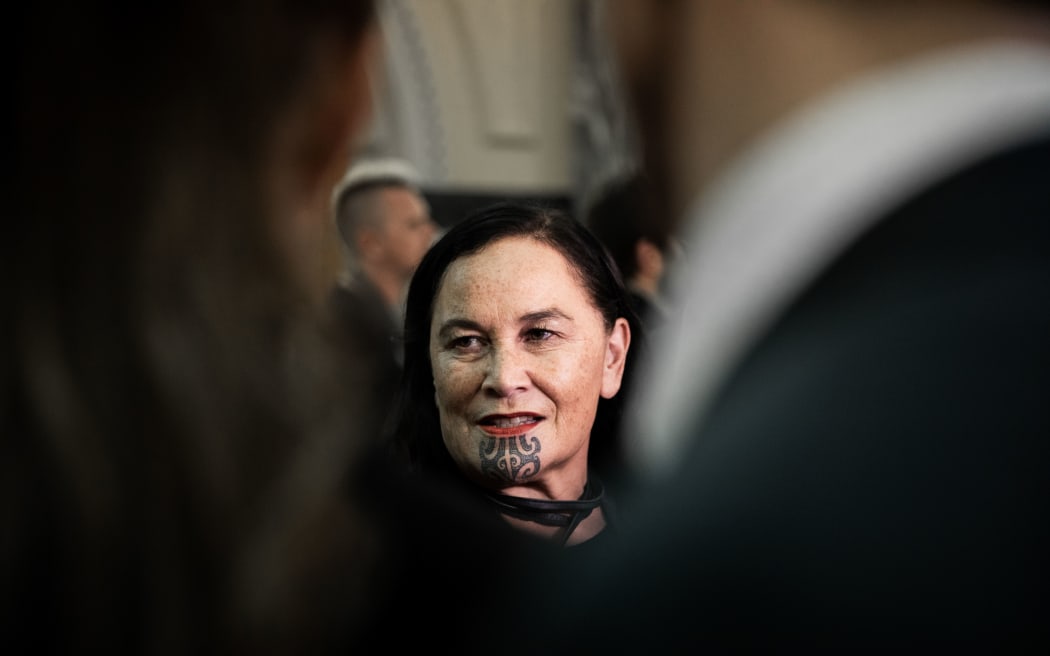 Te Pāti Māori co-leader Debbie Ngarewa-Packer said Hipkins' call to rule out a capital gains tax was arrogant. Photo: RNZ / Samuel Rillstone
Hipkins said he was confident he would not lose support from the left, RNZ reported.
His tax policy call came as two opinion polls showed Labour in trouble after its internal problems and continuing price rises.
A Talbot Mills corporate poll showed Labour losing five points to hit a four-year low of 31 percent, while National gained one point to reach 36 percent.
It was the first time Talbot Mills has shown National ahead of Labour by five points or more since the 2017 election.
Commentary with the poll said that "after a long period of very close results we may now be seeing the long-expected breakout of the centre-right", the Herald reported.
"The centre-left had seemed to have been defying the political gravity of a generally negative mood; the acute pressures stemming from cost of living rises and cascading ministerial scandals."
Talbot Mills does Labour's internal polling.
A Taxpayers' Union Curia poll also gave Labour 31 percent, down two points but also showed National losing support - down three points to 33 percent.
Curia does National's internal polling.
Hipkins said he took the polls seriously.
"It is an indication that New Zealanders don't feel like we've been focused on the issues that they want us to be focused on, and I think that's a message that the whole of the Labour Party will hear," he said.
The immediate future is not looking good for Labour.
The cost of everything is continuing to rise at the same time as more and more home owners come out of fixed term mortgages and face steep increases in their payments.
Newstalk ZB's political editor Jason Wall said the worst was yet to come as mortgage pain spread across the country.
"Add to this the prediction from economists that we could see as many as 150,000 job cuts as the unemployment rate returns to historic averages and you have a dangerous cocktail for an incumbent government," he said on the Herald's Front Page podcast.
Even though the Reserve Bank was the main reason behind rising mortgage rates, the government was becoming "an easy scapegoat" when financial pain really hit home.
Political scientist Bryce Edwards, speaking on Newshub's AM Early, said the poll results were "quite shocking" and Labour would be very worried.
"For wavering or undecided voters, they'll see the public is making an evaluation of Labour and moving away from Labour," he said.
"It does really feel like the tide is going out on Labour and people don't like to back a loser."
The Greens released their election manifesto this week, 42 pages of policies it will push for if it forms part of the next government.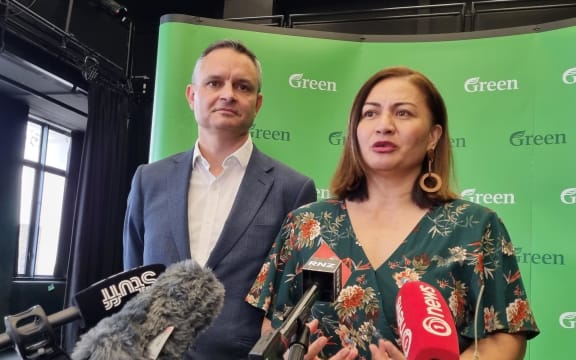 The Green Party release their election manifesto. Photo: RNZ / Krystal Gibbens
Much of it is policy that has already been campaigned on, RNZ reported, such as banning new fossil fuel extraction, funding for indigenous forests and replacing Working for Families with a guaranteed minimum income.
"We know that more people are available to vote for us now than we have seen in the past six years," said co-leader Marama Davidson. "It's our opportunity to take that up, and that's what we're doing with the launch of this manifesto."
The Weekend Herald said it had seen internal polling which showed the pool of potential Green voters had risen to 30 percent, up from 24 percent before the 2020 election.
Most were Labour voters who were "on the fence".
It has been a familiar sort of week for the prime minister - doing good work outside the country while watching problems escalate at home.
Hipkins first went to Brussels where he attended the signing of a free trade agreement with the European Union that has been 14 years in the making.
Eventually, 97 percent of New Zealand's current exports to the EU's 27 member states will be duty-free, RNZ's political editor Jane Patterson reported from Brussels.
More than 91 percent of tariffs will be removed when the deal comes into effect, with immediate tariff elimination for kiwifruit, wine, onions, apples, mānuka honey and manufactured goods as well as for almost all fish and seafood and other horticultural products.
Once fully in place the FTA will deliver new quote opportunities worth more than $600 million in annual export earnings.
European Commission Vice President Valdis Dombrovskis, second left, Prime Minister Chris Hipkins, centre, with European Commission President Ursula von der Leyen, second right, and Trade Minister Damien O'Connor in Brussels. Photo: RNZ / Jane Patterson
From there Hipkins flew to Lithuania for the vitally important NATO summit where Turkey announced it would support Sweden's application to join and leaders including US President Joe Biden agreed Ukraine's future lay with NATO although there was not a timeline set.
Hipkins had scheduled a bilateral meeting with Ukraine's President Volodomyr Zelensky but it had to be aborted after Zelensky's meeting with Biden ran a long way over time and Hipkins could not wait any longer.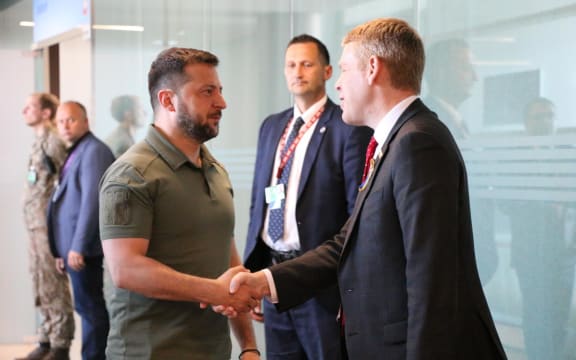 Ukrainian president Volodymyr Zelensky and Prime Minister Chris Hipkins shake hands at the NATO summit in Vilnius. Photo: Supplied / Prime Minister's Office
They did bump into each other as Hipkins was leaving the venue, Patterson reported.
That was followed by possibly the most rushed stand-up with reporters in recent times, she said.
"We had the opportunity to have a brief dialogue with him where I was able to restate New Zealand's firm support for Ukraine," Hipkins told reporters.
Zelensky thanked him for New Zealand's "consistent, principled and value-driven support".
New Zealand is not a full member of NATO. Along with Australia, Japan and Korea it is a non-member partner.
On Tuesday Parliament resumes after a two week recess, and Hipkins will again be in for some serious assaults from National and ACT.
He also has the face-to-face meeting with Kiri Allan to deal with, when the justice minister's immediate future will be decided.
*Peter Wilson is a life member of Parliament's press gallery, 22 years as NZPA's political editor and seven as parliamentary bureau chief for NZ Newswire.
source: https://www.rnz.co.nz/news/national/493726/week-in-politics-hipkins-makes-a-captain-s-call-as-labour-slides-in-the-polls