Tattoo artist found guilty on raft of sex charges

By Leighton Keith, Open Justice reporter of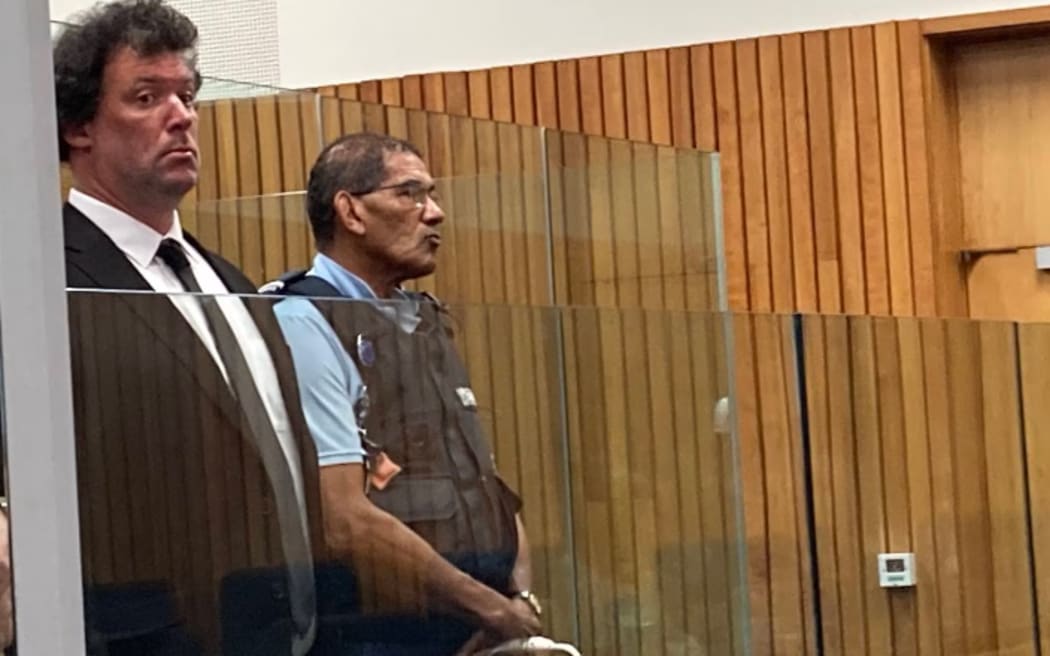 Tattoo artist Peter John Roberts has been convicted on seven charges relating to sexually abusing two female clients and has been remanded in custody for sentencing. Photo: NZ Herald / Leighton Keith
WARNING: This story contains details of allegations of sexual harm and may be upsetting.
Tattoo artist Shakey Pete is behind bars after being found guilty of abusing two female clients - a verdict police say is a great result for the women who have had a "horrific time".
Peter John Roberts, who is known in the industry as Shakey Pete, had pleaded not guilty to one charge of sexual violation by unlawful sexual connection and six of indecent assault when his trial began in the New Plymouth District Court on 23 January.
On Friday the jury of seven women and five men returned guilty verdicts on all seven charges after beginning their deliberations late Wednesday afternoon following lengthy closing submissions from both the prosecution and defence lawyers.
Roberts, who moved to New Zealand from the UK, where he also worked as a tattoo artist, stood silently in the dock with his head bowed and hands clasped in front of him as the foreman gave the jury's decision.
Judge Gregory Hikaka convicted Roberts on each of the charges and remanded him in custody for sentencing on 5 May.
Before Roberts was taken out of the courtroom he was able to say goodbye through the protective glass surrounding the dock to his tearful mother and sister Margaret, who had both travelled to New Zealand from the UK for the trial.
Between January and the end of July 2020 in New Plymouth, Roberts repeatedly groped and fondled the bottoms of two women while tattooing them. He also touched the genitals of one of his victims over her underwear.
Outside of the court acting Detective Senior Sergeant Bryon Read said an incredible amount of work had gone into the investigation and they were happy with the outcome.
"We are very pleased with the result for the victims involved in this," Read said.
"They have had a horrific time over a long period."
Three witnesses from the UK, who had all made complaints to police about similar offending by Roberts in 2014, 2016 and 2018, gave evidence during the two-week trial.
During the trial it was revealed Roberts told two of the women, one from the UK and one from New Zealand, it was okay to touch their genitals because he was wearing gloves, spoke about wanting to have sex with them, threatened the tattoo would hurt more if they didn't, and expressed a desire to "bury his face in (their) butts".
Read was unable to say if the convictions could lead to Roberts facing prosecution in the UK.
"I don't want to comment on those sorts of things due to the fact that there may be ongoing matters, around law that I just can't comment on currently."
He described the prosecution as a successful collaboration of law enforcement agencies worldwide.
"It just goes to show that where ever you are around the world, you can't hide. If you are committing a crime and you are offending against people you will be held accountable."
Margaret Roberts said the trail had been a harrowing experience for her and her mother.
"It has been horrific, actually."
She described her brother as a "terrific artist" who suffered from ADHD and Asperger's syndrome, although this wasn't raised at trial, which could make his behaviour in social settings appear awkward at times.
"I think it's a failing of the judicial system, not only in New Zealand but the UK as well, that mental health concerns are not taken into account earlier."
Margaret said the family understood Roberts' nuances and that he would never intentionally hurt anyone.
"I don't think that that comes across in a trial.
"It (the system) doesn't really accommodate for people who are neurodiverse."
She said the family unconditionally loved Roberts and despite having to return to the UK, she and her mother would return for the sentencing hearing in May.
"We are always 100 percent here to support him.
"We don't know how long he will be in jail but we will of course be coming back to visit him."
Giving evidence in his defence, Roberts denied inappropriately touching his clients and gave evidence his sexually charged comments were actually not sexual because he was only joking.
He claimed in 2017 an ex-girlfriend in Western Australia, who he had a falling out with, began an online campaign against him which destroyed his future as a tattoo artist there and the allegations followed him when he returned to the UK.
The social media site took on a life of its own after Roberts got back to England and he described it as a "feeding frenzy", with people he claimed to never have met, including tattoo artists, making wild allegations about his sexually inappropriate behaviour and their horrible experiences.
The owner of New Plymouth's Brutal Ink studio, however, gave Roberts the benefit of the doubt after he gave her a list of references of bosses and clients who had known him for years and the name of a detective in the UK who had handled one of the complaints against him. The studio was monitored by CCTV.
Roberts also told the jury he would openly speak about the rumours to clients he felt relaxed around.
"I spoke about it a lot, I thought about it every single day."
Roberts had been sacked from New Plymouth's Brothers Ink studio as soon as they learnt of his history. Co-owner Gary Wood said they were very happy with the verdicts both for the victims and those working in the industry.
The owner of Brutal Ink was not available for comment.
If it is an emergency and you feel like you or someone else is at risk, call 111.
NZ Police
Victim Support 0800 842 846
Rape Crisis 0800 88 33 00
Rape Prevention Education
Empowerment Trust
HELP Call 24/7 (Auckland): 09 623 1700, (Wellington): 04 801 6655 - push 0 at the menu
Safe to talk: a 24/7 confidential helpline for survivors, support people and those with harmful sexual behaviour: 0800044334
Male Survivors Aotearoa
Survivors Network of those Abused by Priests (SNAP) 022 344 0496

This story originally appeared in the New Zealand Herald.
source: https://www.rnz.co.nz/news/national/483643/tattoo-artist-shakey-pete-remanded-in-custody-after-jury-returns-guilty-verdicts-on-raft-of-sex-charges