Full steam ahead for historic Northland train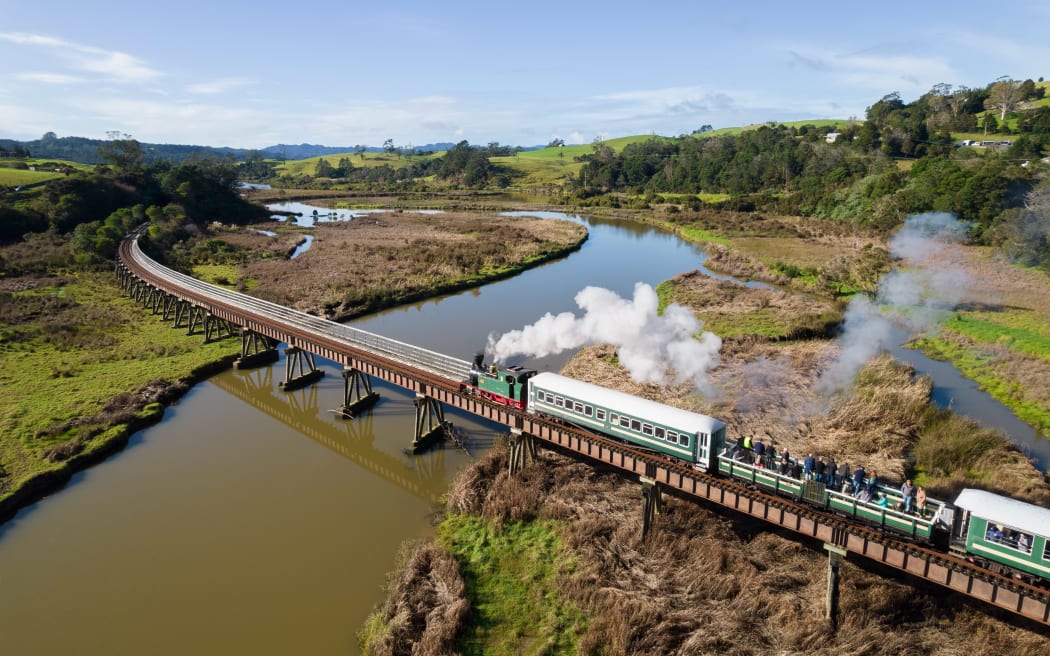 The vintage locomotive Gabriel crosses the aptly named Long Bridge, between Kawakawa and Ōpua, during a test run last month. Photo: Supplied / Aerial Vision
A much-loved steam locomotive will be huffing down the main street of a Northland town this weekend for the first time in seven years following a massive restoration effort.
Gabriel, a vintage steam engine built in 1926, has long been one of Kawakawa's star attractions, alongside the town's quirky Hundertwasser toilets.
Since 2016, however, when Gabriel failed its ten-yearly boiler inspection, its place has been taken by diesel locomotives.
Fears Gabriel might never run again make its return even sweeter for Kawakawa residents who had come to love seeing the vintage engine steaming down the middle of State Highway 1.
Lau'rell Douglas, who heads the joint venture operating the vintage railway, said there was a lot of excitement about Gabriel's return.
"It's like seeing your granddad turn up at the wedding.
"Everyone was smiling when we took her on trials through town. People were so happy to see her back out there. There's a real affinity with her as an engine. She's a community icon."
Douglas said Gabriel's first official outing, at 2pm today, would be reserved for railway volunteers and invited guests.
On Sunday public steam trips will leave Kawakawa Railway Station at 10am, noon and 2pm.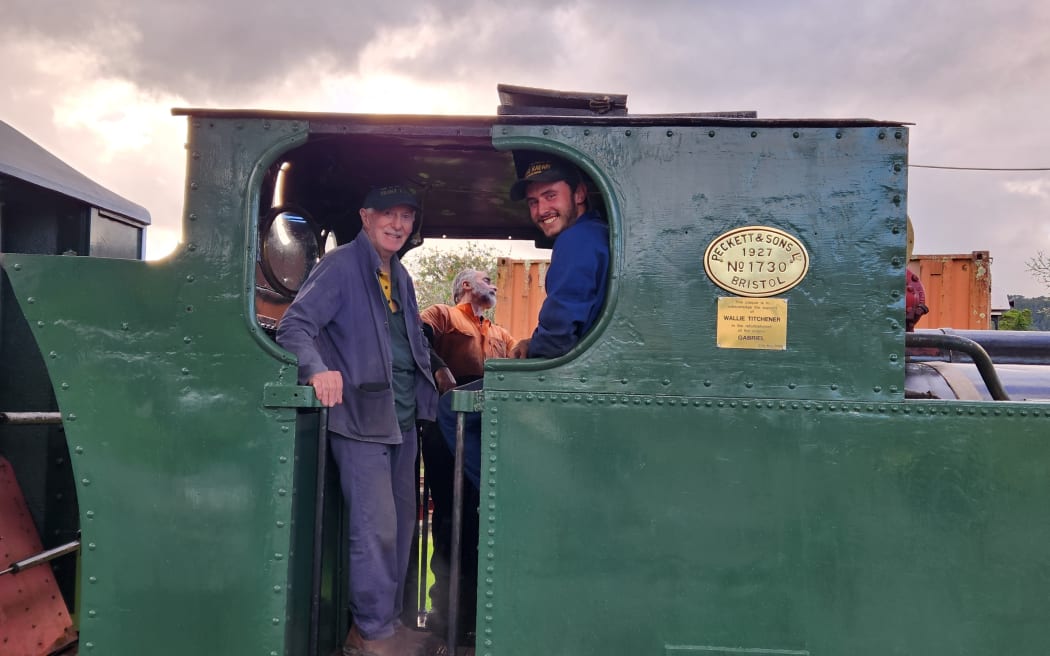 Bay of Islands Vintage Railway Trust engineer Mike "The Steam" Bradshaw and newly qualified engine driver Mitchel Owen about to take Gabriel for a test run. Photo: Lau'rell Douglas
Gabriel's return was made possible by a new boiler, paid for by a Provincial Growth Fund (PGF) grant, and a massive volunteer effort.
It's a huge milestone for former Bay of Islands Vintage Railway Trust engineer Mike "The Steam" Bradshaw.
The 84-year-old has spent a third of his life working on Gabriel but worried he'd never see her steamed up again because of the huge cost of repairs.
The new boiler was built by Kawerau Engineering to the same dimensions as the original, except that it was welded rather than riveted.
That meant every pipe and fitting had to be re-engineered or replaced to make it fit, a process that took Bradshaw and a small team of volunteers from Whangārei, Kawakawa and Kerikeri more than two years.
Bradshaw said Gabriel was one of five "marvellous little engines" built by Peckett and Sons in Bristol from 1911-27.
Two pulled passenger trains in Ireland's County Cork while another two hauled timber out of the forests of North Borneo.
All four were cut up for scrap around World War II, which meant Gabriel was now unique.
Gabriel was built for Portland Cement in Whangārei and used until 1984, when Bradshaw managed to lease it for the vintage railway.
Four years later, when building firm Fletcher's bought the cement company, Bradshaw was given two days to buy the locomotive and save it from being cut up for scrap.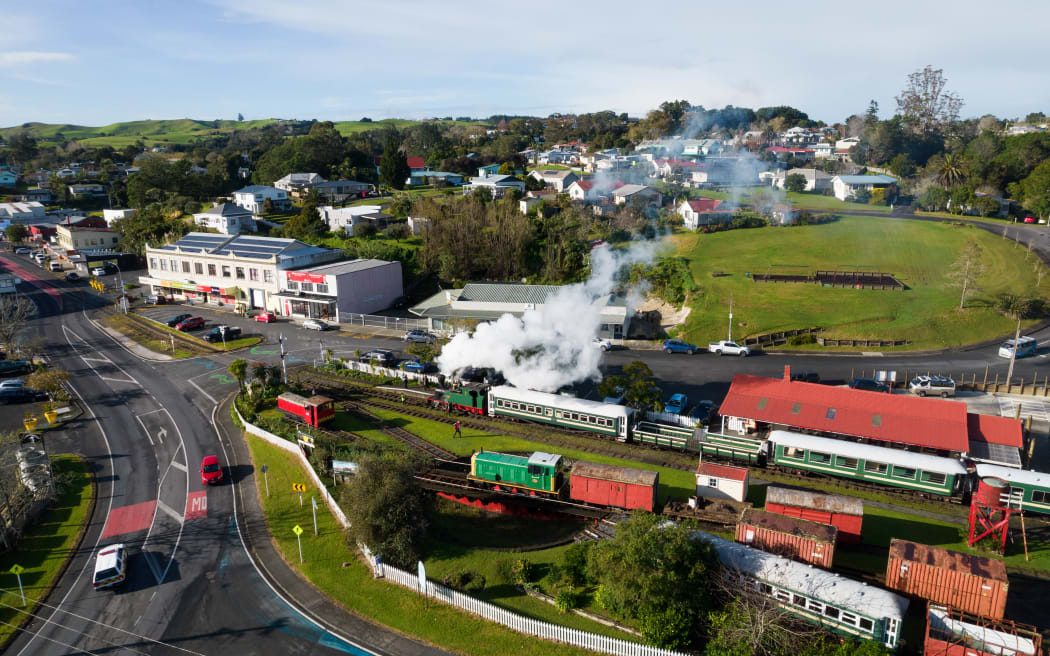 The newly restored steam locomotive Gabriel gets steamed up at Kawakawa Railway Station. Photo: Supplied / Aerial Vision
Bradshaw said it felt "really, really good" to see Gabriel steamed up again.
"It wasn't just me, quite a few people have put a lot of effort into rebuilding her over the last almost three years."
Without the grant there was a good chance Gabriel would have ended up immobile on a plinth in a children's playground, he said.
The railway is operated by Keteriki, a joint venture between the Bay of Islands Railway Trust and local iwi Ngāti Hine.
The $5.59 million PGF grant, announced in 2020 by former Regional Economic Development Minister Shane Jones, paid for the new boiler, an extended railway shed, a new engineering workshop and job training centre. It is also paying for restoration of a century-old steam ferry and the historic Ōpua branch railway.
So far trains run from Kawakawa to Te Akeake, about halfway to the eventual terminus at Ōpua.
Sunday's rides will be half price for Moerewa, Kawakawa and Ōpua residents. They will need to bring proof of address and ID to claim the discount.
Keteriki has 22 employees who are being trained in everything from track building and guard work to engineering.
source: https://www.rnz.co.nz/news/national/493396/full-steam-ahead-for-historic-northland-train