Watch Live: Biden addresses DNC winter meeting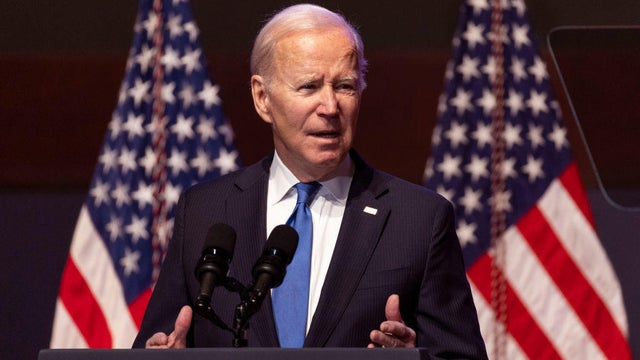 President Joe Biden is addressing the Democratic National Committee's winter meeting in Philadelphia Friday, ahead of a vote to upend the party's primary calendar and as he prepares for his State of the Union address next week. 
The party is considering a plan that would kick New Hampshire out of its first-in-the-country status, and replace it with South Carolina, a state that was pivotal to the president's victory. Mr. Biden wants the plan to pass. 
In his speech to the DNC Friday night, the president will highlight the progress Democrats have made for the American people under his leadership, including bringing back jobs, particularly manufacturing jobs, a DNC official said. He'll also bring up his theme of growing the economy from the bottom up and the middle out. The DNC official also said he would continue to outline the administration's progress and contrast it with "MAGA Republicans' extreme, out-of-touch plans."
The president will then head to Camp David Friday evening, where he'll spend the weekend with top aides and speech writers writing, revising and refining his State of the Union address. As CBS News has reported, the president is expected to focus on his administration's accomplishments, ahead of an anticipated 2024 reelection campaign announcement. 
— Aaron Navarro contributed to this report 
source: https://www.cbsnews.com/live-updates/biden-addresses-dnc-winter-meeting-watch-live-stream-today-2023-02-03/