Wife held husband's hand, thought they'd die on Whakaari during honeymoon
American Matthew Urey in the witness box at the Whakaari / White Island eruption trial on 12 July. Photo: NZ Herald / Jason Oxenham
Matthew Urey says he never would have stepped foot on Whakaari had he known 'level two' meant the volcano's alert level was just one away from a possible eruption.
"I never in my wildest dreams would have gone on that island had I known an eruption was level three."
Those are the words of Urey, one of the 47 people on Whakaari / White Island at the time it erupted in December 2019.
On Wednesday, Urey described to an Auckland courtroom the moment he was told to 'run' by a tour operator, as the volcano erupted.
He and wife Lauren were on a cruise in New Zealand for their honeymoon, when the tour to the crater caught their eye - the pair were both injured in the deadly eruption.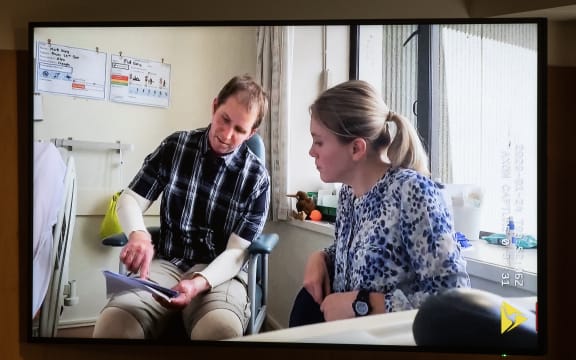 Matthew Urey's video interview with police was played to the court. Photo: NZ Herald / Jason Oxenham
The court is hearing witness statements, as day two of the judge-only trial gets underway.
Forty-seven people were on the crater at the time of the eruption, many were tourists from overseas who had stepped off a cruise ship, berthed in Tauranga.
The explosion killed 22 people and injured 25 others.
Three members of the Buttle family, who own the island, are defending charges brought against them by WorkSafe, alongside their company, Whakaari Management Limited, and two companies that booked and marketed tours to cruise ship passengers.
Andrew, James and Peter Buttle, have been charged as individuals and will face trial as directors.
The charges do not relate to the rescue and recovery efforts after the eruption.
Urey told the court his group were told that the volcano was at a 'stage two" on the day of his tour, not knowing what that meant.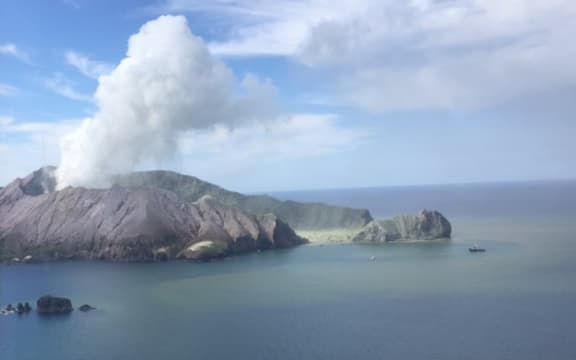 Whakaari/White Island during the eruption. Photo: Supplied/Auckland Rescue Helicopter Trust
"In my mind, the absolute worst case, I was assuming an eruption was at level five, if not ten, I never in my wildest dreams would have gone on that island had I known an eruption was level three," he said.
"We were on our honeymoon, we were looking to relax, not seek thrills."
The group was given respirators and began the tour.
"We spent about 10 minutes at the crater then started taking out way back.
"At some point someone in the group shouted 'look' and the tour guide started saying 'not today', and then just said 'run' and we took off running back towards the boats."
Urey said he and a group of others got about half-way back to the boats when they had to shelter under a rock.
"I remember a wave of very hot, black, just total blackness coming over us and I don't know if it was steam or hot ash, but it was all over us.
"I had my respirator on before the cloud came over us ... it clouded over at one point, and I remember my flesh burning and yelling out at one point, just in pain."
He suffered burns to 53 percent of his body, including both legs below the knee, his arms, neck and face.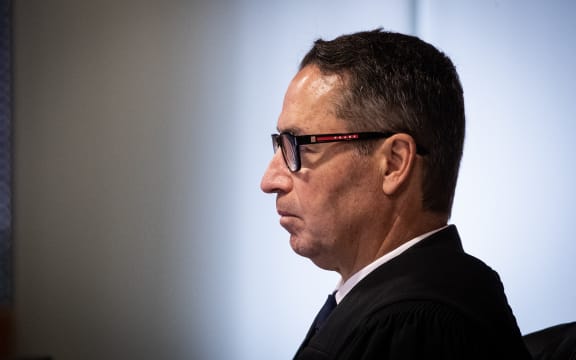 Judge Evangelos Thomas. Photo: NZ Herald / Jason Oxenham
Urey believed his burns would have been far less significant if he was wearing clothes that covered the majority of his body, rather than shorts and a T-shirt.
During the first day of the trial, prosecutor Kristy McDonald KC said the consultation between WML and tourism companies had been insufficient.
"Sufficient information needed to be provided at the pre-booking stage, before money was exchanged, and it should have been provided again before the tour," she said.
McDonald said each of the companies involved had failed to protect customers against a possible eruption.
"None of the tour operators had any requirements in respect to protective clothing required to be worn during a tour," she said.
Proper protective gear would have included overalls that covered skin, and boots made of sturdy heat-resistant material.
Hard hats and gas masks were offered, but only the hard hats were required. The gas masks were completely optional and often unfit for purpose, she said.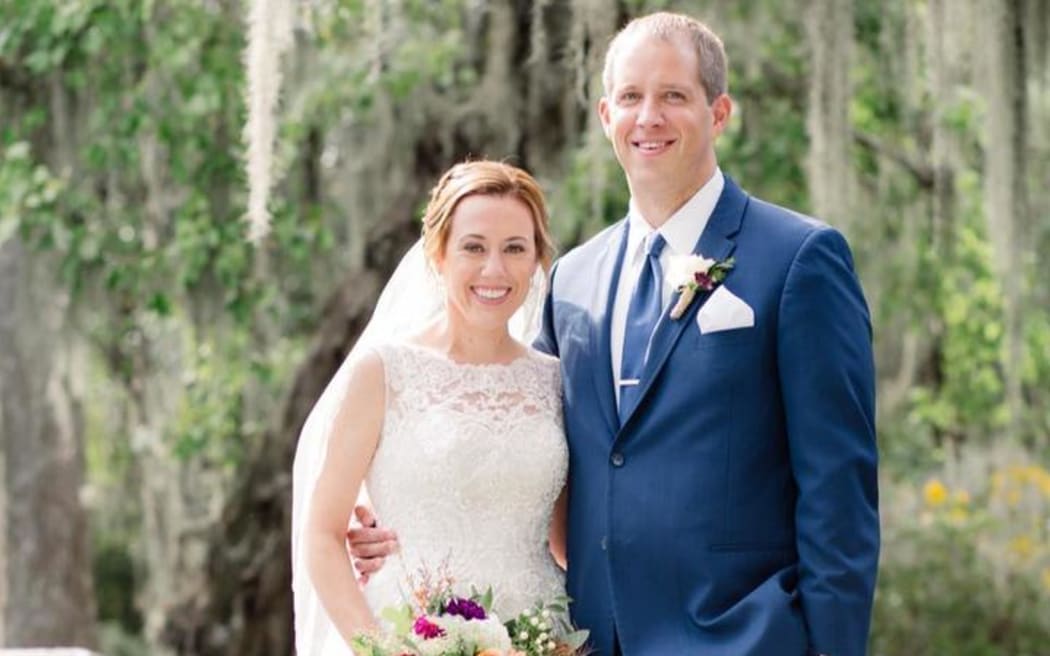 Matthew and Lauren Urey, pictured on their wedding day. Photo: Facebook/Lauren Urey
Lauren Urey described the mental and physical impact of the Whakaari eruption, saying she had struggled with depression since.
A video was played for the court of a pre-recorded interview conducted with Lauren and New Zealand authorities.
In the video, Lauren described the events leading up to the eruption, and her treatment in the weeks after.
She said she was apprehensive of going on the active volcano for months ahead of the trip, and asked tour guides about the risks while on the island.
She said they had been told the volcano was at alert level two, but did not know what that meant.
"I was just asking [the guide] about the risk of an eruption, because I was very paranoid to be honest," she said.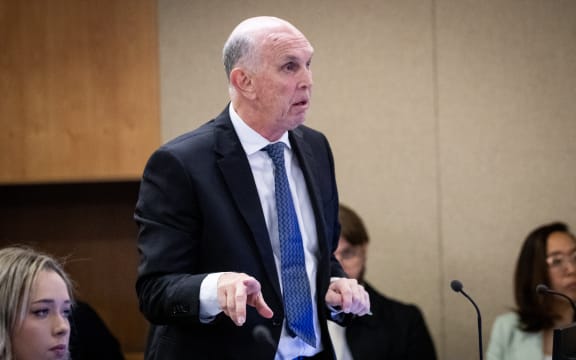 Lawyer David Neutze. Photo: NZ Herald / Jason Oxenham
Lauren was told there would be a 10-minute warning ahead of any volcanic eruption while on the island.
That warning never came.
As the crater erupted, Lauren said she became incredibly panicked, running to hide behind a rock with her husband.
"I made sure my husband was right by my side and I ran for my life."
In that moment, she thought she was going to die.
"I could hear all the screams, it was horrible. I held my husbands hand ... he was just screaming in agony, I had never heard him scream like that before."
As the hot ash engulfed them, Lauren felt like her skin was sizzling.
She sustained significant burns from the eruption, later requiring skin grafts to heal.
Her treatment after the disaster took a toll on her mental health, she said.
"I felt like I had no one. My husband was in a different hospital, in Christchurch, I just felt very alone, and very angry, and very sad."
She said she refused to eat as her depression grew worse.
"I was extremely depressed at that point, I had to talk to therapists, psychiatrists, everyday someone came to talk to me because they were worried about me and my mental state," she said.
Lauren was cross-examined by ID Tours NZ's lawyer, David Nuetze, who took her through various documents relating to the booking of their holiday, just as he had done with her husband earlier.
As she addressed the court, with Judge Evangelos Thomas presiding, she said she had undergone around 50 to 75 surgeries relating to her injuries.
She said the disaster had taken over both her and her husband's lives.
In the months leading to the trial, six organisations have pleaded guilty and another had a charge dismissed.
The trial has been set down for 16 weeks.
source: https://www.rnz.co.nz/news/national/493607/just-total-blackness-man-who-suffered-burns-to-half-his-body-describes-whakaari-eruption