Boat with 200 migrants missing near Canary Islands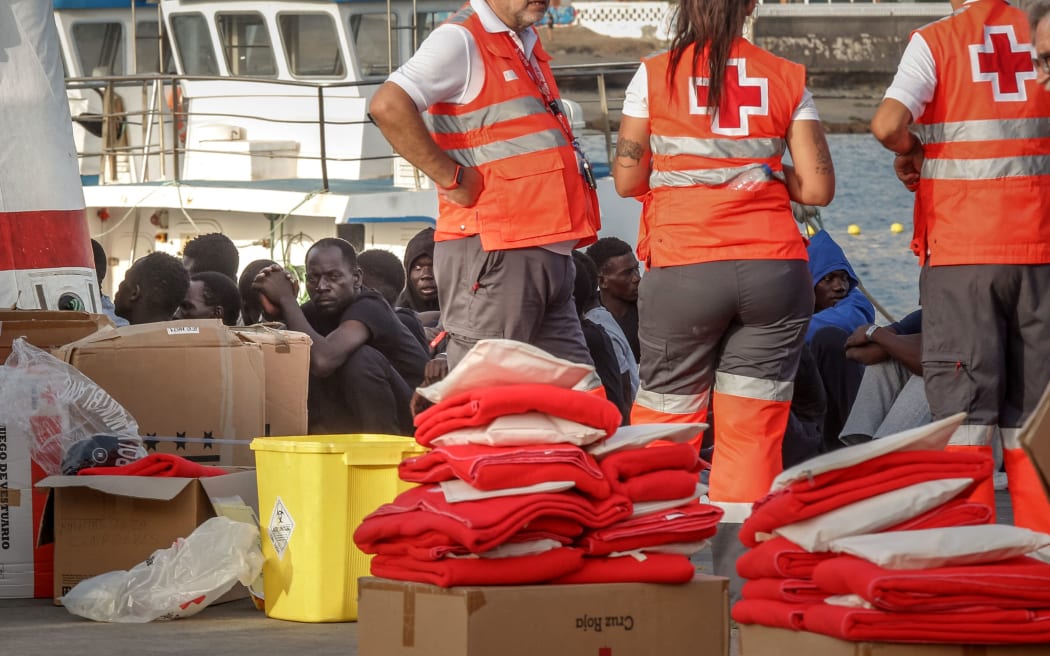 Migrants rest on the pier next to Red Cross officials after disembarking from a 'cayuco' (wooden boat) following a rescue operation on 4 July, 2023 at the port of Los Cristianos, south of Tenerife. Photo: AFP
Spanish rescuers are searching waters off the Canary Islands for a boat carrying at least 200 African migrants who went missing more than a week ago.
The aid group Walking Borders said the fishing boat sailed from Kafountine, a coastal town in southern Senegal that is roughly 1700km from Tenerife.
The group said many children were on board, Spain's Efe news agency reported.
Two similar boats carrying dozens more people were also said to be missing.
The boat carrying about 200 people left Kafountine on 27 June, heading for the Canary Islands.
Spain's maritime rescue service told Efe that a plane had joined the search.
There are few details about the other two boats. Reuters news agency quoted Helena Maleno of Walking Borders as saying that one has about 65 people on board, the other up to 60, which would bring the total number of people missing across the three boats to more than 300.
The news comes just weeks after Europe saw one of its worst Mediterranean migrant shipwrecks, when an overcrowded trawler sank off the Greek coast.
At least 78 people were confirmed drowned, but the UN reported up to 500 were still missing.
The voyage from West Africa to the Canary Islands is among the most dangerous routes for migrants, not least because they usually sail in simple dugout fishing boats that are easily tossed by powerful Atlantic currents.
Last year at least 559 people died at sea attempting to reach the Spanish islands, the UN's International Organisation for Migration (IOM) says. The death toll for 2021 was 1126.
The IOM quoted Spain's Interior Ministry as saying 15,682 people arrived irregularly in the Canary Islands in 2022, a decrease of 30 percent compared to 2021.
"Despite the year-to-year decrease, flows along this dangerous route since 2020 remain high compared to prior years," the IOM said.
- This story was first published by the BBC
source: https://www.rnz.co.nz/news/world/493487/migrant-boat-from-senegal-carrying-200-people-missing-off-canary-islands