Ardern says NZ working with Singapore on 'supply chain resilience for exporters'
Prime Minister Jacinda Ardern has announced the launch of a working group on supply chain issues including data sharing and digitisation between Singapore and New Zealand.
Watch PM Jacinda Ardern speak in Singapore:
Ardern says Covid-19 has impacted supply chain constraints on economies, particularly small economies.
She says New Zealand and Singapore worked closely together in 2020, with Singapore's food needs relying on 90 percent imports, to overcome some of those problems.
"And of course as an exporter, New Zealand also critically needs to ensure the movement of its goods and services."
She says the two countries worked together to commit to ensuring tariffs would not impact goods and services and ensure the products were free-flowing across borders.
"As a result here we are now, launching a working group on supply chain issues between Singapore and New Zealand."
She says this will include improving data sharing, digitisation - an area she says Singapore excels at - and thirdly improving supply chain resilience regionally and globally.
"Singapore is a logistical expert. We send 20 percent of our exports through these hubs. By working together we can improve the entire supply chain resilience for New Zealand exporters."
She says every trading nation is vulnerable to anything that affects workforces and shipping lines, and we saw that in particular with vaccines and medical goods.
"Covid taught us we can still keep those essential goods and services moving ... let's do that for more products."
One of the presidents of PSA told her about the impact of Covid-19, saying every port was seeing a slowdown in operation and loss of productivity due to the impact of Covid-19 on people.
"Although this is a very automated operation, globally we still rely on people to ensure the movement of our goods and services and Covid has impacted the movement of our goods and services, globally, hard."
Later today Ardern will be part of witnessing an aviation agreement, which will also build on working together to tackle the challenges in movement of people and ensuring that is done in a sustainable way.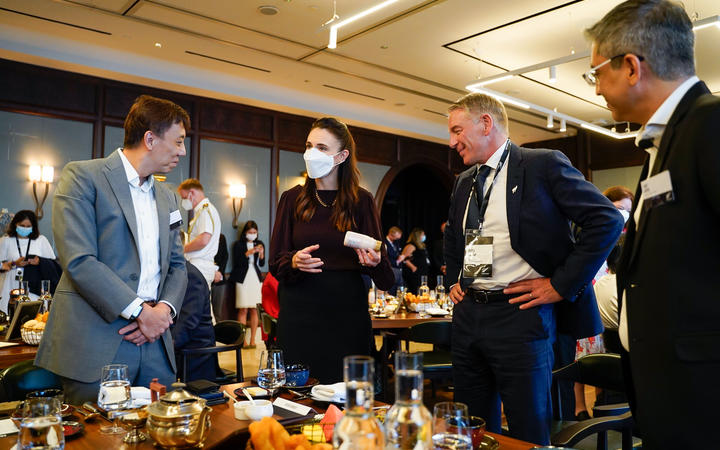 Prime Minister Jacinda Ardern during her trade mission to Singapore. Photo: Karan Gurnani
On the Solomon Islands' agreement with China, which has now been signed, Ardern says New Zealand sees no need for the agreement.
"We have seen this building for some time ... collectively we are ready and available to meet the security needs of our neighbours. We see no need for this agreement. We're concerned about the militarisation of the Pacific, and we continue to call on the Solomons to work with the Pacific on any concerns about security they have."
She says the agreement has been signed before the Pacific Islands Forum had a chance to engage with the Solomon Islands on the agreement.
"Tthere is no need for this agreement that they have signed and we ask and continue to ask for dialogue with the whole region, not just New Zealand."
She says it reinforces the need to maintain strong relationships within the Pacific.
A briefing in Honolulu with officials from New Zealand, Australia, Japan and the United States is one that she would not consider unusual, she says.
"Again we have calls for all those who have an interest in our region and there are an increasing number of players - the EU, Japan and obviously China - there are areas where we can collaborate and work together. But we must also draw clear lines where we have areas of concern and the militarisation of our region is a very clear line."
She says New Zealand has not dropped the ball on engagement in the Pacific since the 'Pacific reset' led by previous foreign minister Winston Peters.
"We've demonstrated an ongoing willingness to address some of the recent upheaval they've had ... we provide that security for all who are present in the Solomons. In our view the need simply isn't there. If there is an issue which is not being addressed all we've ask is a dialogue within the Pacific to address that."
On MIQ, she says the advice that was received by the government was that MIQ was still needed past November.
"There was internal advice that when peer reviewed came through to Cabinet, and we adopted."
She says she is not concerned about potential legal challenges, saying it has already been through the courts.
"Actually this issue has already been through the courts and you've already heard Dr Ashley Bloomfield speak directly to the process that was gone through."
Ardern yesterday made a joint announcement with Singapore Prime Minister Lee Hsien Loong that New Zealand and Singapore's partnership agreement would now include a focus on climate and sustainability.
She also announced an expanded working holiday visa with Singapore.
After two days in Singapore, her trade delegation is set to travel on to Tokyo later today for three nights before returning home.
The contingent of about 50 people also includes Trade Minister Damien O'Connor, officials, journalists and 12 high-powered business executives. Three who tested positive for historical Covid-19 infections will be returning home however, because of Japan's stricter entry rules.
source: https://www.rnz.co.nz/news/political/465577/nz-working-with-singapore-on-supply-chain-resilience-for-exporters-ardern