Auckland: Businesses who have opened say few customers are about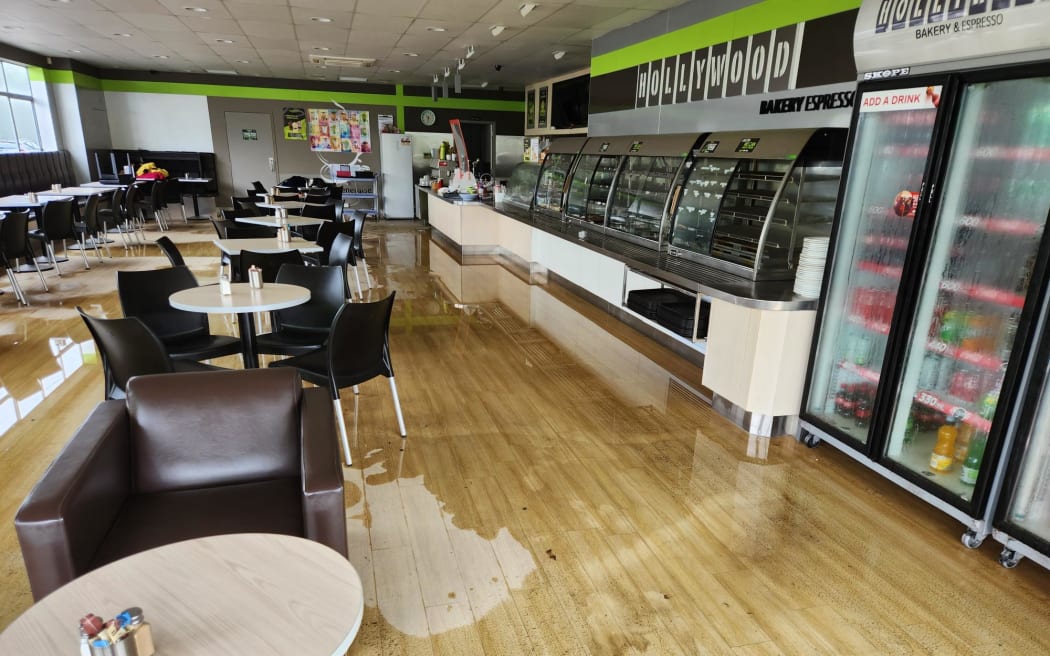 Businesses are feeling the pinch as customers batten down the hatches and few venture out during Auckland's storms. Earlier this weekend, the Hollywood bakery in Wairau was one of the businesses affected by the floods during the weekend. Photo: RNZ / Finn Blackwell
It's been a quiet start to the week for central Auckland businesses with people encouraged to stay at home because of slips and flooding.
With schools closed and people told to work from home, the centre of the city was something of a ghost town.
Mayor Wayne Brown yesterday told the city to stay home if they could: "Or as close to home as possible".
But for many retail and hospitality businesses, having people coming into town was their lifeblood.
At La Petite Fourchette French bakery in Britomart, manager Marco Pequin said there was very little business.
Outside, the odd passerby sidestepped a burst manhole that was bubbling over. Inside, the usually packed cafe sat empty.
"Since Saturday it's a real disaster ... it's something like less 70 percent," he said.
"Here, usually on a Monday or Tuesday it's full, always."
Just off Queen Street, Ima Cuisine owner Yael Shochat said she would be closing up early because it was so quiet, and to keep her staff safe in case the rain worsened.
"Especially if things are really on the edge and a bit more rain is all it needs to tip it over," she said.
"I don't think it's going to be like Saturday to Friday, I think it's going to be just a very rainy night, but it's also really quiet."
At The Green Dolphin Bookshop, just off Karangahape Road, Roy Ward said business was always slow when the weather was bad, but the severity of this storm would be a blow to business owners who were only just recovering from the effects of Covid-19 lockdowns.
"It is unfortunate, it's dispiriting particularly for people who are directly affected by it, if you've been flooded and that's on top of what you've been through with Covid," he said.
"We're not in that position, but for the people who are, obviously that's distressing."
One industry that was booming, however, was the taxi business. One driver RNZ spoke to said January was usually one of the quieter months, but demand had surged since Friday, as cancelled events, flights, buses and trains had left people stranded.
"There is a bit of risk ... but as a business point of view, it's been going good."
While the silent streets might have brought back unwanted memories of the Covid-19 lockdowns, business owners were hopeful the rain would go away soon.
"With a lot of people out of their homes and some roads impassable - that won't get back to normal in a week," Shochat said.
"But yeah, if the majority of people could come back, that would be good."
The city's businesses - along with the rest of Auckland - hoped the wild weather was done with the City of Sails.
source: https://www.rnz.co.nz/news/business/483405/auckland-businesses-who-have-opened-say-few-customers-are-about