Palestinians defiant and angry after Israel's Jenin raid
By Ali Sawafta
Mourners at a funeral procession for Palestinians killed in clashes during the Israeli military operation in Jenin. Photo: AFP
Palestinian militant fighters paraded in Jenin on Wednesday and angry crowds confronted senior Palestinian Authority officials, accusing them of weakness, after one of the largest Israeli military operations in the occupied West Bank in years.
The two-day operation, which the Israeli military said targeted infrastructure and weapons depots of militant factions in the Jenin refugee camp, left a trail of wrecked streets and burned-out cars and sparked fury across the Arab world.
At least 12 Palestinians, most confirmed as militant fighters, were killed and around 100 wounded in an incursion that began with late-night drone strikes, followed by a sweep involving more than 1000 Israeli troops. One Israeli soldier was killed.
"We stayed inside the house, but then they cut off the electricity then the water," said Mohammad Mansour, a resident of the camp where armoured bulldozers tore up streets to expose roadside bombs, cutting power cables and water pipes.
"We ended up running out of bread and supplies... I've never been through such days."
At a funeral for 10 of the dead, thousands of mourners, including dozens of gunmen, confronted three senior Palestinian Authority leaders, chanting "Get out! Get out!" They forced them to leave under protection of guards who used tear gas to push back the crowds.
The Authority, which exercises nominal governance over parts of the West Bank, protested against the Israeli operation, which it called a war crime, but was unable to do anything to halt it.
Following the withdrawal of the Israeli force on Tuesday evening, leaders of Iranian-backed Islamic Jihad and other armed factions claimed victory, and the mood among residents returning home to the camp appeared defiant.
"They did not get what they wanted, thank God. The youths are fine, the families are fine, and the camp is fine," Mutasem Estatia, a father of six, said after what he described as two nights being kept away, one of them in Israeli detention.
"There are 12 martyrs and we are proud of them, but we expected more damage."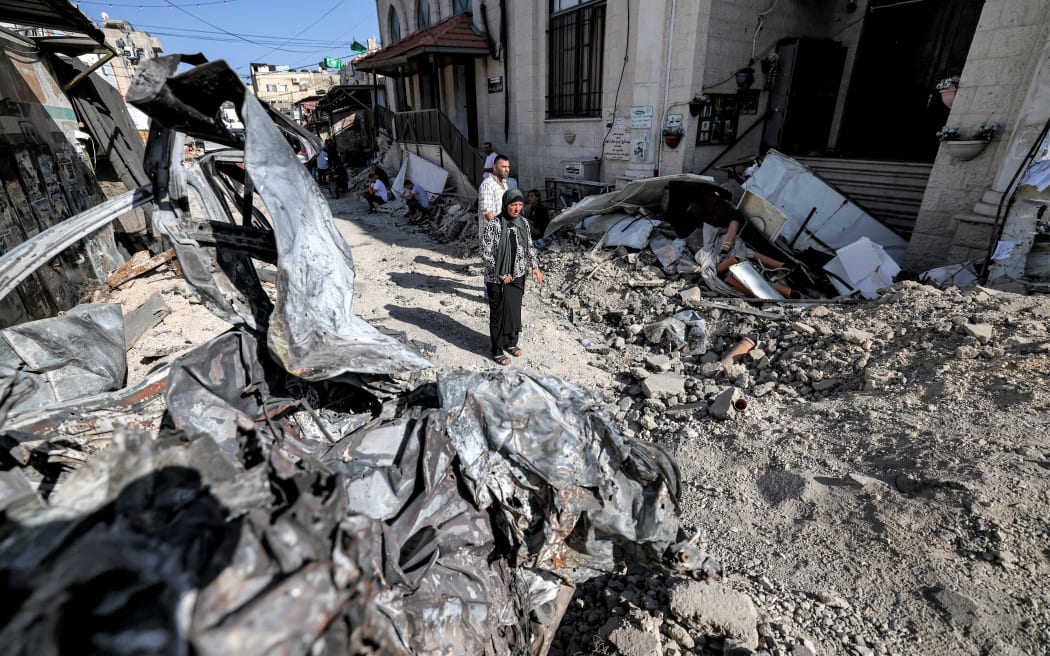 People stand near rubble and the remains of a destroyed vehicle outside a mosque in the occupied West Bank city of Jenin on 5 July 2023, after the Israeli army declared the end of a two-day military operation in the area. Photo: AFP
Israeli forces detained 150 suspected militants, seized large caches of money, guns and roadside mines - including an arsenal under a mosque - and destroyed a command centre, the army said. It said all the Palestinians killed were armed fighters. Islamic Jihad claimed eight as members, with Hamas claiming another.
As the troops withdrew overnight, Israel reported a volley of rockets from the Gaza Strip, another Palestinian territory, which is run by Hamas. The rockets were shot down and Israel's air force struck targets in Gaza, causing no casualties. In a further sign of violence spilling over from Jenin, a Palestinian rammed his car into pedestrians in Tel Aviv and went on a stabbing spree, wounding eight people before he was shot dead. Hamas claimed him as a member.
Israeli Prime Minister Benjamin Netanyahu warned on Tuesday the Jenin operation was unlikely to be a "one-off" and said it would be "the beginning of regular incursions and continuous control of the territory".
In turn, the spokesman for the Al-Quds Brigades, the armed wing of Islamic Jihad, said "every alley and street will soon turn into clashes and fighting fields."
The scale of the Israeli operation, one of the biggest in 20 years, pointed to the growing strength of the militant groups in Jenin, where Israel estimates almost half the population is affiliated to Islamic Jihad or Hamas.
"War rooms, explosive devices, planting powerful but primitive mines based on solar water heaters or similar objects - these are things we faced 20 years ago in Gaza," said Israeli Defence Minister Yoav Gallant, a former army general."
"Only then they were buried in the sand and now they had to be buried in asphalt."
The operation also underlined the weakness of the Palestinian Authority, set up some 30 years ago after the Oslo peace accords, which has been unable to impose itself against either Israel or militant groups in Jenin or nearby Nablus.
Both cities have been traditional centres of Palestinian resistance, but their semi-detached position from Palestinian Authority control has become more pronounced as a wave of violence has swept the West Bank over the past two years.
In Jenin, footage circulating on social media showed hundreds throwing rocks at the wall of the Palestinian Authority governor in the early hours of the morning.
Israel has been fiercely critical of the Palestinian Authority and its president Mahmoud Abbas, 87, accusing them of failing to rein in the militant groups.
PA officials in turn say Israel makes it impossible to exert control by deliberately undermining their authority and blocking any attempt to create the basis for a future Palestinian state in the West Bank, which Israel seized after the 1967 Middle East war.
Surveys show almost 80 percent of Palestinians want Abbas to resign but without any designated successor and with no elections held for almost 20 years, it remains unclear who might replace him.
- Reuters
source: https://www.rnz.co.nz/news/world/493253/palestinians-defiant-and-angry-after-israel-s-jenin-raid