Amazon just slashed the price on Peloton bikes during the Amazon Prime Day sale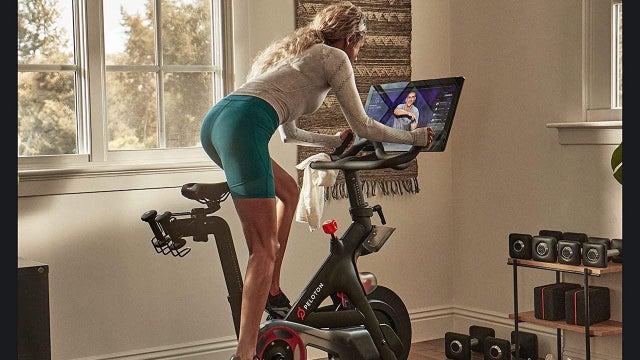 Peloton bikes are notoriously pricey, but we've found a great Prime Day deal on a Peloton bike that you can shop right now, before Amazon Prime Day 2023 winds down later today.
Why do people love Peloton bikes? You can clip into a Peloton bike for a cycling workout like no other. People swear by their classes led by beloved trainers, available via the Peloton All-Access Membership, which costs $44 a month. A membership offers unlimited access to Peloton's entire library of content through the Peloton app. There are even classes you can take off the bike, such as yoga and meditation.
The high-tech and small-space-friendly Peloton bike features a resistance knob for manual control, a stereo speaker system, a touchscreen, a USB micro port, a headphone jack, Bluetooth 4.0 connectivity, a front-facing camera, a built-in microphone and volume buttons.
Peloton bikes are currently $300 off at Amazon for Prime members. Hurry -- this price surely won't last, so be sure to shop now.
Original Peloton bike, $1,145 with Prime (reduced from $1,445)
The upgraded Peloton Bike+ is also on sale for Prime Day 2023.
Peloton+ bike, $2,145 with Prime (reduced from $2,495)
Kickstart your summer workouts with these hot health and fitness deals during Amazon Prime Day 2023.
The latest in the Charge line from Fitbit, this well-equipped activity and health tracker packs advanced technology into a slender device and features a color touchscreen. The smartphone-enabled device helps you manage stress and stay on top of heart health and sleep. 
The Fitbit Charge 5 boasts a seven-day battery life on a single charge. 
Fitbit Charge 5, $100 with Prime (reduced from $150) 
The Hydrow rowing machine features an adjustable 22-inch HD screen, an aluminum and steel frame and a customizable footbed. The Hydrow Rower fits heights up to a 36-inch inseam and weights up to 375 pounds. Rated 4.8 stars at Best Buy. 
Learn more about the Hydrow rower, here.
Hydrow Rower, $1,995 (reduced from $2,495)
Not only does Orgain protein powder contain 21 grams of plant-based protein, but it also is made with over 50 ingredients derived from organic vegetables, herbs, greens, grasses, berries, fruits, sprouts and grains. It has five grams of dietary fiber and prebiotics with only one gram of sugar.
"I have used a couple different flavors of this product and liked them all (which says a lot, because I haven't like any other brand I've tried)," said one reviewer. My favorite by far is the iced coffee flavor. I combine it with plant-based milk and a little instant coffee powder in my blender bottle for a mid-morning pick me up. This does not bother my stomach, contains no dairy and is incredibly good,"
Each purchase contains around two pounds of protein powder mix. Prices vary by size and flavor. The most popular flavor is creamy chocolate fudge.
Orgain organic vegan protein powder in creamy chocolate fudge, $18 with Prime (reduced from $27)
This updated version of the original Hypervolt is lighter, more powerful and features a newly designed handle. It has three speeds and five head attachments, and promises to be super-quiet. It works with the Bluetooth-connected Hyperice app. At 1.8 pounds, it's lighter than the Theragun Elite.
"This little gem is great right after a run for easing some of the stiffness," one Amazon reviewer says. "I also like to use it right before going to bed -- it seems to keep me from having quite so much stiffness in my quads and glutes in the morning." 
Hyperice Hypervolt 2, $159 with Prime (reduced from $299)
The Hypervolt Go 2 boasts 40-watts of power, two head attachments and three speeds. Its main selling point is its extreme portability – its lack of heft is meant to literally keep you on the go. 
"I was gifted a full size Hypervolt which I use regularly for my legs after runs," a verified purchaser on Amazon says. "When I travel and do runs away from home, I surely miss my massage gun. So I purchased the Hypervolt Go 2. It charges quickly and is quiet. It will definitely be a good traveling companion for races that are away from home."
Hyperice Hypervolt Go 2, $99 with Prime (reduced from $199)  
If you're after a basic dumbbell pair, Amazon has the deal for you. The Amazon Basics vinyl-coated hand-weight dumbbells are on sale now. Find them in 10 different weights. Prices vary by weight -- we're referring to the 20-pound set, but many are on sale. The dumbells come in different colors depending on their weight. They have a vinyl coating for a non-slip grip and their convenient shape prevents them from rolling away.
Amazon Basics vinyl-coated hand-weight dumbbell pair (20 pounds each), $55 (reduced from $69)
These reader-favorite Lululemon dupes are on sale now at Amazon during Day 2 of the Amazon Prime Day sale. Grab a pair for as low as $16. But hurry -- this deal won't last.
Reviewers rave about Colorfulkoala's Lululemon Align-lookalike leggings (and they're Essentials bestsellers). The full-length high-waisted option, which comes in 21 colorways, is currently on sale for 30% off for Amazon Prime subscribers. These leggings have a seamless waistband with a hidden pocket. Prices vary by size and color. 
Colorfulkoala buttery soft high-waisted leggings, $16 with Prime (reduced from $23)
Amazon Prime Day is an annual two-day sales event that is running now through July 12, 2023. The e-commerce giant puts tons of top-selling products on sale exclusively for Amazon Prime subscribers. Prime Day is an excellent opportunity for shoppers to score brand-name tech (including cell phones, laptops and computers, tablets and TVs) , kitchen appliances, home goods, furniture, clothing, tools, toys, beauty products, and more at Black Friday-like prices. There are even Prime Day deals on gift cards.
Other retailers are running competing Amazon Prime Day sales. Walmart, for example, has announced it will be holding its Walmart Plus Week sale that started on Monday, July 10. 
Check out these Amazon Prime Day deals on top brands for you and your family. And be sure to check out even more great Prime Day deals to shop, handpicked by our friends at ETOnline, CBS Sports Essentials and ComicBook.com. 
Kaylyn McKenna is an expert on deals, travel, luggage, home and more for CBS Essentials. When she's not scouring the internet for the best deals on new luggage or robot vacuums, she spends time with her goldendoodle, Harley, our resident canine correspondent and dog treat expert.
source: https://www.cbsnews.com/essentials/amazon-peloton-bikes-up-to-20-for-amazon-prime-day-2023/