Hundreds in Māngere in need of supplies and accommodation after floods
Hundreds of people have turned up at an emergency shelter in Auckland's Māngere in desperate need of accommodation, clothing, and food. 
Families have had to spilt up and sleep in their cars because of yellow and red-stickered homes, and many were also in public housing or without insurance.  
There are varying degrees of damage out in the southeastern suburb, with some streets skip bins full of discarded items, and for other households, it was unsalvageable and they had been red-stickered.  
Five days on from Friday's deluge, Tua helped sift through the sodden remains at his sister's yellow-stickered home of 39 years at Pito Place.
On Wednesday, the sun finally shone to give some reprieve from the rain, but with the heat came the smell of silt and contaminated water. 
Flood waters had washed up mounds of rubbish now strewn across lawns and onto the Pito Place property, adding to the stench. 
"We see a lot of stuff floating around yeah, rubbish, those bins they are not not ours, I don't know whose bins those are."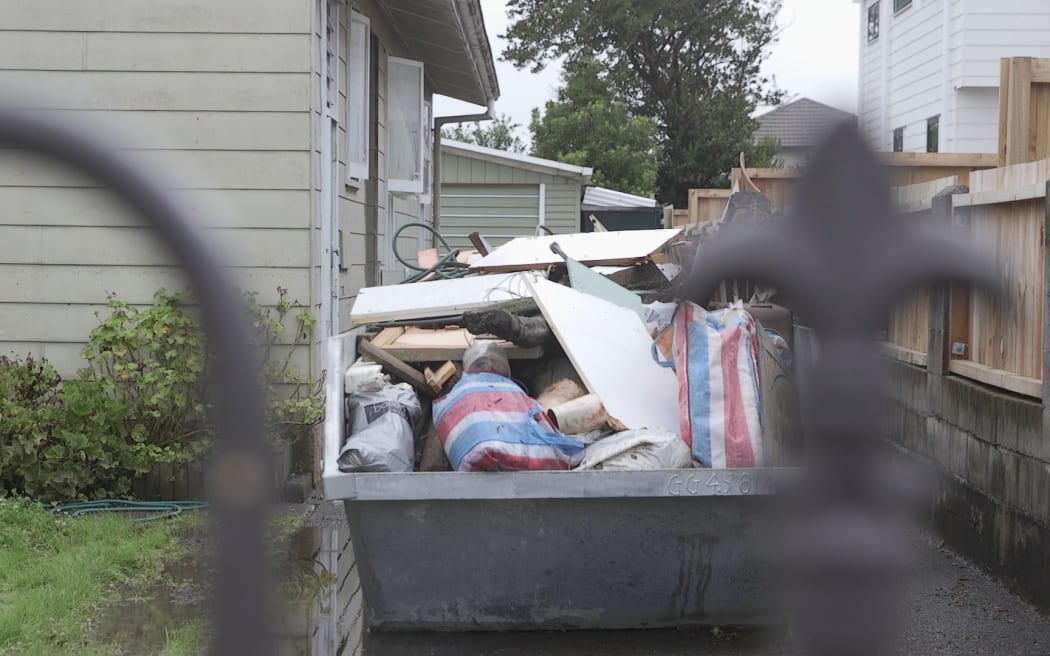 Some Māngere streets' skip bins are full of discarded items after rising water contaminated many household items, and others residents' items made their way down the road during the flooding in Auckland. Photo: RNZ / Samuel Rillstone
Tua said his sister did not have insurance, which left her with nothing and she would have to start from scratch. 
Their skip was already full of drenched belongings but that was only from their garage. 
They were waiting for it to be collected so that they could begin to clear the saturated mattresses, appliances and belongings inside. 
In the meantime, Tua was busy salvaging the few things he could, hosing down kitchen plates and utensils outside. 
Moana-nui-ā-Kiwa Hub in Māngere has been set up as an emergency centre for those displaced from their homes, in need of emergency housing, food and clothing. 
Volunteers told RNZ demand was growing, with about 400 people a day coming through their doors. 
Tables full of blankets and clothing and stacks of shoes filled the hall along with boxes upon boxes of food. 
On Wednesday, the centre had a visit from Prime Minister Chris Hipkins, full of praise for those helping out.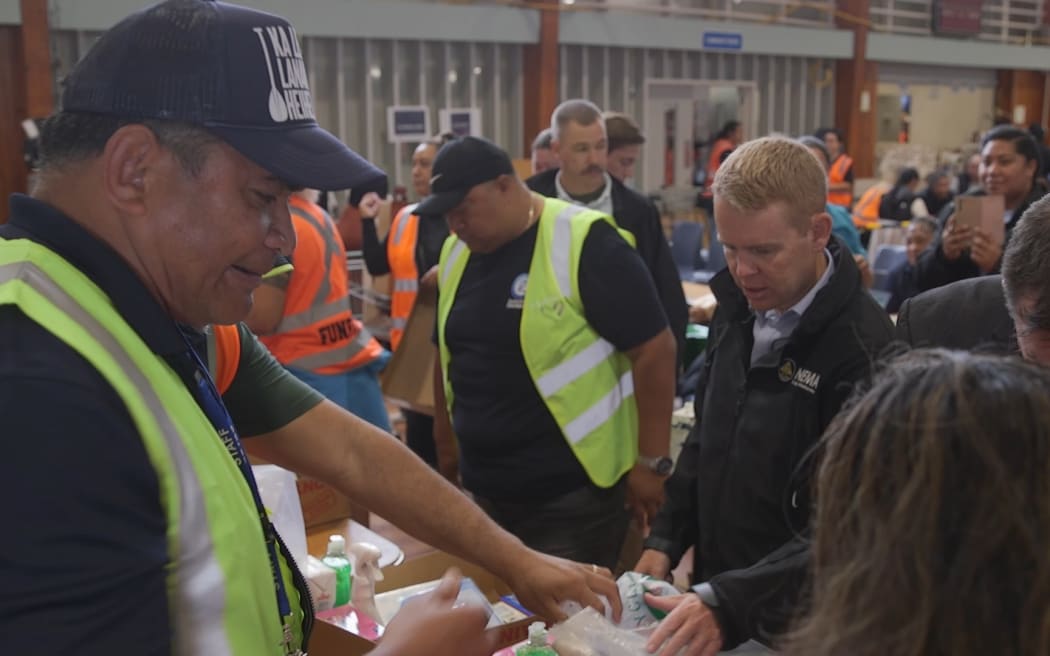 Prime Minister Chris Hipkins visited the Moana-nui-ā-Kiwa Hub in Māngere to see flood-affected communities in Auckland. Photo: RNZ / Samuel Rillstone
Drinking water, food, medication, and cleaning supplies were in high demand. 
Local councillor Alf Filipaina said some families would not ask for help so it was vital community workers came to see them. 
"What we hear is that people are struggling ... somebody needs to go into their homes. It's gonna be traumatic saying I need to throw this away."
He wanted all Aucklanders to know they could ask for help there. 
"For me, people need to realise that this is a centre for South Auckland and Auckland and that's what's so important." 
Among those in line for accommodation was Rosanna, whose Māngere home had been ruined in the floods, forcing her household of eight to flee.  
"We can't stay in the house so my other kids are all spread out with like friends, family. I'm sleeping in the car at the moment."
She was desperate for some good news at last. 
"I'm hoping that I will get a house ... for me and my kids." 
The evacuation centre would remain open for the foreseeable future, with the city hoping for a dry night at last. 
source: https://www.rnz.co.nz/national/programmes/checkpoint/audio/2018876014/auckland-floods-hundreds-of-flooded-cars-uninhabitable-homes