Mexican journalist found dead days after being reported missing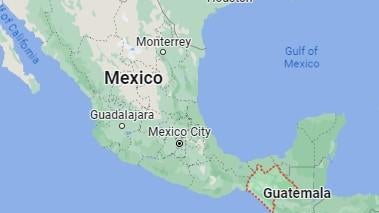 The Mexican national newspaper La Jornada said Saturday that its staff reporter in the Pacific coast state of Nayarit has been found dead.
The body of journalist Luis Martín Sánchez Iñiguez was found on the outskirts of the state capital, Tepic, La Jornada reported.
Sánchez Iñiguez, 59, had been missing since Wednesday and an appeal had been made to find him, the Nayarit state prosecutors' office said. The journalist's wife reported him missing, along with a computer and his cellphone.
La Jornada reported that state prosecutors' office confirmed to the paper that Sánchez Iñiguez had been murdered, and that authorities believe his killing was motivated by his work in journalism. 
"The body was found with signs of violence, and two handwritten signs were found on it," prosecutors said in a statement, but did not reveal what the messages said.
Handwritten signs are frequently left by drug cartels with the bodies of victims, but the office said the motive in the killing was still under investigation.
The office said later Saturday that relatives had identified Sánchez Iñiguez's body, and said he had been dead for one or two days before the corpse was found.
Sánchez Iñiguez was last seen in Xalisco, a Nayarit town that has long been linked to the smuggling of heroin and opium.
He would be at least the second journalist killed in Mexico this year.
In February, news photographer José Ramiro Araujo was stabbed and beaten to death in the northern Mexico border state of Baja California.
2022 was among the deadliest years ever for Mexican journalists, with 15 killed.
Just two days after Sánchez Iñiguez disappeared, another journalist was abducted in the same area. Jonathan Lora Ramírez was abducted on Friday by "armed, masked men who arrived at his home in Xalisco, forced open the door and took him away," state prosecutors said.
Lora Ramírez was found alive and in good condition Saturday, prosecutors said.
The prosecutors' office said a third media worker, identified as Osiris Maldonado, has been missing since July 3. Maldonado had formerly worked as a journalist, but now worked as a teacher, the prosecutor's office said. Maldonado left for work early on the morning of July 3, and has not been heard from since, officials said.
Prosecutors said they were investigating the possibility the abductions and killing were related to the journalists' profession.
The Committee to Protect Journalists said it "strongly condemns the killing of journalist Luis Martín Sánchez Iñíguez, correspondent of newspaper La Jornada, in the state of Nayarit, and calls on Mexican authorities to immediately and credibly investigate."
source: https://www.cbsnews.com/news/luis-martin-sanchez-iniguez-mexican-journalist-found-dead-reported-missing-nayarit/