Gloriavale employment case: 'It just feels amazing to be acknowledged'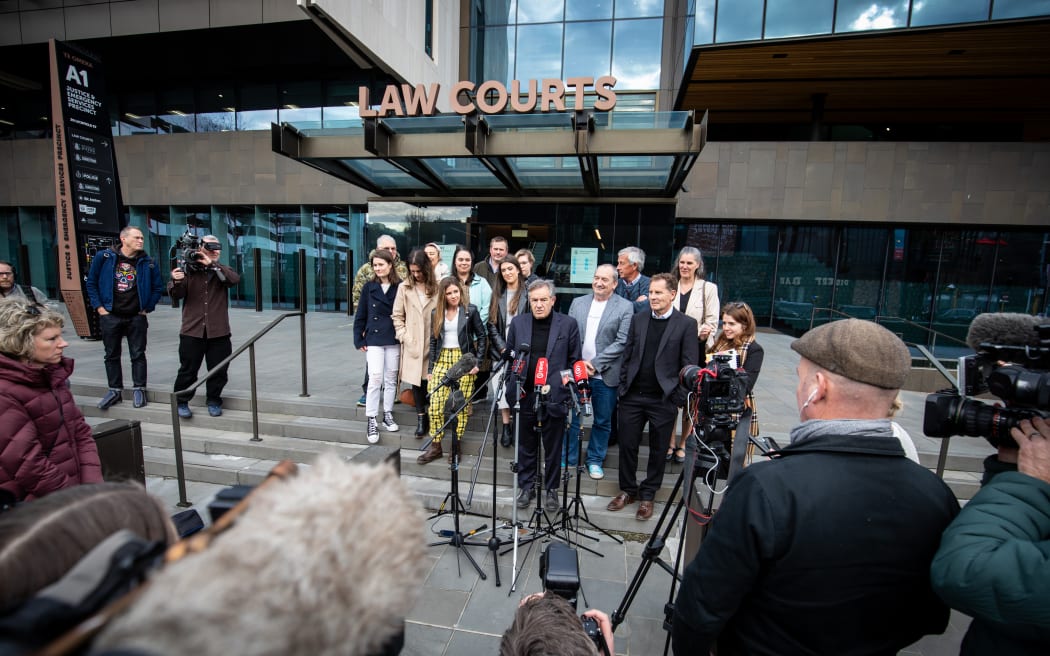 Plaintiffs, witnesses and supporters, including barrister Brian Henry and Gloriavale Leavers Support Trust manager Liz Gregory, hold a press conference outside the Christchurch courts. Photo: RNZ / Nate McKinnon
Former Gloriavale women who took the community's leaders to court hope today's ruling will mean change for their families still living in the West Coast commune.
Employment Court chief judge Christina Inglis has found the six women were employees who worked extremely hard under punishing conditions for years on end, in an experience that has left deep scars.
The women had very little real choice about working, having being primed for the job and taught from birth to submit to male leadership in all aspects of their life, she said.
Following the ruling, plaintiff Rose Standtrue told RNZ she felt "over the moon and just validated in my experiences".
"So often I tried to speak up and was just put down and told that what I had said wasn't true or wasn't the facts and today, I didn't just hear that it was true, I heard that it was true from a judge.
"It just feels amazing to be acknowledged."
Standtrue still has little sisters living at Gloriavale - eleven siblings in total there. She said she did this for them, so they did not have to grow up "and face the things I've faced".
"I want them to be safe, I want them to have choices, I want them to have freedom."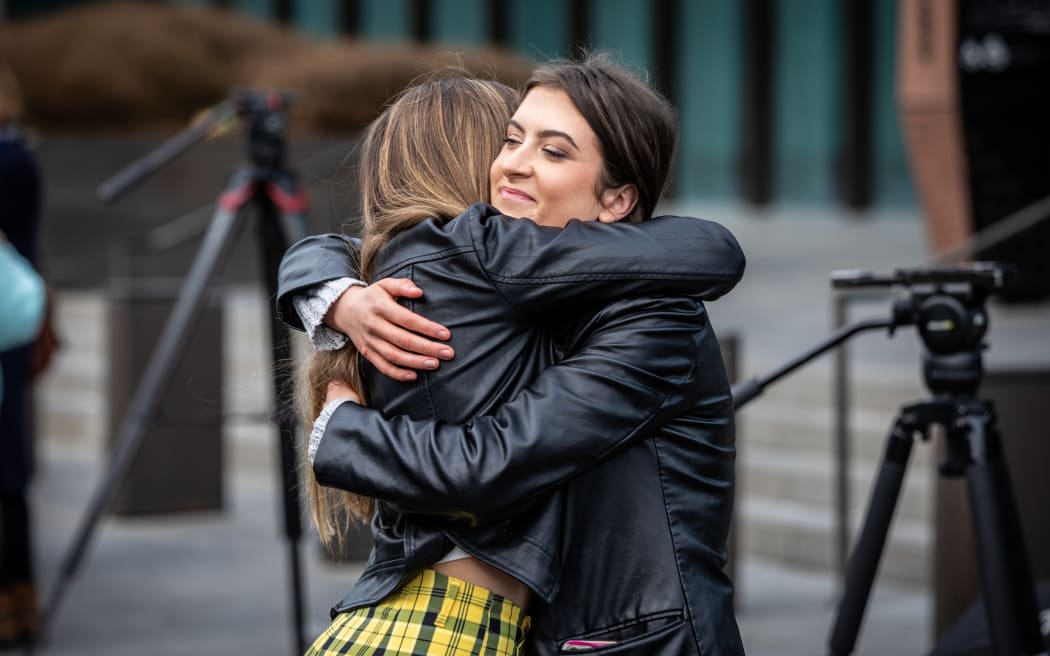 Crystal Loyal and Serenity Pilgrim Photo: RNZ / Nate McKinnon
Serenity Pilgrim said the decision took a while to sink in.
"It's so huge and it's been such a long haul to get to this point but I'm absolutely overwhelmed with feelings and happiness and I just can't wait for change," she told RNZ.
It was a huge step forward to finally be recognised as not volunteers, she said.
"I just hope for my family in there that now, you know, they have choices available, the same choices that I have every single day out here. That they can decide what they want to do and if they don't want to go to work one day they can opt to not go to work and they can actually get paid for the work they do and get recognition for that - I think that's huge."
The feelings the case brought up were quite overwhelming, she said.
"Working just 90 hours on average a week, doing three o'clock mornings sometimes and working till eight o'clock ... and when you're doing heavy lifting all day, it's just physically tiring and mentally tiring and just not getting a break, it's huge."
Pilgrim said she had issues with her legs from having the wrong shoes and had back problems, like others who have left.
Pearl Valor told media she wanted to see a culture change inside the Christian community.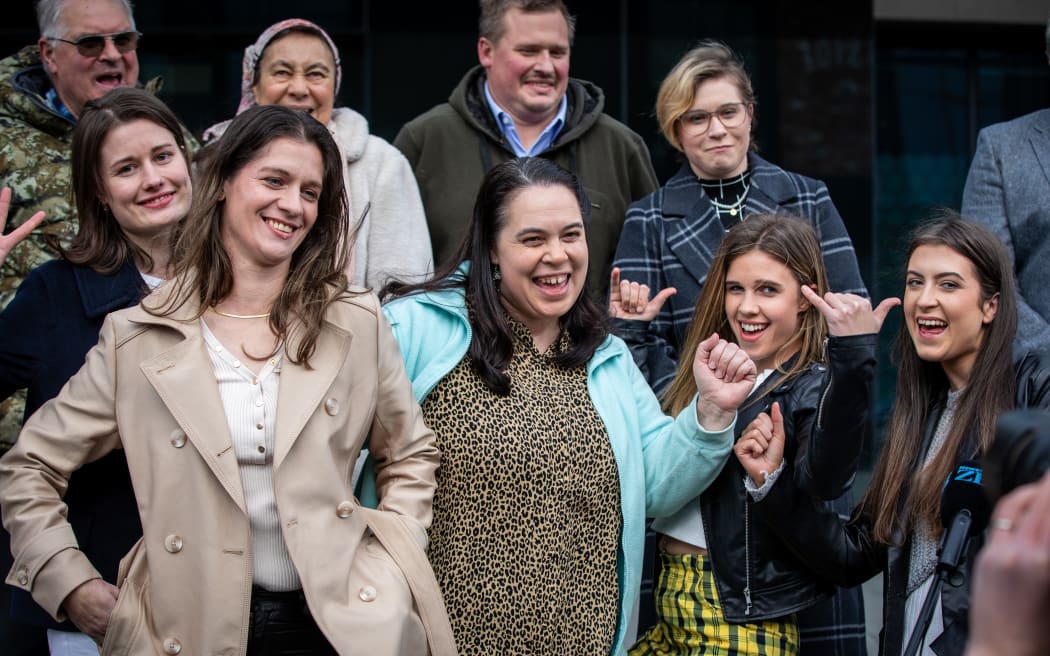 Photo: RNZ / Nate McKinnon
Gloriavale Leavers Support Trust manager Liz Gregory said she thought the judge "nailed it".
"She fully understands the issues. The issues are power and control and in this case it happened to be in the employment sphere but we know how Gloriavale operates, there are many other spheres and other government agencies need to be taking up, taking a look, taking notice."
The ruling was "pretty huge", she said.
"This will mean recognition for those still living in Gloriavale and the work and the working conditions for them. This means recognition and validation for those who have lived in Gloriavale and lived in that system and grew up in a type of servitude."
It should ring as a warning for other similar groups, she said.
She said government departments failed to do their jobs and called for an apology.
Barrister Brian Henry led the legal team in the case against Gloriavale.
He told Checkpoint the ruling was very significant as it was the "first step in trying to take government departments to task".
"They've built their model on child labour, they've built their labour on the servitude of women and that's how they make an awful lot of money ... but it's not going to the community."
The moment women were able to, they came out of school to work, he said.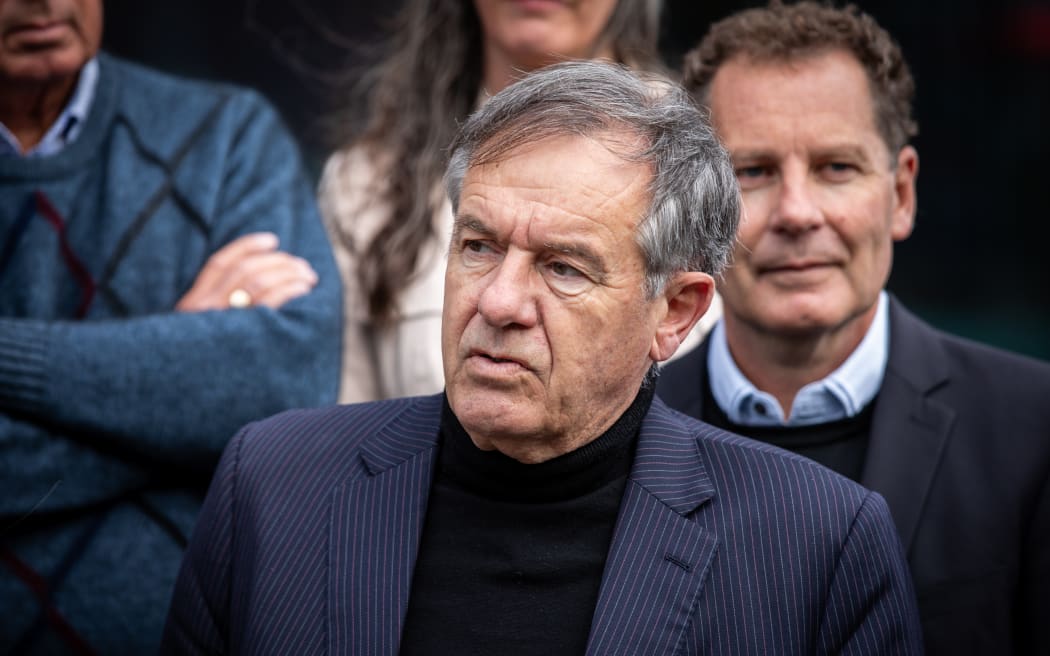 Brian Henry Photo: RNZ / Nate McKinnon
"Any so-called workplace training is simply ... cooking, cleaning, sewing and the teams were on a rotation of every four days and each day they had a different job - first was food prep, second was cooking the food, third was cleaning and fourth was laundry. And that was their day ... no holidays, no weekends, it just continued and they had a week off in leave.
"The whole thing was, they lived in fear," he said.
The fear was there would be no afterlife and punishments included being taken to "abusive" meetings, he said.
"Women were treated as third-rate citizens but it goes worse than that. The judges actually found, I'm going to read you a bit from the judgment: 'The overseeing shepherd went further, accepting that children are educated so that they're not equiped for the outside world and that part of the leadership strategy is to ensure that children are kept seperate from the outside world in order to keep them within the community'."
The woman now have a claim to be backpaid if they wish to take it against the community, he said.
The Gloriavale Christian community intends to appeal against the ruling.
In a statement, Overseeing Shepherd Howard Temple said Gloriavale's leaders believed the decision was wrong and they intended to lodge an appeal.
It had significant and wide-ranging implications beyond Gloriavale, including how faith-based communities, iwi and whānau chose to live and structure their household responsibilities, he said.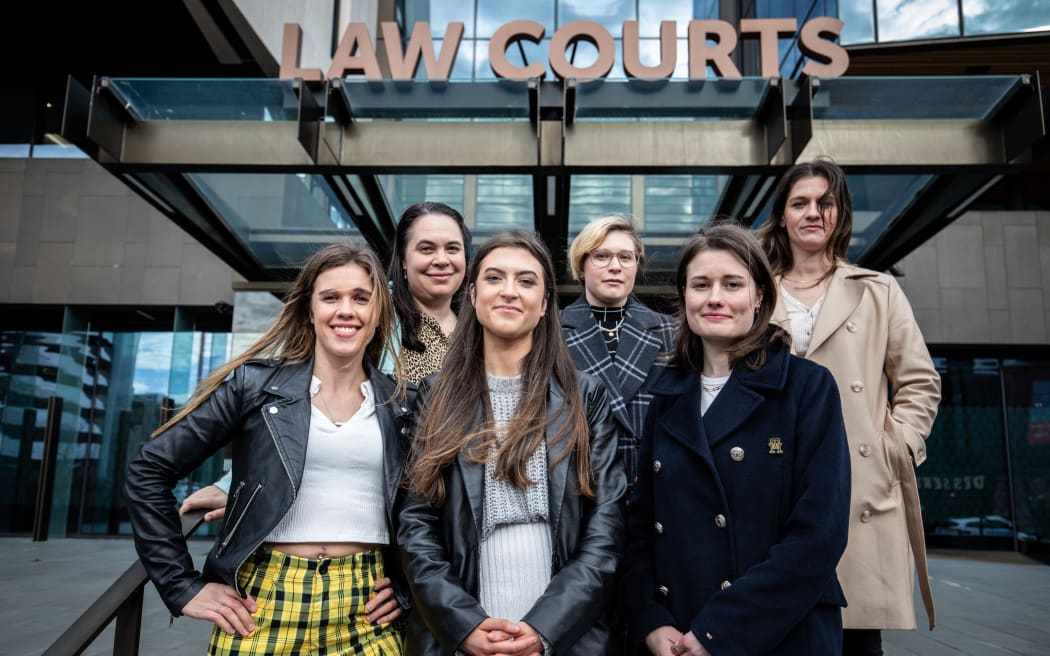 (From left to right) Crystal Loyal, Virginia Courage, Serenity Pilgrim, Anna Courage, Rose Standtrue and Pearl Valor. Photo: RNZ / Nate McKinnon
Associate Minister for Workplace Relations and Safety Priyanca Radhakrishnan said in a statement she would continue to monitor the situation at Gloriavale.
"New Zealand's courts provide an important and key avenue to challenge decisions and clarify points of law, which this judgment has.
"I have asked for advice from the all-of-government cross agency response that is currently considering the judgment carefully, to determine the next steps.
"The issues that have arisen over the years at Gloriavale remain a concern for the government and it is a situation I continue to monitor."
Ministry of Business, Innovation and Employment head of Compliance and Enforcement, Labour Inspectorate Simon Humphries said the ministry welcomed the court's decision.
The inspectorate was considering the judgment and comment in time, Humphries said.
"It's important to note that like in the Courage case, this current ruling does not identify the employers. The Labour Inspectorate's approach to enforcement in response to the judgment relies on the Court determining the identity of the employer(s)."
In a statement, police said their focus remained on "ensuring the safety and welfare of all those in the Gloriavale community and of leavers".
WorkSafe said its activities with Gloriavale "aren't dependent on employment arrangements".
"As New Zealand's workplace health and safety regulator WorkSafe's role is to consider the working environment. The Health and Safety at Work Act 2015 applies not just to workers, but to all who enter the working environment."
The government's charity regulator said Gloriavale could be stripped of its charity status following the ruling.
Charity Services has been investigating the community since last year.
Charities Services general manager Charlotte Stanley said its initial assessment of the judgment "raises concerns across a range of matters of interest to various government agencies".
"In terms of Gloriavale meeting its obligations under the Charities Act 2005, we have an open investigation into this registered charity. Charities Services' investigation will be conducted under our Charities Act mandate and will require consultation with other relevant agencies.
"Registration as a charity brings a range of benefits, including tax exemptions and donee status. To remain registered, charities must advance charitable purpose, report annually, and not engage in conduct that constitutes serious wrongdoing, as defined in the Act. Should a registered charity be found to have engaged in serious wrongdoing, they may be de-registered by the independent Charities Registration Board."
source: https://www.rnz.co.nz/news/national/493677/gloriavale-employment-case-it-just-feels-amazing-to-be-acknowledged