DOJ to appeal length of prison sentences for Stewart Rhodes, Oath Keepers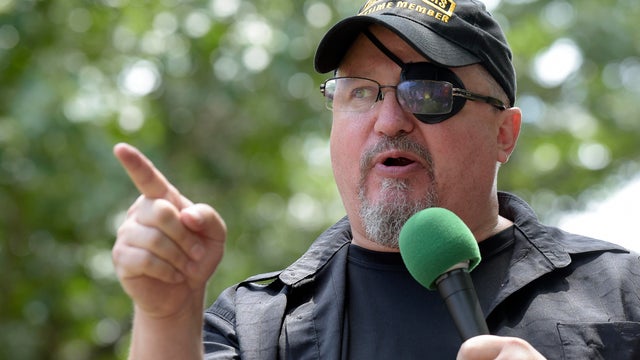 The Justice Department plans to appeal the 18-year-prison sentence handed down for Stewart Rhodes, the founder of the far-right Oath Keepers, in the Jan. 6, 2021, assault on the U.S. Capitol, as well as those of other Oath Keepers, because the terms were not as long as what prosecutors had sought, according to court papers filed Wednesday.
Although Rhodes received a lengthy sentence for seditious conspiracy and other convictions, the 18-year term was less than the 25 years the Justice Department had asked for in one of the most serious cases to go to trial in the Capitol riot and below the range recommended under federal guidelines. Still, Rhodes' sentence was the longest handed down so far in over 1,000 Capitol riot cases.
Defendants routinely appeal their convictions and sentences, but it is more unusual for prosecutors to challenge the length of a prison term imposed by judges who have wide discretion when handing down punishments. 
Rhodes' attorney, James Lee Bright, called the government's decision to appeal "surprising." At his sentencing hearing in May, a defiant Rhodes claimed to be a "political prisoner," criticized prosecutors and the Biden administration and tried to play down his actions on Jan. 6.
The Justice Department filed notices in court that they they intend to appeal the sentences of other Oath Keepers, including Florida chapter leader Kelly Meggs, who was convicted of seditious conspiracy alongside Rhodes and sentenced to 12 years behind bars.
Three other Oath Keepers tried with Rhodes were acquitted of the sedition charge but convicted of other felonies. Four Oath Keepers were convicted of the seditious conspiracy charge at a second trial in January.
An attorney for Meggs declined to comment Wednesday.
In May, prosecutors had argued before U.S. District Judge Amit Mehta that Rhodes, who is 58, qualified for a more lengthy sentence under federal anti-terrorism laws given the "threat of harm and the historic significance" of his crimes. Mehta agreed to impose the terrorism enhancement, noting that Rhodes did not demonstrate "acceptance of responsibility" for his role in the attack. It was the first time the enhancement had been applied to a Jan. 6 defendant.
But the judge ultimately went below — in some cases far below — the sentence prosecutors were seeking for each defendant.
The Justice Department's announcement came after it suffered a rare setback in a related case involving Oath Keepers associates. A former "Jesus Christ Superstar" actor was acquitted Wednesday of conspiring with members of the far-right extremist group to obstruct Congress in the Capitol attack.
James Beeks — a former Oath Keeper and Florida resident who was playing Judas in the traveling production of the musical when he was arrested — was cleared of conspiracy to obstruct Congress' certification of the 2020 election and civil disorder after a trial in federal court. 
Mehta, appointed to the bench by former President Obama, was also the judge in Beeks' case. He ruled Wednesday there was little evidence that Beeks actually planned ahead of Jan. 6 or was aware of the group's alleged conspiracy, according to WUSA Reporter Jordan Fischer. "I just can't get there based on this stipulated evidence," Mehta said, according to Fischer. 
However, Mehta convicted Beeks' co-defendant, Ohio resident Donovan Crowl, of the same charges after hearing evidence without a jury. Crowl had pleaded not guilty.
Beeks is only the second Jan. 6 defendant to be acquitted of all charges after a trial. Beeks represented himself at trial, though he was assisted by a lawyer who served as stand-by counsel and delivered his closing argument. Approximately 100 others have been found guilty of at least one count after a trial decided by a jury or judge, and more than 600 have pleaded guilty.
Beeks and Crowl — who was a member of an Ohio militia — opted for what's known as a a stipulated bench trial, in which the defense and prosecutors agree to a set of facts and comply with a judge's decision on the defendants' guilt. Such trials allow defendants to admit to certain facts while maintaining a right to appeal any conviction.
Prosecutors had previously charged Beeks with other lower-level offenses, including illegally entering the Capitol. The pair had been indicted on multiple charges, but the parties agreed last week that the bench trial would only decide two felony counts — conspiracy to obstruct an official proceeding and civil disorder. In exchange, the government dropped the remaining counts. 
Prosecutors say Beeks and Crowl were part of a group of Oath Keepers wearing paramilitary gear who stormed the Capitol alongside the mob of Trump supporters. Beeks joined the Oath Keepers in December 2020 and drove to Washington from Florida before meeting up with a group of extremists ahead of the riot, prosecutors said.
Beeks, who was also a Michael Jackson impersonator, wore a jacket from Jackson's "Bad" World Tour along with a helmet and was carrying a homemade shield during the riot, according to court papers.
Mehta said Beeks — unlike other Oath Keepers charged with riot-related crimes — didn't post any messages on social media or exchange text messages with other extremists that could establish what his "state of mind" was leading up to the Capitol riot. The judge also cited a lack of evidence about what Beeks did inside the Capitol that could support a conviction for interfering with police.
"His actions must rise and fall on their own," the judge said.
Beeks was arrested in November 2021 while he was traveling in Milwaukee with the "Jesus Christ Superstar" tour. He told reporters after the verdict that it "feels like a huge burden" has been lifted of his shoulders.
He acknowledged that he had joined the Oath Keepers through the group's website but said he never met or communicated with any of his alleged co-conspirators before Jan. 6. He said never knew of any plan to attack the Capitol and mistakenly believed the Oath Keepers "were the good guys."
"I met up with the wrong people," he said. "I lost my whole career. (Jan. 6) is like a scarlet letter."
Crowl was part of the Ohio State Regular Militia led by Jessica Watkins, who was acquitted of seditious conspiracy but convicted of other serious charges in the trial alongside Rhodes. In December 2022, Crowl sent a message in a group chat that included Watkins that said "law abiding citizens are fix'n to 'act out of character'... Time for talk'in is over."
Crowl's attorney, Carmen Hernandez, said her client was exercising his First Amendment free speech rights on Jan. 6 without any intent to obstruct Congress from certifying President Joe Biden's 2020 electoral victory.
"His conduct was no different than that of many Americans who've gone to Congress to peacefully protest and have not been charged with felonies," Hernandez wrote in an email.
Robert Legare and Scott MacFarlane contributed to this report.
source: https://www.cbsnews.com/news/justice-dept-appeal-stewart-rhodes-oath-keepers-jan-6-prison-sentences/