Pupils sent home, principals back in classrooms as 'staffing crisis' bites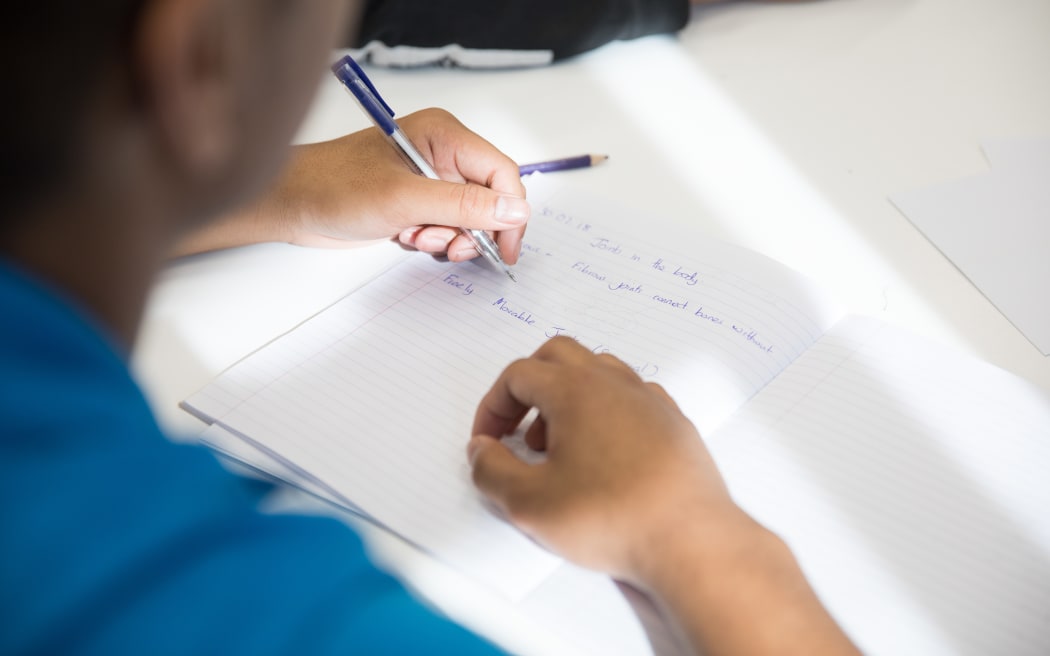 Many principals have reported difficulty recruiting teachers and some are worried they may have run out of stopgap measures.File photo. Photo: RNZ / Cole Eastham-Farrelly
Principals warn the teacher shortage in some regions is the worst they have ever seen as schools reopen for the third term.
They warned RNZ that some schools were likely to find themselves with so few teachers they would have to ask children to stay home, a situation that happened last term in several Auckland schools.
They said the problem was especially bad in Auckland, Northland, and the West Coast of the South Island.
In Auckland, Ardmore School principal Brigid Peterson said she spent all of term two unsuccessfully trying to fill a vacancy.
"I advertised the role three times and was about to do it a fourth, the only applicants I was getting were mainly offshore. I haven't had a New Zealand applicant until my latest round, which I've just completed," she said.
Peterson said she hired the New Zealand applicant but for all of term two she had to work as a classroom teacher on top of her job as principal.
At Point Chevalier School Rangi-mata-rau, principal Stephen Lethbridge said he had two vacancies for jobs starting this term, one of which he filled with an overseas-trained teacher.
"The other position, we didn't have anyone that stood out for us as being a suitable applicant. So we had to convince a retired teacher to come out of retirement and work full-time for a half-year and she agreed to do that, but we can't keep doing that in schools," he said.
The West Coast of the South Island had always had trouble attracting teachers but Nicola Minehan from the region's primary principals' association said the situation was worse than ever.
"Probably 30 percent of our schools have positions where they've got relievers filling them simply because they don't want to teach full-time. We've got a couple of schools that have advertised and advertised three times, four times and the only applicants they've had are overseas teachers who are not compatible," she said.
In Northland, Pat Newman from the Tai Tokerau Principals' Association said job advertisements sometimes attracted no applications and schools had unfilled vacancies.
"In many cases you're lucky to get one application. And that's because we've stripped all the incentives off going out to work in isolated areas," he said.
Auckland Primary Principals' Association president Kyle Brewerton said hundreds of teachers had left the region and there were not enough new teachers to replace them.
"We just simply do not have the people to put in front of children. There's been a few instances toward the end of last term where parents were in fact asked to come and get their children because there was no one to supervise them for the day," he said.
Brewerton said that scenario was likely to recur this term unless there were significant improvements.
One Auckland principal, who asked not to be identified said their school was in "a staffing crisis". Another said they had four teaching roles with temporary cover and the situation was causing "increasing stress".
Auckland Secondary Principals' Association president Greg Pierce said the city's high schools had an unusually high number of unfilled vacancies.
"A regional group of principals, 17 in number from around Auckland, had a meeting the other day and they found out that among the 17 schools there were 37 vacancies, which is really unusual for mid-year," he said.
He said more teachers were leaving to work in other countries, especially Australia where pay rates were higher.
Pierce said large secondary schools had become good at covering the gaps in their staffing so students did not miss out, and that was masking the severity of the problem.
source: https://www.rnz.co.nz/news/national/493823/principals-facing-teacher-shortage-say-some-regions-in-staffing-crisis