Cargo ship blaze that killed 2 firefighters put out after nearly a week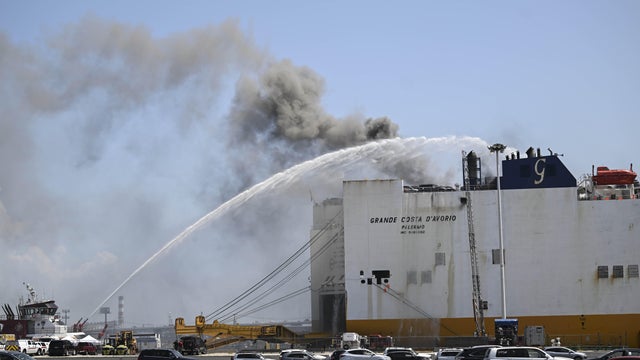 Firefighters have successfully extinguished a blaze aboard a cargo ship docked in New Jersey almost a week after it broke out, officials said Tuesday.
The fire started Wednesday night in multiple vehicles on the 10th floor of the Grande Costa D'Avorio in Port Newark, then spread to the two floors above. Two firefighters were killed — 45-year-old Augusto Acabou and 49-year-old Wayne Brooks, Jr. — and at least six others were hurt while battling the blaze. 
"Their selfless sacrifice is on the minds of all involved in the response and we will never forget their acts of courage," U.S. Coast Guard Capt. Zeita Merchant, the commander of the port of New York and New Jersey and federal on-scene coordinator, said in a Tuesday press release.
The ship was carrying an estimated 1,200 vehicles and 157 containers that were slated to be exported, the Coast Guard previously said. None of the vehicles was believed to be electric.
Extinguishing the fire was challenging and required the cooperation of multiple local, state and federal agencies, officials said. Even as the flames were being put out, crews were also working on "de-watering" the vessel — a process that involves removing the water that is being pumped in to extinguish the blaze — in an effort to keep the ship stable.
"Salvage and specifically shipboard firefighting, is an extremely complex operation and requires responders to consider long-term firefighting efforts, damage and destruction of the vessel, and the environmental impacts," Merchant said Friday. "Which is why we have brought some of the world's top salvagers and marine experts here to this response."
Officials are still working to determine the cause of the fire, the Coast Guard said. 
"The findings of the investigation will be vital in preventing similar incidents in the future and enhancing maritime safety and security protocols," the agency said in a press release.
The Coast Guard, along with partner agencies, will also work on salvage operations to safely remove the ship while minimizing any potential impact on the environment.
The Grande Costa D'Avorio was built in 2011. It's owned by one of Italy's leading ship companies, the Grimaldi Group. The company specializes in the maritime transport of vehicles and shipping containers.
Aliza Chasan is a digital producer at 60 Minutes and CBS News.
source: https://www.cbsnews.com/news/grande-costa-davorio-fire-killed-2-extinguished-after-week-new-jersey/