'Coming from every direction' - Residents at Auckland flats hit by flooding again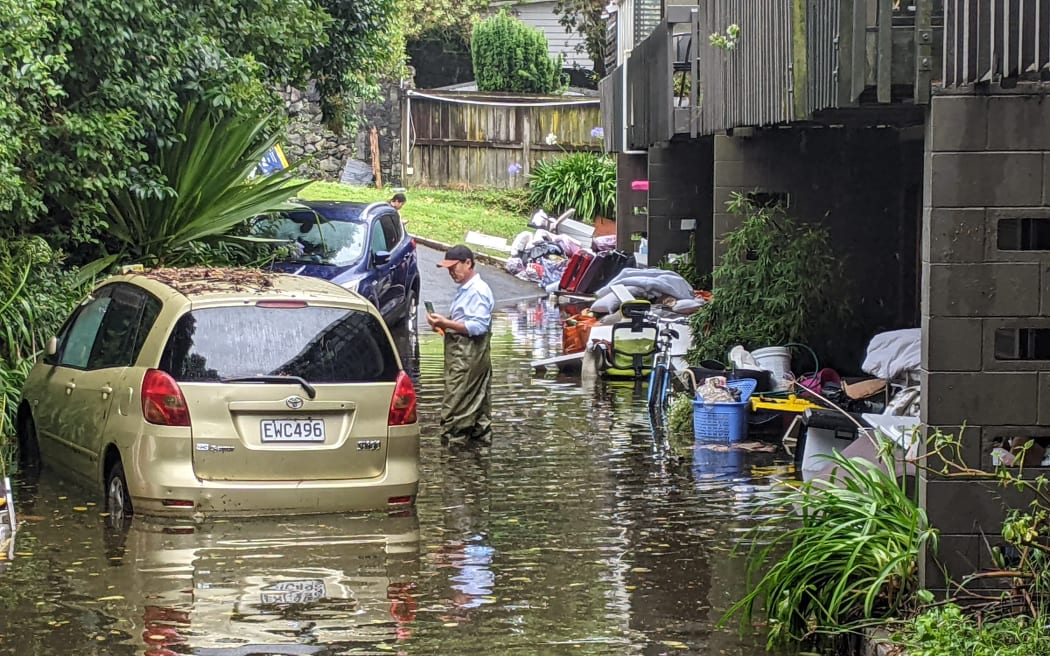 A block of flats on the corner of Gillies Ave and Epsom Ave hit by by flooding twice over the past week. Photo: RNZ
An Auckland block of flats that was swamped by two-and-a-half metres of water on Friday was flooded again yesterday, and the residents are at the end of their tether.
And one resident remains on the top storey of one of the flooded units because she's too ill to be moved, while the tenants wait for help to arrive.
First Up visited the area yesterday with local MP David Seymour to gauge the level of damage and find out about the response.
On the corner of Gillies and Epsom avenues, they came upon a block of eight flats with about a metre of water backed up against the front of the building, with piles of the residents' belongings stacked up outside, along with a stranded car.
Resident Erena Tanabe said from about 6pm Friday, the water level rose to the top of the lower storey in a little over an hour.
"The water was coming from every direction - from the street, from the back units," she said. "Before you knew it, it was above 2m - almost to the second floor."
Erena stayed at a friend's house in Mt Eden, but her parents remained on the upper storey of the flooded flat.
"It's just better for them to stay there because my mum's ill so [it's hard for her to] move around."
They'd had a hard time getting help through official channels, but the community came through for them. Locals formed a human chain to scoop out the water with buckets, and also arranged for three pumps to be brought in.
And by Sunday the vast majority of water had been cleared. Then came Tuesday evening.
"Before you knew it, it happened again," Erena said.
She said she'd messaged Seymour on Instagram a couple of days ago about what was going on, but didn't get a response.
"We need someone to unclog the drains [and] fix this whole problem because nobody's coming in to advocate for us, nobody's coming in to check it out.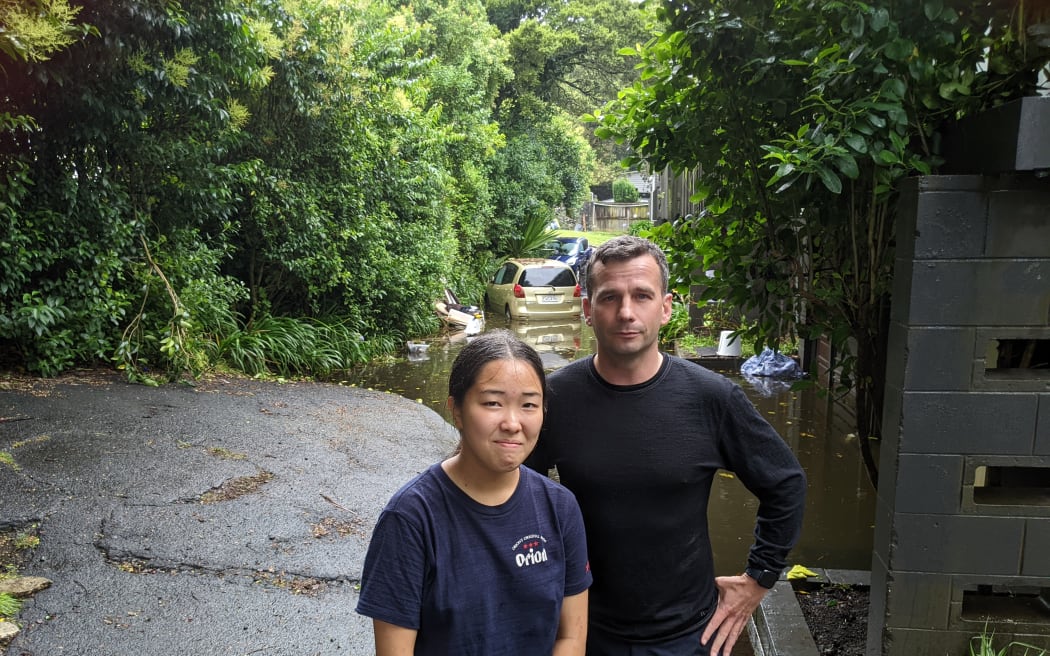 Epsom resident Erena Tanabe with local MP David Seymour Photo: RNZ
"Our whole first floor flooded so we don't even know the integrity of the structure."
Seymour apologised for not replying to her Instagram message, but later told RNZ that someone from his office had actually been in touch with someone from the block of flats.
Erena said it appeared authorities had been too busy with more serious incidents to assist them.
But Seymour said this was the worst-affected property he'd seen in the past few days.
Another tenant, Peter, strode through the waist-high water in a pair of fishing waders to talk with us.
It was his car sitting in the flood water, covered in debris.
"I only have third party [insurance]. My furniture, everything. All gone," he said.
As we wrapped up our chat, we asked Erena and Peter if they'd had a chance to have something to eat, which drew a wary laugh from Peter. That was the last thing on his mind.
"The main problem is we're living in a swimming pool," he said.
Erena and Peter were clearly exhausted and very upset.
"My whole body's cramping, I'm sleep deprived," Erena said.
"Everyone's been working until midnight," Peter said.
Seymour said he'd make the block of flats a priority.
"On every front [it's heartbreaking]. You've got the ill mother who's stuck upstairs. You've got the guy who's clearly lost a lot financially and who's pretty lightly insured. It's just overwhelming," he said.
"There are just so many steps these guys have got to try and figure out - get the polluted water off their driveway, then they've got to clear the drains, then they've got to clear the debris, then the cars that are worthless and get those taken away. And then they can start on their house.
"Those steps can seem overwhelming and we're going to try and and help them work through at least the first couple today."
Seymour rejected accusations some people have been making on Twitter that he'd been AWOL these past few days and said he'd visited dozens of affected properties.
He also hit back at those saying it was inappropriate for him to have criticised the decision to close schools.
"It wasn't necessary for every school to be shut down. It wasn't competent the way that many principals found out at 9pm," he said.
"The principals are perfectly placed to make that decision [themselves]."
The Ministry of Education announced yesterday that schools can now reopen if they choose.
source: https://www.rnz.co.nz/news/national/483489/residents-at-auckland-block-of-flats-hit-by-flooding-again