Can the egg shortage be cracked?
The humble egg is in short supply - The Detail looks at the reasons why it's so hard to get your hands on a carton.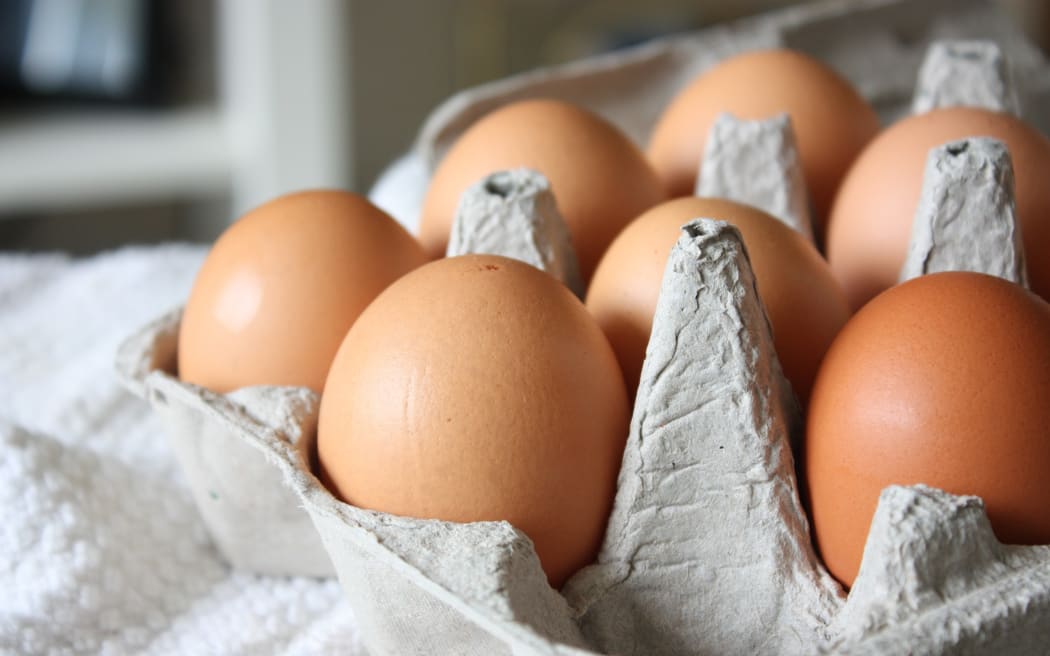 Photo: Morgane Perraud / Unsplash
Online auctions for chickens have attracted double the usual number of clicks in recent weeks, amid a nationwide egg shortage.
Supermarket shelves have been empty and there are limits on how many cartons customers can buy.
And it could be months before the shortage eases.
It's the end result of a few different things: a 10-year transition away from battery cages; the decision by the big supermarket chains to go completely cage-free; and supply chain issues borne of the pandemic and the war in Ukraine.
At the moment, New Zealand's chicken population is about 400,000 short to meet demand.
Egg Producers Federation executive director Michael Brooks says producers are scrambling to get the money together to ensure their farms comply with both the government's rules, which came into effect at the end of 2022, and the supermarkets' cage-free policies, which kick in in a few years' time.
Brooks says transitioning a chicken farm to free-range would cost farmers north of a million dollars apiece, and with the red tape of the Resource Management Act and Environment Court hanging over such upgrades, many farmers are throwing in the towel.
A Countdown spokesperson, however, told The Detail the supermarket had been working with farmers to aid the transition since 2016 and made this decision with the support of farmers, "against a backdrop of changing customer shopping habits as well as rising animal welfare standards".
According to Countdown, there's been a 93 percent increase in customer demand for cage-free eggs since 2016.
Brooks, however, says supermarkets' change had left many farmers in a precarious position.
"The biggest frustration is the supermarket decision," he said, saying they were acting as "moral arbiters".
Food writer Olivia Sisson is also worried about the impact of the rising cost of eggs on whānau.
"For those on a tighter budget, eggs can be a really important and protein-rich staple. It's a little bit worrying to see the cost approaching almost $1 an egg in some cases."
And it's not always that easy to swap an egg for something else.
"The humble egg is pretty important, there aren't actually many direct substitutes - of course there's aquafaba in chickpeas, if you're baking you can use vinegar or apple sauce.
"But they're often not a one-for-one substitute in terms of protein content and ability to fill you up and allow you to get into the day feeling full and ready to engage."
And the cost of living crisis is really putting a squeeze on food budgets.
"The egg certainly represents an important staple for a lot of people," Sisson says.
"I just think it's important to remember in this that 40 percent of adults and 20 percent of children in New Zealand experience some level of food insecurity - those are pretty staggering numbers so to see a really important protein source in such a state of shortage and flux is quite scary in that regard.
"A carton of eggs can make an amazing meal for a big family."
Think buying a couple of backyard chickens is the answer? Check out the full podcast for some words of advice from a long-time suburban chicken owner.
You can find out how to listen and subscribe to The Detail here.  
You can also stay up-to-date by liking us on Facebook or following us on Twitter. 

source: https://www.rnz.co.nz/programmes/the-detail/story/2018875986/can-the-egg-shortage-be-cracked