Little Leaguer inspired by baseball star reunites with mentor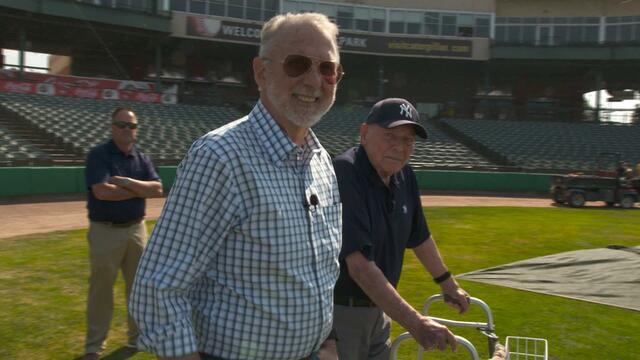 The San Diego Padres won 93 games in the 1962 season and finished first in their league. But to a then 10-year-old boy named Merl Ledford, it was a few hours off the field that changed his life. 
Ledford was a Little League pitcher who threw wild pitches. His coach scored him a few practice sessions with Padres pitcher Zach Monroe, a career minor leaguer who also got a taste of the big leagues, playing for the New York Yankees in 1958 and pitching the eighth inning of their second game in the World Series that year, which they went on to win.
"He worked with me to help control that wild pitching," Ledford said. "But more than that, he just taught me a lot about how to get along, (which lasted) my whole life." 
Ledford said that Monroe taught him important lessons about focus and success. He believes those lessons helped him become a better student, professional, baseball coach and father as his life went on. 
"Some people are going to get a hit, and sometimes you're not going to throw strikes. Shake it off, you've got a job to do. Do your job, and do it to the best of your ability. Something like 'The baseball is not going to pitch itself,'" Ledford said. "I've carried those with me my entire life." 
Sixty-one years later, now a lawyer nearing retirement, Ledford told his wife about Monroe. She was immediately curious, and looked up Monroe's name. When they found out he was still alive, she suggested her husband try to reconnect with his childhood mentor.
Ledford tried to track Monroe down, without much luck, so he wrote to Major League Baseball for help delivering his message. That league hadn't been in contact with Monroe in decades, but they knew he was from Peoria, Illinois, so they reached out to the Chiefs, the town's minor league team. 
The Chiefs didn't know Monroe, but they knew his brother. Finally, an unlikely reunion was arranged, and Ledford boarded a plane from California to Illinois for the chance to meet Monroe, now 92. 
It turned out that 1962 was Monroe's last year playing, making his sessions with Ledford some of the last things he did as professional baseball player. 
"Whatever I said stuck with him, and (he) went a lot further than I did," Monroe said. "He was a pretty good individual." 
Ledford said meeting his former mentor was "huge." 
"Just being able to thank a guy that helped me out when I was little, and share with him the 'Hey, you did something good,'" was "wonderful," Ledford said. 
For two people bonded by baseball, it was only fitting that their reunion bring them back to the diamond. The men settled in to watch Peoria's Chiefs at batting practice. Monroe even shared a final few lessons. 
"Just be a good guy to start with, let people tell you things," Monroe said. "Don't walk around with your chin down and like the world is coming to an end. Just dust off your feet, keep staying with it. It'll work for you. It's a strange, strange world, how things have a way to go. But sometimes you've got to keep your confidence up, no matter what you're doing." 
Kris Van Cleave is CBS News' senior transportation and national correspondent based in Phoenix.
source: https://www.cbsnews.com/news/little-leaguer-inspired-by-baseball-star-reunites-with-his-mentor-60-years-later-zach-monroe/