Lawyer allegedly kills father who accused him of stealing from family trust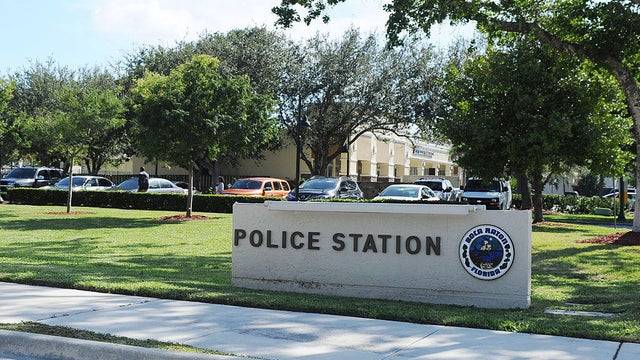 A Florida lawyer was charged on Monday for killing a man believed to be his father in a Boca Raton parking garage – after the son had been accused of stealing close to $500,000 from a family trust fund and barred from practicing law, according to court documents. 
Police arrested Brandon Labiner, 34, in connection with the shooting death of Paul Labiner after Brandon Labiner's sister identified him in surveillance images from the shooting. She told police that her brother had been involved in an ongoing legal battle with their father regarding their shared law firm.
Boca Raton police responded to a 911 call on the afternoon of July 1 saying four gunshots were fired in an underground parking garage near the law office of Paul Labiner, according to several local media reports. They found a white male who had been shot multiple times and was lying in a "large pool of blood," the police affidavit said.   
The victim's name wasn't released in police reports or court records, as the family invoked Marsy's Law, which limits identity disclosure. However, police records identified the victim's occupation as an attorney and the date of birth was the same as Paul Labiner, according to other public records.
Video surveillance showed a white male, who was later identified by the sister as Brandon Labiner, riding to the parking lot on a maroon bicycle, the police affidavit said. The rider was seen taking a gun out of a box, putting it down and then placing it out of camera view. When a second man arrives, there appears to be a scuffle. Shots are fired, and the bike rider then leaves the parking garage, the affidavit says. The rider goes to another garage, where investigators said Brandon Labiner's car was parked. 
Brandon Labiner told his sister he had nothing to do with the crime and said "he didn't even own a gun," a police affidavit said. 
Since last year, Brandon Labiner had been embroiled in a civil lawsuit with his father, who accused him of stealing $445,198.53 from a spousal trust, of which Brandon Labiner was a trustee, court documents said. The younger Labiner, however, has said it was his father who stole the money.
Paul and Brandon Labiner worked together at the law firm Paul Labiner founded, but Brandon's "poor work ethic" and "subpar performance" caused the firm to lose clients, court documents said. Paul Labiner had lent his son more than $200,000 to pay for costs related to the law firm, according to the court documents. 
In early 2022, Brandon Labiner began acting erratically and lying to his father about client interactions, at one point suffering a large financial loss after being scammed by a new client, court documents said. Brandon Labiner then began withdrawing money from the trust for his and his wife's personal use, court documents alleged. 
Brandon Labiner's sister and her husband also told police that Brandon Labiner had been under "a lot of stress" because his "unborn child" had died before his wife gave birth and the two were going through a divorce, according to court documents.  
The day before the shooting, the younger Labiner, whose law license had been suspended in April on an "emergency basis," filed an application with the Florida Bar to have his membership revoked, with the right to reapply for admission in five years.  
Brandon Labiner told the Miami Herald that it was actually his father who had stolen thousands of dollars from the trust, alleging Paul Labiner took the money to cover funds that had been embezzled by a firm bookkeeper, Janet Blissett. 
Blisset was charged last year in federal court with embezzling more than $3 million dollars from the law firm, according to a Department of Justice news statement. 
Numerous clients sued the elder Labiner, saying the bookkeeper stole funds from their accounts. Paul Labiner was suing Blissett, according to the Herald. 
source: https://www.cbsnews.com/news/brandon-labiner-arrested-murder-father-paul-labiner-accused-of-stealing-from-family-trust/